'Moscow Mitch' McConnell is Now a Ben Folds Song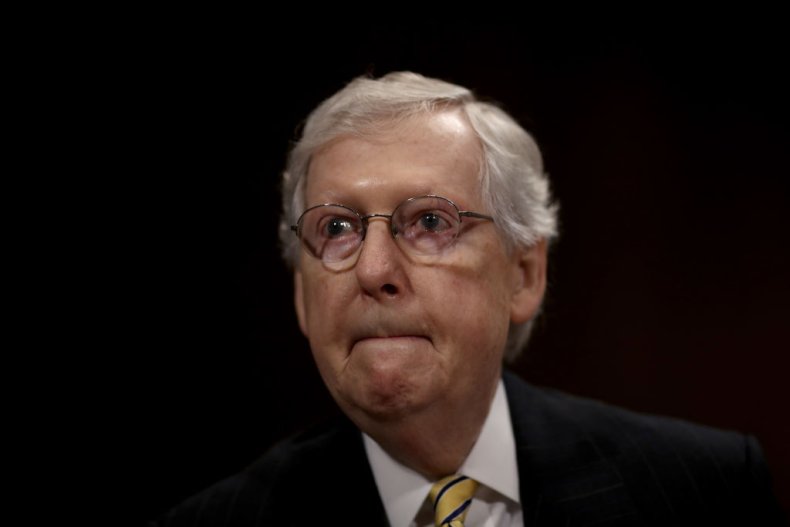 The nickname "Moscow Mitch," given to Senate Majority Leader Mitch McConnell for blocking an election security bill, has become a favorite term for those who oppose the Kentucky senator. Now singer-songwriter Ben Folds has turned it into a new song.
"What I want to do is put a little cool stutter in it, like, you know, 'My-my-my-my-my-my Sharona,'" Folds told a crowd Thursday night at a concert on the rooftop of New York City's Pier 17. "So what we'll do is, we'll go: Mah-mah-mah-Moscow Mitch."
MSNBC host Joe Scarborough has taken credit with coining the nickname during a July 26 segment of Morning Joe.
"How can 'Moscow Mitch' so willingly turn a blind eye not only this year to what his Republican chairman of the Intel Committee is saying, to what Robert Mueller is saying, to what the FBI director is saying, to what the DNI [director of national intelligence] is saying, to what the CIA is saying, to what the United States military intel community is saying," Scarborough said during the segment. "How can 'Moscow Mitch' keep denying that [Russian President] Vladimir Putin continues to try to subvert American democracy?"
The nickname became an instant hit online, with social media users making #MoscowMitch trend online.
It got so popular that McConnell even alluded to it in a speech on the Senate floor Monday.
"Over the last several days, I was called unpatriotic, un-American and, essentially, treasonous by a couple of left-wing pundits on the basis of boldfaced lies," McConnell said during his Senate floor speech. "I was accused of 'aiding and abetting' the very man I've singled out as our adversary and opposed for nearly 20 years: Vladimir Putin."
But his speech did little to stop "Moscow Mitch" from becoming synonymous with Mitch McConnell. Kentucky Democrats, eager to unseat the Senator in 2020, are capitalizing on the popularity of the nickname, selling T-shirts, stickers and buttons with the phrase "Just say Nyet to Moscow Mitch."
After Folds performance, the singer was interviewed by Scarborough.
The nickname doesn't appear to be going away anytime soon, with Folds' song causing #MoscowMitch to trend again online.
"MOSCOW Mitch did everything he could to stonewall Obamacare, even though gov't health care once saved his life. Here's how the longest-serving GOP leader in Senate history went from Kentucky's least believable frat boy to America's Super PAC darling," said one Twitter user.
"Mitch McConnell fancies himself a puppet master and he resents the idea of anyone thinking someone else is pulling his strings," another user tweeted.
'Moscow Mitch' McConnell is Now a Ben Folds Song | U.S.