#MoscowMitchMcConnell Trends After Senator Vows 'Total Coordination' With White House on Trump Impeachment Trial
Senate Majority Leader Mitch McConnell climbed Twitter's trending topics once again Friday, with "#MoscowMitchMcConnell" reaching the Top 5 trends following an interview in which McConnell said he would coordinate with President Donald Trump's lawyers during the impeachment.
In a Thursday night appearance on Fox News, McConnell said he would coordinate with White House counsel throughout the Senate trial phase of impeachment. "There will be no difference between the president's position and our position as to how to handle this to the extent that we can," he said. "We will be working through this process, hopefully in a fairly short period of time, in total coordination with the White House counsel's office and the people who are representing the president."
"There's no chance the president is going to be removed from office," because "the case is so darn weak," McConnell also said.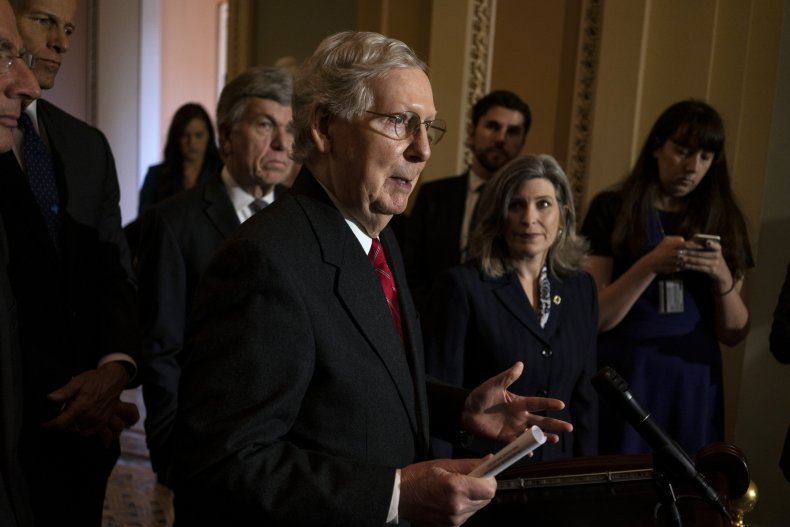 Twitter users blasted McConnell's comments for showing partiality. With Congress starkly divided along party lines over the case for impeaching Trump, McConnell's comments reinforced many Americans' belief that the president will not face an impartial and unbiased trial during the Senate Judiciary Committee's hearing.
A representative for McConnell's office did not immediately respond to an email from Newsweek requesting comment on the social media response to the senator's remarks.
"Moscow Mitch has just announced he will conduct the Senate trial in coordination with the WH. So much for Fairness & Impartiality. So much for Checks & Balances. So much for our 243 year Democratic Experiment," filmmaker Rob Reiner wrote. Another user tweeted that McConnell's position during the impeachment is that of a juror, not a legislator. "If a juror told the press he was colluding with the defense he would be dismissed.
Democratic Coalition co-founder Scott Dworkin also criticized McConnell's comments, but he also said it was unsurprising that McConnell "would do his best to make it a sham of a Senate trial."
Other critics slammed McConnell for violating his oath to protect the Constitution. Igor Volsky, executive director of Guns Down America, edited the Senate's Oath of Office to replace "the Constitution of the United States" with "Trump." Writer Amee Vanderpool wrote similar accusations. "The Senate majority now belongs to the Executive—forget Separation of Powers," she wrote.
Some users said that McConnell's statement was in direct opposition to what the authors of the Constitution had meant when they included the impeachment clause. "Mitch McConnell rejects the founding fathers' creation of a system of checks & balances to keep any one branch of gov't from becoming too powerful & engaging in corruption/abuse of power," University of Alabama law professor and MSNBC contributor Joyce Alene wrote.
One of the most scathing condemnations came from Connecticut Senator Chris Murphy. "The Majority Leader proudly announcing he is planning to rig the impeachment trial for Trump," he wrote.