Moscow Using Fake Snow For New Year Celebrations Amid Highest December Temperatures In More Than A Century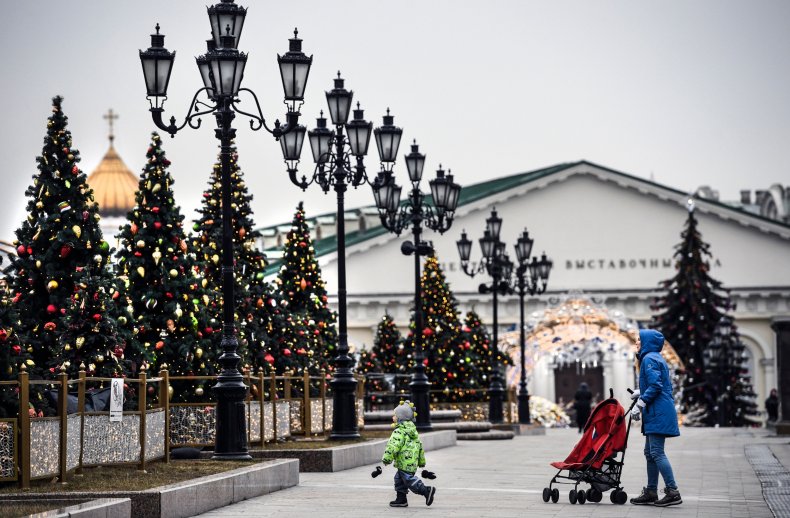 Moscow will be forced to use artificial snow in its upcoming New Year celebrations due to the city experiencing the highest December temperatures in more than a century.
On December 18, Moscow recorded a temperature of 5.4 degrees celsius or 41.72 degrees fahrenheit, breaking a record from 1886. According to The Moscow Times, average temperatures for the month of December are usually around minus 6 degrees celsius or 21.2 degrees fahrenheit.
The forecast for the New Year's Eve celebration predicts rain instead of snow.
According to Weatherspark.com, Moscow usually experiences the most snowfall with an average of .8 inches around December 29. According to BBC News, a light dusting of snow has fallen in Moscow this month, but with higher than normal temperatures, the snow is unable to stick to the ground, leading the officials to order the fake snow.
The snow is being placed at Moscow's Red Square, as well as some other destinations, which are being shut off to traffic for the holiday.
Pictures of the artificial snow being brought into the capital have been posted by a number of people across social media.
"PHOTO FACT! Moscow exports garbage, and imports snow," wrote Twitter user Fake_MIDRF.
"Snow was brought to Tverskaya Street, which was then closed to cars. Tverskaya, Mokhovaya, Okhotny Ryad and Teatralny Passage will be pedestrian only until 22:00 on January 6. With a Moscow budget you can buy everything. Even winter," wrote Twitter user WildWildMoscow.
"It looks very funny if I'm honest. It doesn't look very real. It definitely didn't fall from the sky," one person told The Guardian in a video posted to the newspaper's YouTube channel.
"It's not festive at all," added another.
While some did not appreciate the fake snow, others felt that it helped bring the winter spirit back to the city.
"It's a taste of winter. When you don't have any real snow, we've been waiting, waiting, waiting for it to fall and here it is," another person told The Guardian.
The lack of snow has not gone unnoticed by Russian weather experts and the leader of Russia's climate service, Roman Vilfand, told local news agencies that "this year in Russia was the hottest for the entire period of instrumental observation."
Moscow has not only seen extreme climate changes in December. The city experienced the coldest summer on record in 2019, with temperatures falling to 12 degrees celsius or 53.6 degrees fahrenheit.