#MoscowMarsha Trends After GOP Senator Blackburn Accuses Alexander 'Vindictive Vindman' Of Being Whistleblower's Handler
Senator Marsha Blackburn accused Lieutenant Colonel Alexander Vindman of being the Ukraine whistleblower's "handler" in a tweet Friday afternoon.
Twitter responded by popularizing the nickname "Moscow Marsha" in a hashtag, possibly referencing the Republican lawmaker's June effort to block legislation that would require political campaigns to report their foreign contributions to the FBI.
Earlier this week, Vindman testified before the House Intelligence Committee in a public hearing on President Donald Trump's efforts to secure a Ukrainian investigation of former Vice President Joe Biden, a possible opponent in the 2020 election, and his son Hunter.
In the hearing, Vindman refused to answer questions by ranking member Devin Nunes about the July 25 phone call between Trump and Ukrainian President Volodymyr Zelenskiy. Vindman wanted to avoid outing the whistleblower who first prompted the House impeachment inquiry.
That refusal seemed to frustrate Nunes, a Republican, who suggested Vindman should invoke the Fifth Amendment if he didn't want to share what he knew. Vindman's lawyer objected to the remark.
Meanwhile, on Twitter users responded to Blackburn's "whistleblower's handler" tweet. "Hey, #moscowmartha, stop spreading Kremlin talking points. Treason is not a good look on you," one user wrote.
"Attacking decorated nonpartisan diplomats who put their lives and careers on the line to point it out is something else entirely," said another.
Others didn't pick up on the hashtag but nonetheless thought Blackburn's insinuation was unfounded.
"This is a disgraceful smear against a serving U.S. military officer and combat veteran from a United States Senator. Just another day in Trump's Republican Party," wrote Tom Nichols, a professor at the U.S. Naval War College.
"The Trumpfication of the GOP has been completed," added another user.
"This is the thanks you get from a U.S. Senator when you receive a Purple Heart?" another wrote.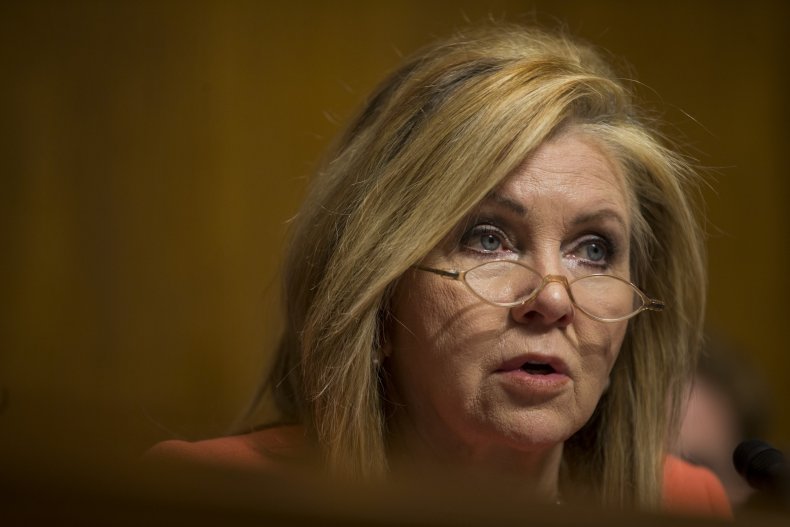 Several users also posted articles linking Blackburn to the similarly named "Moscow Mitch" (Senator Mitch McConnell), the National Rifle Association and Russian interference in U.S. elections.
Earlier this week, Vindman, who serves as the director for European Affairs at the National Security Council, together with Jennifer Williams, the special adviser on Europe and Russia for Vice President Mike Pence, said that not a single national security official backed Trump's move to freeze military aid to Ukraine, The New York Times reported.
Vindman, who was originally born in Ukraine, has been criticized by conservative media groups more than other witnesses at the impeachment hearings, The Washington Post reported. Some even suggested his loyalty wasn't to the United States but rather to Ukraine.
Several conservative veterans were disappointed with Vindman's testimony, according to the Washington Examiner, including when he asked Nunes to call him "Lieutenant Colonel Vindman" instead of "Mr. Vindman."