Moscow's Famous Gorky Park: Once A Place to Avoid, Now a Magnet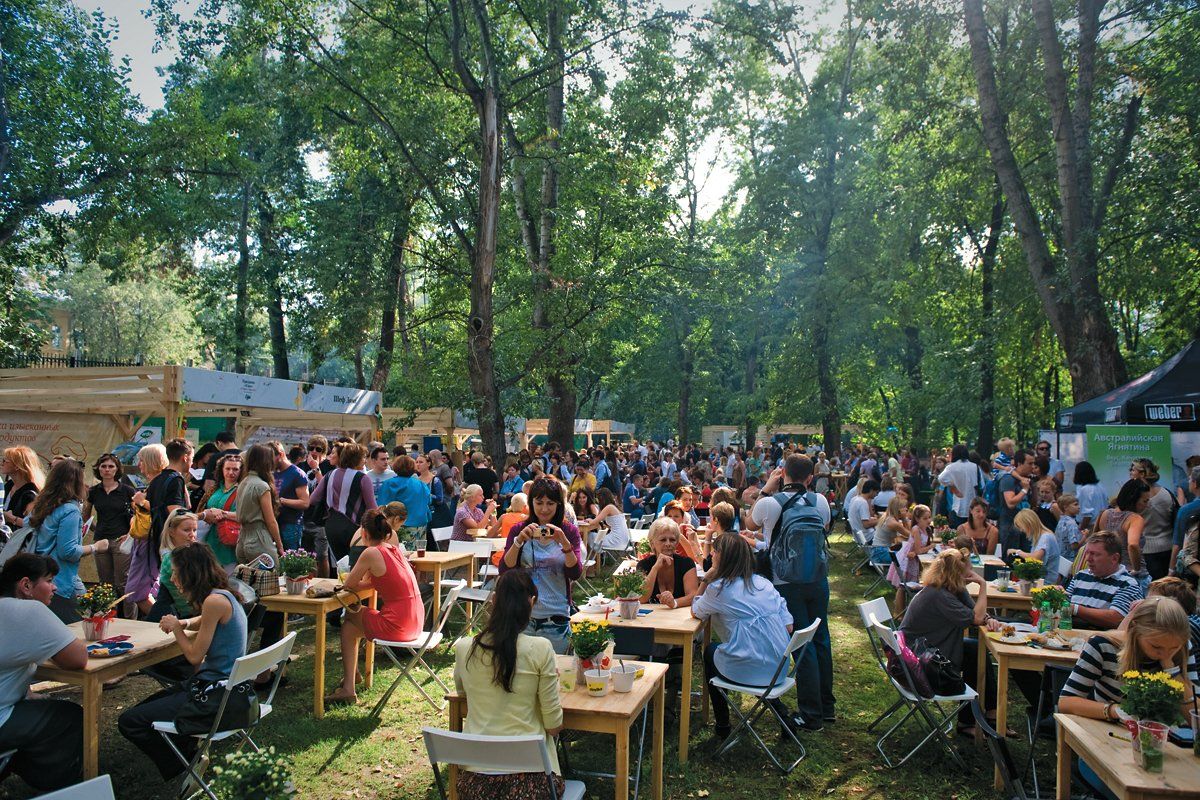 Gorky Park is famous for many things, not many of them good. For Muscovites, their city's biggest green space used to be known as a place of regimented Soviet-era fun, full of strolling proletarian families eating cheap ice cream to the sound of military bands. To foreigners, it was the venue (and title) of Martin Cruz Smith's 1981 novel of faceless corpses and cutthroat Soviet black marketeering. And then of course there was that Scorpions song—"follow the Moskva, down to Gorky Park, listening to the wind, of chaaaaange," etc.
To me, it was mostly famous as a place to avoid. As a young reporter for The Moscow Times back in the mid-1990s, I'd nearly been beaten up there by drunken paratroopers. Gorky Park was where poor Muscovites would take cheap dates—a wilderness of garish carnival rides, loud pop music, and overpriced kebabs. Moscow's Night Wolves biker gang, the local answer to the Hell's Angels, had their lair in the park's depths. And you had to pay to go in, despite it being one of the few large public spaces in the capital.
But this summer the "wind of change" has again come to Gorky Park. In place of cheesy funfairs, drunken soldiers, and an apocalyptic wasteland of post-Soviet broken concrete, the park is now full of free-Wi-Fi-using, bicycling, nonalcoholic-mojito-sipping young things catching the late-summer rays. The health-and-safety-defying carnival rides are gone, replaced by rose gardens and fountains (they had actually been there all along, it turned out, but the rides had been built over them.) The lawns are strewn with giant beanbags designed for lounging on with a laptop, and in place of the '90s-era prefab booths, the management has put up wooden reproductions of the original 1930s Constructivist-style kiosks selling juices and sandwiches, but no vodka. The banks of the Moscow River, which runs for three miles along one side of Gorky Park, has an urban beach modeled on Paris's Seine-side plages. A couple of adventurous Frenchwomen have even set up an open-air pétanque alley.
Holy middle class! I thought when I saw all this: Russia maybe does have a shot at becoming a normal, civilized country, rather than a kind of Nigeria with snow.
Let me explain my surprise. Over the last decade and a half, Moscow has been transformed beyond recognition by a tsunami of oil money. The low-rise, once rather low-key, historic downtown has been seeded with vast and garish new residential and retail developments. Tens of thousands of handsome old buildings have been demolished and rebuilt, all with the blessing of Yury Luzhkov, the man who was Moscow's hyperkinetic mayor from 1992 to 2010.
But despite all the money pouring into City Hall, both officially and unofficially (suffice it to say that Luzhkov's wife, construction billionaire Elena Baturina, was unembarrassed by her status as Russia's richest woman), pretty much none of it went into creating more and better public spaces. Indeed the city seemed to do everything to squeeze the public out of as much space as possible, kicking Soviet-era children's libraries and music schools and pensioners' clubs out of historic buildings and selling them off. It was even getting impossible to walk down the street as drivers blithely parked on the sidewalks. Indeed there is still no system of parking tickets in the city, which also suffers from some of the world's worst traffic jams. No—in Luzhkov's Moscow, beauty, space, and pleasure were commodities to be bought, not given away for free.
Hence my amazement at the new Gorky Park, brainchild of current Moscow Mayor Sergei Sobyanin and his appointee as the park's new director, Sergei Kapkov. Instead of turning the park into a patchwork of fenced-off, money-spinning elitny preserves, Kapkov has created a truly great public space with no other ambition but to improve the quality of life of regular Muscovites.
Of course, this comes with a bit of a caveat: the only people who can afford to forbear making a fast buck are those who've made a few fast bucks already. In this case, the godfather of Gorky is oil billionaire Roman Abramovich. Kapkov is a close ally (he served as a member of Parliament for the Arctic region of Chukotka while Abramovich was governor). And Abramovich's girlfriend, Dasha Zhukova, plans to open a world-class contemporary-arts center in a historic exhibition hall in Gorky Park next year.
Its not quite public philanthropy on the scale of, say, Andrew Carnegie (who gave away America's greatest industrial fortune and maintained that "a man who dies rich dies disgraced"). But the transformation of Gorky Park is the start of something different from the take-the-money-and-run culture of the '90s and '00s. Muscovites realize that they actually have to invest in the city's public spaces, not just their own private ones.
September's Moscow Festival of Food, held in Gorky Park, was a perfect example. Some 12,000 Muscovites, mostly well-heeled professionals rather than the super-rich, gathered to sample local beers, smoked duck breasts, and cheeses. Alexei Zimin, editor of a food magazine called Afisha Yeda that has become a bible for middle-class Muscovites, gave cooking master classes in an open-air kitchen. The festival was all about quality rather than quantity, about how to make the best of simple things, about joining the food culture of the world. It was about having a great, civilized life on a normal, professional salary—and that you don't have to be an oligarch to enjoy the finer things in life. After all, not even the richest oligarch has a Moscow garden as big or beautiful as Gorky Park.
With Anna Nemtsova in Moscow