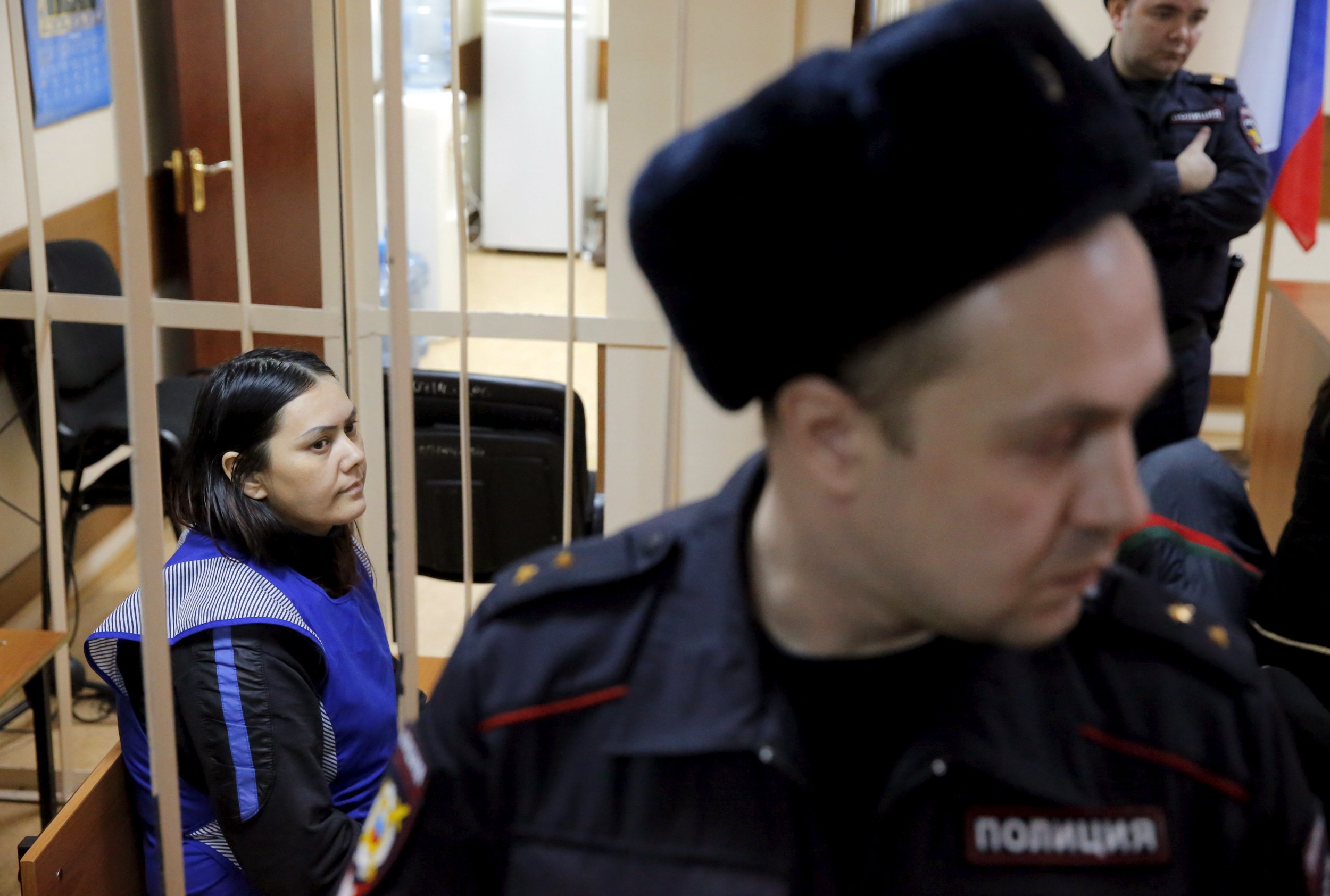 The Moscow nanny who is suspected of decapitating a child and was arrested while brandishing the child's head on the metro said she did it in revenge for Russian air strikes in Syria.
The case has dominated Russia's online news, but state media and federal authorities have been trying to play it down. Video that appeared to show the incident was first posted online by Russian news site Life News—in it the woman, wearing a black niqab, yells, "I am a terrorist!" The woman, identified as Uzbekistan native Gulchehra Bobokulova, was working in Moscow as a nanny. On Wednesday, she appeared in court for the first time, smiling.
Kremlin spokesman Dmitry Peskov on Thursday cautioned that despite the woman's claims that she was "instructed by Allah," the media should not link her crime to terrorism.
Meanwhile, the head of Russia's investigative committee, Vladimir Markin, told online news site Gazeta that the press should not "sensationalize" the case. He also confirmed reports that the suspect had long been diagnosed with schizophrenia.
On Thursday, footage emerged on YouTube of Bobokulova answering questions asked by an unidentified man and confessing to the murder of the child. There is no indication of when the footage was shot.
When asked why she killed the child, Bobokulova replies cryptically, "I brought revenge to the ones who spilled blood." When asked who she meant, she says, "Putin spilled it."
"Why are you bombing Muslims and nobody says anything?," she asks her Russian inquisitor, who is off camera. "They also want to live, yes? That is why I took my revenge."
Bobokulova, now dubbed by the Russian media as "the killer nanny", also explains that she wanted to move to Syria but couldn't afford to. When asked if she wanted to join Islamist group Islamic State, she answers, "I don't know. I wanted to live there."
She says that she has three children of her own, but tells the man questioning her, "You can kill them, I do not need them. They do not read the Koran."
A man in Uzbekistan who has identified himself as Bobokulova's father gave an interview to Russian news site Gazeta on Thursday in which he said his daughter had never mentioned religion, never went to the mosque when in Uzbekistan, and never before wore a niqab. He also said Bobokulova's eldest son, who is 19, was detained by authorities after the killing and the family were not told why.
He added that Bobokulova's behavior had grown very erratic and that she had made claims that she had a daughter in Moscow before she moved there in January, leaving her three sons and family in Uzbekistan. She had divorced her husband in 2002, after she was admitted to a psychiatric ward where she stayed for two weeks.