Moscow's Largest Church to Host 'USSR Hit Parade' Amid War With Ukraine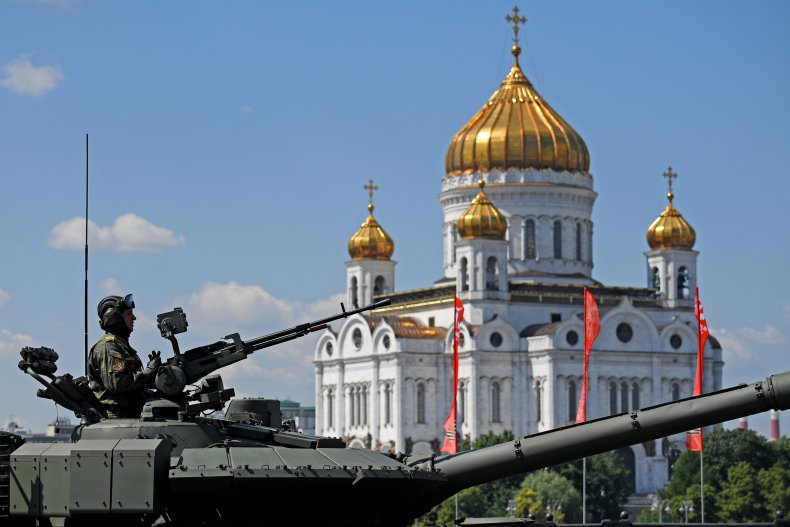 Moscow's largest church is reportedly set to host a special concert to celebrate Soviet Union-era pop hits as Russia's war with Ukraine continues.
Moscow's Christ the Savior Cathedral will be the venue for the "Hit Parade of the U.S.S.R." concert on September 16, according to The Moscow Times. The concert, which could serve as a brief distraction to a war that may still be in progress as it takes place, will reportedly include renditions of nostalgic hits by Soviet artists like Muslim Magomayev, Eduard Khil, Edita Pyekha and Joseph Kobzon.
A press release for the event, which includes contradictory announcements that the concert will take place on September 16 or September 23, touts the superiority of Soviet-era movies, "ice cream [that] used to be delicious" and people who were "somehow kinder, more sympathetic."
"A person born in the USSR has many reasons to indulge in nostalgia for a bygone era," the release states. "But many attributes of Soviet life and culture, whatever one may say, are forever in the past. And yet, in spite of everything, some of them did not suffer this sad fate—for example, our favorite songs."
"The Soviet stage as such has long since ceased to exist, but in our hearts it is still alive and breathing deeply," it continues. "What else do you need for the deepest immersion in the atmosphere of the good old days, if not incomparable live voices and genuine music?"
An identically named concert was held at the same venue on June 10, according to Russian media outlet Meduza. Tickets for the upcoming concert are not currently available online, although the Christ the Savior Cathedral website includes a form to "apply" for tickets and a phone number to purchase them.
Nostalgia for the Soviet Union has been steadily promoted in the Russian media since the country invaded Ukraine on February 24. The number of Russians with fond remembrances for the country's Communist past has also significantly increased in the more than 30 years since the union's 1991 dissolution.
A survey conducted in 2020 found that 75 percent of Russians agreed that the Soviet era was the "greatest time" in the country's history, while only 18 percent disagreed, according to The Moscow Times.
Russian and Ukrainian troops remained locked in battle on the day that the concert was announced, while the first shipment of Ukrainian grain sailed through Istanbul, Turkey, days after leaving the Black Sea port of Odesa.
The shipment became the first to make its way past a Russian Black Sea blockade due to a landmark deal between Russia and Ukraine, the first since the war began, which was brokered by the United Nations and Turkey.
Newsweek has reached out to the Russian government for comment.