Who Is Moses Farrow? Woody Allen's Son Defends Him Against Sexual Assault Claims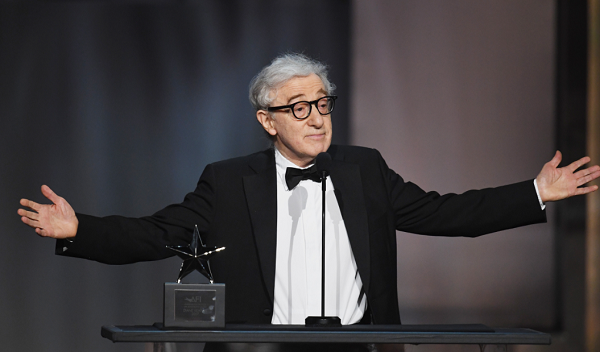 Woody Allen's adopted son Moses Farrow attempted to set the record straight on claims that his famous filmmaker father sexually abused his sister Dylan Farrow. In a nearly 5,000 word essay, Moses Farrow defended his father against Dylan Farrow's claims, writing that he could "no longer stay silent" while his father suffered for a "crime he did not commit."
Moses Farrow, 40, continued to uphold claims that it was his mother, actress Mia Farrow, who was physically abusive toward him and his brothers and sisters, claiming that he "witnessed siblings, some blind or physically disabled, dragged down a flight of stairs to be thrown into a bedroom or a closet, then having the door locked from the outside" by his mother. He also alleged Mia Farrow coached Dylan Farrow into making sexual assault accusations against their father.
"Given the incredibly inaccurate and misleading attacks on my father, Woody Allen, I feel that I can no longer stay silent as he continues to be condemned for a crime he did not commit. I was present for everything that transpired in our house before, during, and after the alleged event," he wrote.
Although Dylan Farrow wrote about the incident in a 2014 open letter published in the New York Times and spoke about it during a 2013 interview with Vanity Fair, the 32-year-old recently appeared on CBS This Morning and gave her first televised account of the assault, which she said occurred in Mia Farrow's Connecticut home on August 4, 1992.
Dylan Farrow said while her mother was out shopping, Allen took her to an attic crawl space and ordered her to lay down on her stomach and play with a toy train while he assaulted her from behind. "As a 7-year-old, I would say he touched my private parts, which I did say," she claimed during the January interview with Gayle King. "As a 32-year-old, he touched my labia and my vulva with his finger."
According to Moses, now a licensed therapist who recalls acting as "the man of the house" and monitoring Allen's every move on the day of Dylan Farrow's alleged assault, there was never a moment when Allen and Dylan Farrow were alone together. "I deliberately made sure to note everyone's coming and going. I do remember that Woody would leave the room on occasion, but never with Dylan," he wrote. "He would wander into another room to make a phone call, read the paper, use the bathroom, or step outside to get some air and walk around the large pond on the property."
Moses Farrow added: "Along with five kids, there were three adults in the house, all of whom had been told for months what a monster Woody was. None of us would have allowed Dylan to step away with Woody, even if he tried."
Dylan Farrow has since responded to Moses Farrow's blog post, writing on Twitter that her brother was merely trying to "deflect from a credible allegation made by an adult woman, by trying to impugn my mother who has only ever been supportive of me and my siblings."