Felon Bragged on Police Department's Facebook Page About 'Getting Away' Before Being Lured to Arrest
A Washington state woman who was detained and released by officers last week decided to taunt local police on their official Facebook page, leading to her Saturday arrest.
Kayla Irizzary, 19, of Moses Lake, Washington, was a passenger in a vehicle that police pulled over last week. Officers found that the driver, Giovanni Powell, 27, was driving with a suspended license. While Powell was arrested, officers had no legal reason to continue detaining Irizzary and allowed her to leave the scene as they obtained a search warrant for Powell's car, MLPD wrote on their official Facebook page. Detectives discovered a purse that contained Irizzary's state ID along with paperwork given to her during her recent release from jail that showed she was a convicted felon. Detectives also found heroin and a small firearm—illegal given her past felony convictions.
After discovering the damning evidence in the vehicle, officers were unable to locate Irizzary just days after releasing her from detainment at the traffic stop, Moses Lake police wrote in a Facebook post. But in a bizarre twist of fate, Irizzary herself took to trolling the MLPD's official Facebook page, "and was bragging about getting away, which we believe is the number one killer of criminal karma that there is," the department wrote Saturday.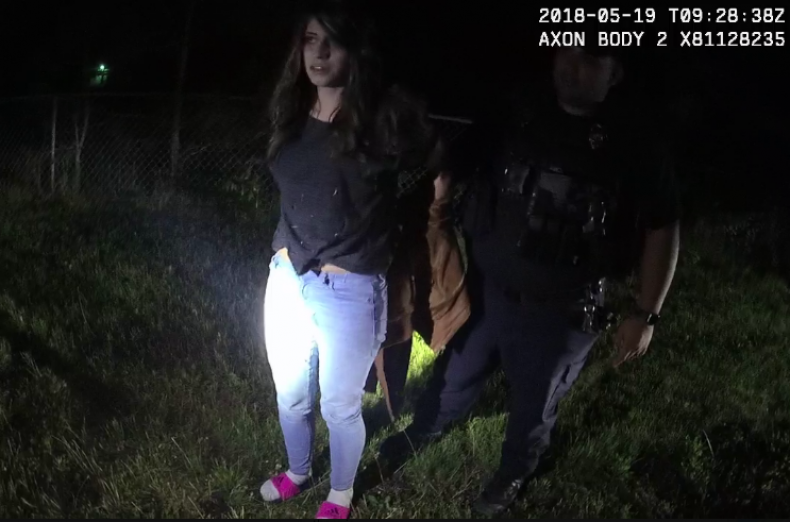 The department alleged in their latest Facebook post that Irizzary was tracked down and arrested about 2:30 a.m. Saturday morning after detectives used "covert investigative techniques to set up a meeting with her, ironically enough using social media. Irizzary showed up, and when she realized she had been set up, made a run for it on foot."
Requests from Newsweek for MLPD to elaborate on the social media method used to lure her into arrest were not immediately responded to Monday morning.
Irizzary was booked into the Grant County Jail after being arrested "about four steps" into her attempted escape once she'd realized she'd been set up by police, MLPD wrote. She faces charges of unlawful possession of a firearm and possession of heroin stemming from the initial detainment at the scene of the traffic stop.
MLPD made light of the arrest on their Facebook page, showing a photo of her in handcuffs alongside the hashtag, #sockswithsandals." Police also posted a warning to any future Facebook trolls attempting to escape law enforcement: "What social media giveth, social media taketh away: Woman who trolled MLPD back in custody."