Moskva Ship 'Finished' Says Former Navy Officer as Russia Suffers Huge Blow
Moscow has confirmed a fire aboard the Moskva, the flagship of Russia's Black Sea fleet, after Ukraine said it had struck the vessel with missiles and a former U.S. Navy senior chief petty officer tweeted that the missile cruiser is "finished."
Russia's defense ministry was quoted by Russian state media saying that the missile cruiser was crippled by a blast, as a fire caused ammunition on the ship to explode.
"As a result of a fire, ammunition detonated on the Moskva missile cruiser. The ship was seriously damaged," the Russian defense ministry said. The crew had been evacuated, according to Russian authorities.
Neither report has been independently confirmed.
Former U.S. Navy Senior Chief Petty Officer Malcolm Nance tweeted that the Moskva is "finished."
"Folks. As a expert in being attacked but surviving anti ship missiles (x3 times!) and damage from hitting a large anti ship sea mine...if you "Abandoned ship" your sinking & all efforts to save her are ended. That. Ship. Is. Finished," he wrote.
In a quote reported by Russian state media RIA Novosti on Telegram later on Thursday, the Russian Ministry of Defense said that the Moskva had not sunk, but it "maintains buoyancy" and "the main missile armament was not damaged."
Official Russian reports did not identify the cause of the fire that caused the damaging explosion, but Ukrainian officials have claimed responsibility, saying the blast was the result of a missile strike.
Maksym Marchenko, governor of the Odesa Oblast and former commander of a battalion of the Ukrainian Ground Forces, wrote earlier on Telegram that the Russian ship was hit by two Ukrainian-made Neptune anti-ship cruise missiles which caused "very serious damage" to the Moskva.
Marchenko claims the Moskva was the vessel that became famous at the beginning of the war for telling Ukrainian troops on Snake Island to surrender, only to be told "go f*** yourself."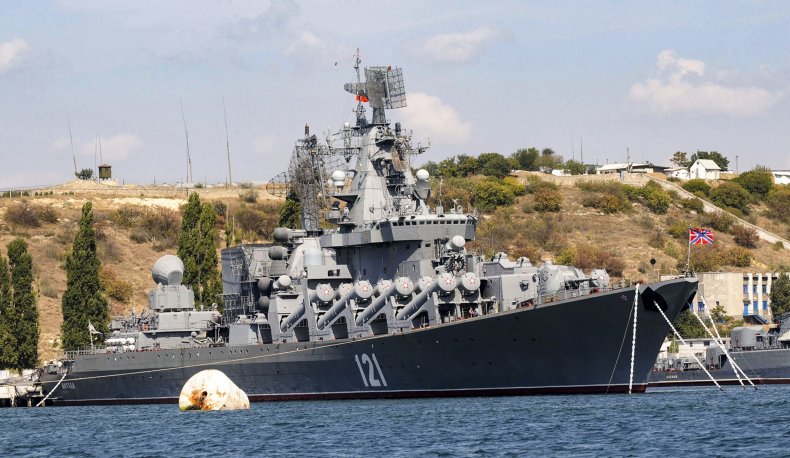 "A surprise happened," said Ukrainian presidential adviser Oleksiy Arestovych in a YouTube broadcast quoted by Agence France-Presse. "It burns strongly. Right now. And with this stormy sea, it is unknown whether they will be able to receive help," Arestovych said about the Moskva.
According to reports by Russian state media quoted by Reuters and Agence France-Presse, the Russian ship was armed with 16 anti-ship Vulkan cruise missiles with a range of at least 440 miles, as well as anti-submarine weapons and mini-torpedoes.
The Moskva would be the second major Russian ship to be destroyed by Ukrainian forces, according to Ukraine.
In late March, the Ukrainian navy claimed to have destroyed the landing ship Orsk near the port of Berdyansk, in the Azov Sea. It was later assessed that Ukrainian troops might have hit another Russian ship, the Saratov, which burst into flames in Berdyansk on March 24. The destruction of the ship was not confirmed by Russian authorities.
The sinking of the Moskva certainly represents a bigger victory for Ukraine. The missile cruiser could be the largest Russian ship sunk since World War II, and its loss a possible game changer as Russian troops lose the support of a vessel which has been of strategic importance in supporting land operations in the south of Ukraine.
It might be too late for such a victory: Russia's defense ministry on Wednesday said that more than 1,000 Ukrainian marines had surrendered to Russian troops in Mariupol, finally handing over the Black Sea port after a long and bloody siege.
Ukraine's defense ministry has not confirmed such claims, saying it had no information about a surrender in the city.
There has been no independent confirmation of the claims of surrender in Mariupol.
Fighting continues in the region, as Ukrainian President Volodymyr Zelensky confirmed in a speech on Wednesday night.
"Russian forces are increasing their activities on the southern and eastern fronts, attempting to avenge their defeats," he said.
Newsweek has contacted the Ukraine's Ministry of Defense and Russia's Ministry of Foreign Affairs for comment.
Correction 14/4/22, 7:30 a.m. ET. The headline and copy of this article were updated to clarify the rank of former U.S. Navy Senior Chief Petty Officer Malcolm Nance.
This article was updated to include the latest response from Russia's on claims the Moskva had sunk.