Mosque Near Ground Zero Gets Green Light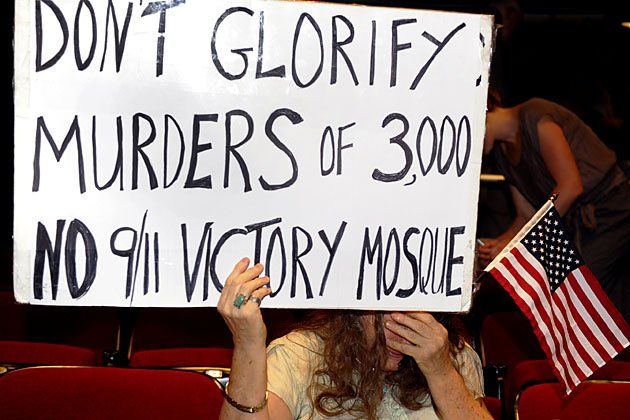 When the moment came, they chose to approve, not "refudiate."
New York City's Landmarks Preservation Commission today voted 9–0 to greenlight the construction of a multipurpose Islamic community center in lower Manhattan, two blocks from the site of the 9/11 terrorist attacks. In doing so, it rejected arguments that the existing 19th-century building at the address warranted protection from demolition. "I've come to the conclusion 45-47 Park Place does not rise to the level of a city landmark," chairman Robert Tierney said.
The ruling was greeted with cries of outrage from some in the audience, but Mayor Michael Bloomberg later praised the decision as a victory for the separation of church and state. "To cave to popular sentiment would be to hand a victory to the terrorists," he said, standing with religious leaders in front of the Statue of Liberty.
The proposed $100 million center, complete with a mosque, a 500-seat auditorium, and a swimming pool, has bitterly divided Americans, including lawmakers, local shopkeepers, and 9/11 victims' groups. Even in liberal, diverse New York, those supporting the building of the center on freedom of religion grounds faced a tough sell: 52 percent of New Yorkers opposed construction, with only 31 percent in favor, according to a Quinnipiac poll last month. National polls have placed opposition even higher (although gauging opinion on this issue has its methodological challenges).
Tell-tale signs that the mosque has become a bigger wedge issue (apart from President Obama's conspicuous silence): the most avid political opposition has come from the GOP, including high-profile Republicans such as former House Speaker Newt Gingrich and former Alaska governor Sarah Palin, both of whom are believed to be considering 2012 presidential runs. Indeed it was a Palin tweet last month that helped to make the issue a conservative cause célèbre: "Ground Zero Mosque supporters: doesn't it stab you in the heart, as it does ours throughout the heartland? Peaceful Muslims, pls refudiate." (Within 15 minutes she had re-tweeted, realizing that "refudiate" is not a word.)
If anything, Gingrich has raised the temperature even further, alleging that America is being eroded by an "Islamist cultural-political offensive designed to destroy our civilization" and that "there should be no mosque near Ground Zero in New York so long as there are no churches or synagogues in Saudi Arabia." Former New York City mayor Rudy Giuliani has described the mosque as a "desecration" and has also questioned the affiliations of its imam, Feisal Abdul Rauf. At the same time, New York gubernatorial candidate Rick Lazio wants an investigation into the finances of the group spearheading the project, the Cordoba Initiative.
This week, backers of the proposed mosque pledged to incorporate a memorial to 9/11 victims and possibly an interfaith chapel. It remains to be seen whether those moves will defuse the controversy around America's latest lightning rod.