Under the Microscope: Amazing, Bizarre Image of Mosquito Leg Baffles the Internet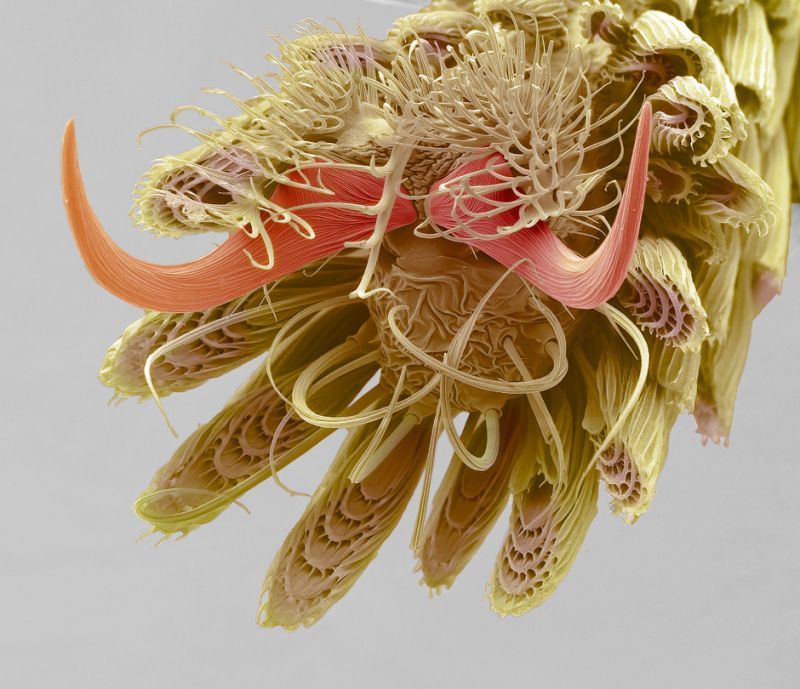 Lacking the charm of Mona Lisa's smile and bringing to mind a vision of Salvador Dalí's mustache on an extremely bad trip, this gruesome photo that's been gaining steam on the internet teaches a valuable lesson about the natural world: Nature is, indeed, scary.
The image was an entry in the 2016 Royal Photography Society International Images for Science contest, and more recently came to light through the website Reddit. The picture is a mosquito's foot at 800x magnification.
Without context, that could certainly take some readers by surprise. One user on Twitter noted the similarity between the close-up of the mosquito's foot and Julius Pringles, the mustachioed potato chip logo.
The photo did not win the contest, however. The five images that were selected included this stunning micrograph—a photograph taken by microscope—of the head of a tapeworm. This picture is definitelyalso just an insect and not all of your darkest nightmares made visually manifest on camera.
As terrifying as the mosquito leg picture looks up close, it's a clear visual demonstration of all the things that allow the mosquitos to do what they do. Mosquitoes have small hooks along their legs that allow them to latch on to skin, and hairy pads that allow them to adhere to walls. Up close, it's not so surprising that these features look like the teeth and tongues of some kind of demon hydra.
Live Science spoke with Steve Gschmeissner, the man who took these photos—a retired zoologist who has turned to taking images by scanning-electron microscopy full time.
"Insects are fantastic for that because they have all this sort of fine microscopic details," Gschmeissner told Live Science. "When you first put something in a microscope, you are never really sure what you're going to see."