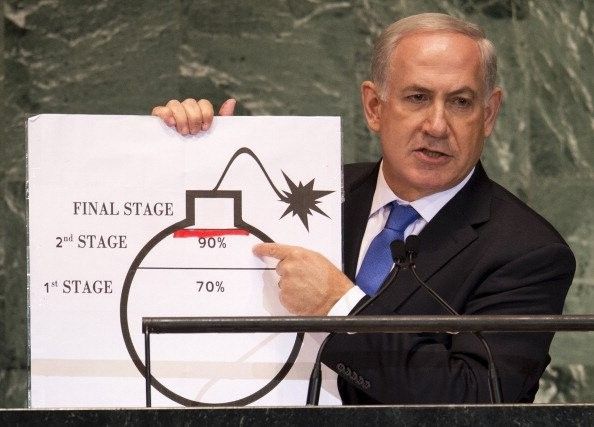 Updated | The drawing was as controversial as it was cartoonish. In September 2012, Israeli Prime Minister Benjamin Netanyahu addressed the United Nations, arguing that Iran was less than a year away from making a nuclear weapon. To bolster his claim, Netanyahu used a cartoon drawing of an old-fashioned anarchist's bomb with a lit fuse poking out the top.
"By next spring—at most, by next summer, at current enrichment rates—they will have finished the medium enrichment and moved on to the final stage," Netanyahu said. "From there, it's only a few months, possibly a few weeks, before they get enough enriched uranium for the first bomb."
Apparently, however, Netanyahu's own intelligence service came to a much different conclusion. According to Al-Jazeera and The Guardian, a top secret Mossad document written around the same time concluded that Iran was "not performing the activity necessary to produce weapons"—an assessment Netanyahu left out of his speech. Now, as the Israeli leader prepares to deliver another warning about Iran's nuclear program next week, this time to a joint meeting of Congress—the U.N. address is coming back to haunt him. Like Brian Williams and Bill O'Reilly, the Israeli premier is fighting claims of embellishment—that he exaggerated Iran's progress toward making the bomb.
The Mossad document, which Al-Jazeera said the agency shared with South Africa's intelligence service a few weeks after Netanyahu's speech, was part of a large cache of top secret files given to the Qatar-based television network. Al-Jazeera shared the Mossad document with The Guardian, which said it verified their authenticity, and both published the document on Monday.
The apparent contradiction between Netanyahu's dire warning about Iran and what Mossad said behind the scenes comes at a sensitive moment for the Israeli leader. Netanyahu is poised to deliver his speech to Congress next Tuesday and will tell U.S. lawmakers about the dangers of the nuclear deal that Obama is negotiating with Iran. The planned speech has poisoned relations between Netanyahu and the White House because it was cooked up behind Obama's back with Republican leaders and will take aim at a diplomatic effort that the president hopes will be part of his legacy.
On Tuesday, Obama's national security adviser, Susan Rice, called Netanyahu's upcoming speech to Congress—and the partisan manner in which it came about—"destructive" to U.S.-Israel relations. And the Israeli prime minister only exacerbated the partisan tension surrounding his speech by turning down an invitation to meet with Senate Democrats.
Israeli officials shrug off suggestions that the leaked document has damaged Netanyahu's credibility. They won't confirm the authenticity of the Mossad report, yet they insist the document doesn't contradict Netanyahu's warning since both said the Iranians were enriching uranium to produce nuclear weapons. That response, however, sidesteps the spy agency's conclusion that Iran wasn't actively developing a bomb and the fact that that the prime minister never mentioned that critical detail in his 2012 speech.
Netanyahu hopes his upcoming address will prompt a sufficient number of lawmakers to impose stronger sanctions against Iran and thereby override Obama's ability to veto any such legislation. It remains unclear whether Obama could defeat an override vote, but with less than a week until Netanyahu's speech, the president has warned that further sanctions would torpedo the nuclear talks with Iran and could even lead to another Middle East war.
This isn't the first time that Netanyahu's credibility has been challenged. One of his most memorable embellishments occurred in 2002, when he appeared before a House committee, determined to help President George W. Bush make the case for war against Iraq. "There is not any question whatsoever that Saddam is seeking and is working and is advancing towards the development of nuclear weapons — no question whatsoever," Netanyahu declared with his characteristic self-confidence. He then painted a rosy picture of what lay in store for the Middle East after the U.S. forces removed Saddam Hussein from power. "If you take out Saddam, Saddam's regime, I guarantee you that it will have enormous positive reverberations on the region," Netanyahu reassured American lawmakers.
On Wednesday, Secretary of State John Kerry cited Netanyahu's push for the Iraq invasion to mock his credibility. "The prime minister was profoundly forward-leaning and outspoken about the importance of invading Iraq under George W. Bush," Kerry said. "We all know what happened with that decision."
A decade later, before Netanyahu's U.N. speech in 2012, some Israeli intelligence officials also criticized the prime minister's claims about Iran. Among them was former Mossad director Meir Dagan, who called Netanyahu's threats to launch a preemptive Israeli attack against Iran's nuclear facilities a "stupid idea."
"An attack on Iran before you are exploring all other approaches is not the right way how to do it," he told CBS's 60 Minutes, in an unusually frank interview for one of Israel's normally tight-lipped former intelligence chiefs. "We are going to ignite, at least from my point of view, a regional war. And wars, you know how they start. You never know how you are ending it." Dagan, who is suffering from cancer, didn't respond to Newsweek's request for comment on the leaked Mossad report.
In April, Yuval Diskin, former head of Israel's Shin Bet internal security service, also spoke up, calling both Netanyahu and then defense minister Ehud Barak "messianics" whose repeated threats to bomb Iran amid U.S.-led diplomatic efforts rendered them no longer fit to lead the country.
The leaked document, which was dated October 22, 2012, acknowledged that Iran was "working to close gaps in areas that appear legitimate, such as enrichment reactors, which will reduce the time required to produce weapons from the time the instruction is actually given." But the document also said that Tehran "does not appear to be ready" to enrich uranium to weapons-grade levels.
The Mossad's view of Iran's nuclear program tracks closely with the U.S.'s assessment in 2007. The report said Iran had around 100 kilograms of 20 percent enriched uranium, a stockpile that was later diluted or destroyed under a 2013 interim nuclear accord between Iran and the five permanent members of the U.N. Security Council—the U.S., Russia, China, France and Britain, plus Germany.
Under the 2013 accord, Iran has frozen or rolled back some elements of its nuclear program in exchange for modest sanctions relief. In Geneva this week, both Iranian and U.S. negotiators reported progress toward a framework agreement by the end of March. Negotiators hope to secure a final accord by the end of June.
The broad outlines of what this accord may look like have trickled out in recent weeks. The U.S. and Iran are reportedly considering a deal that would prevent Tehran from stockpiling enough enriched uranium for a bomb for at least 10 years. Under such a deal, Iran could be allowed to gradually increase its enrichment activities once the deal expires. But Netanyahu considers unacceptable any accord that leaves Iran with any capacity to enrich uranium whatsoever, a position the U.S. has described as both unrealistic and unattainable.
Whether Netanyahu's credibility has truly suffered in Washington from the leaked documents report may become clear in the event of congressional votes on new sanctions, or other legislation on a possible nuclear agreement with Iran.
Any damage the Israeli leader may have suffered back home won't become clear until Israeli voters go to the polls March 17. But current polls indicate that his maneuvering in Washington is working in his favor among right-wing voters, many of whom don't trust Obama and admire Netanyahu's readiness to stand up to him. Which is perhaps why the Israeli prime minister will continue to fire torpedoes at the Iran negotiations as the Israeli elections loom closer. In a tightly contested race, it may be the only way Netanyahu can win.