Most Americans Say They Aren't Any Wealthier Since Donald Trump Became President, Survey Indicates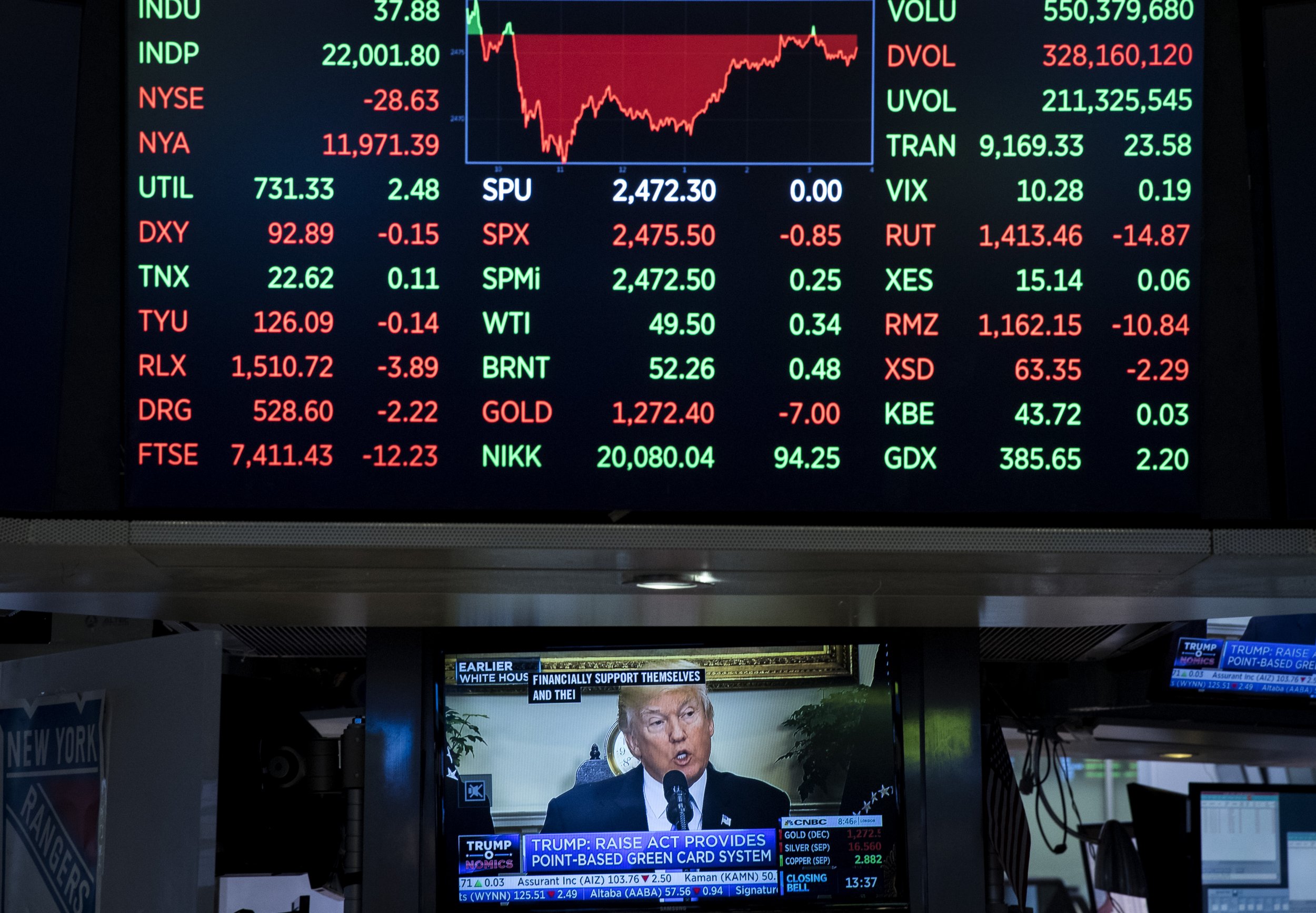 While President Donald Trump frequently claims credit for the country's strong economy, a majority of Americans say their personal finances have not improved since he was elected.
Asked whether their financial situation was better, worse or about the same as two years ago, 45 percent of respondents in a Bankrate 2018 midterm election survey released Wednesday said their finances were about the same, and 17 percent said they were worse. Only 38 percent of respondents said they were better off.
"Wages are taking a slight uptick, but people in general are not seeing huge bumps in their salaries or wages that would make them say, 'Oh wow, things are really getting good,'" Margaret Simms, an economist and nonresident fellow at the Urban Institute, told Bankrate. "People may feel more secure and not worried about losing ground, but they feel they have not gained a lot of ground."
As with many issues, people's economic outlook depended on where they fell on the political spectrum. Republican survey respondents were more likely to attribute their improved financial situation to Donald Trump (60 percent of Republican respondents said they were better off, 9 percent said their financial situation was worse and 31 percent said their finances were about the same). Meanwhile, 29 percent of Democrats said they were better off, 23 percent said they were worse off and 48 percent said their finances were about the same.
Among those who said their financial situation had improved, 24 percent attributed the improvement to Trump, 3 percent attributed it to Republicans in Congress and 15 percent said both were responsible, while a notable 55 percent said neither were responsible.
Again, Republicans were more likely to attribute improved finances to Trump, at 39 percent. Five percent of Republicans attributed the improvements to the GOP, and 27 percent attributed improvements to both the president and the Republican Party, according to the survey.
By contrast, only 7 percent of Democrats said their finances had improved because of Trump, Republicans in Congress, or both.
The survey also found that Americans who were white, Republican and on the higher end of the income-earning scale were more likely to say they were better off financially heading into the midterm elections.
It is a fact that the U.S. economy has improved under Trump, Bankrate senior economic analyst Mark Hamrick said in the report. "Ultimately, a rising economic tide lifts many boats. It does not lift all of them," Hamrick said. "The economy is paying dividends for many Americans, but there are still many people and pockets of the U.S. economy that are hoping for those dividends to appear."
Early this month Trump tweeted that the stock market had "reached an All-Time High during my Administration for the 102nd Time, a presidential record, by far, for less than two years." He also tweeted, "So much potential as Trade and Military Deals are completed."
Economists warn, however, that a major fallout could result from the tariffs Trump has imposed on Chinese imports and other foreign goods.
The survey was conducted for Bankrate by SSRS from September 25 to 30 with 1,001 respondents and a margin of error of plus or minus 3.7 percentage points.