Most Americans Back Simone Biles' Withdrawal From Olympic Competitions for Mental Health: Poll
A majority of Americans say they support gymnast Simone Biles' decision to withdrawal from some of the Tokyo Olympic competitions to focus on her mental health, according to a new poll.
The survey, which was conducted by Axios/Momentive Olympics, found that 62 percent of Americans say they supported Biles' decision, with 51 percent saying they "strongly" agreed with the gymnast's choice. Only 13 percent of people opposed it and another 22 percent said they didn't know enough about the situation to offer judgment.
Among those surveyed, women and and Black Americans were more likely to show support for Biles, with 70 percent of Black respondents and 67 percent of women saying they support Biles.
Regarding the broader question of Olympic athletes' mental health, 61 percent of Americans said it is not taken seriously, compared to just 33 percent who believe it is.
The poll was conducted from Aug. 2-4 among 2,875 adults ages 18 and older in the U.S. The margin of error is plus or minus 2.5 percentage points.
Biles – the most decorated gymnast in history – arrived in Tokyo with the possibility of becoming the most successful female Olympian of all time, but pulled out of four of the five events she was supposed to enter due to mental health concerns.
On July 27, the 24-year-old retired mid-competition during the gymnastics team's final event after recording the lowest score of her Olympic career on the vault in the opening rotation.
Biles said she had a mental block and lost her sense of direction in the air as she was twisting and flipping and that, had she continued, she would have risked injury or hurt the team's chances to win. "It just sucks when you are fighting with your own head," she said after the event.
"After that vault, I was like: 'I'm not in the right headspace, I'm not going to lose a medal for this country and for these girls' because they worked way too hard for me to go out there and have them lose a medal," she said.
Biles later withdrew from the all-round competition and individual vault, floor and uneven bars event finals, citing further mental health concerns. Her decision to speak out about her health was largely met with support, including from the likes of Michael Phelps, Oprah Winfrey and teammate Jordan Chiles.
"I hope this is an opportunity for us to jump on board and to even blow this mental health thing even more wide open. It is so much bigger than we could even ever imagine," Phelps said of Biles.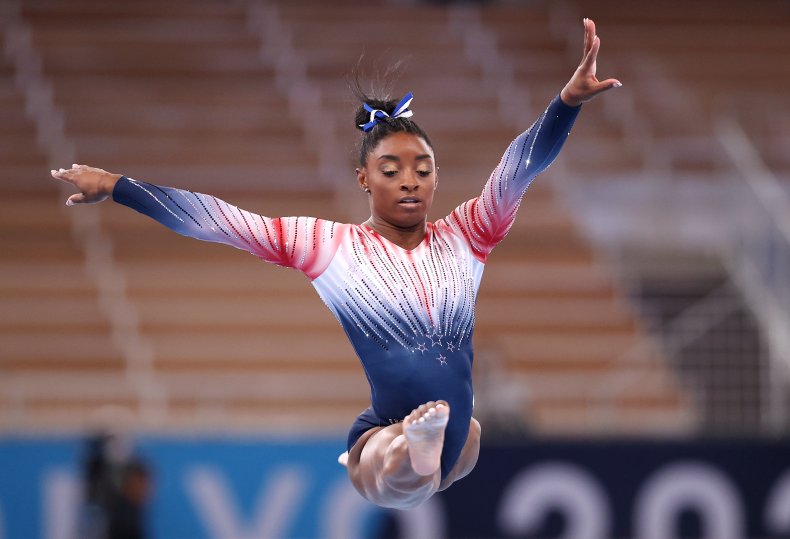 The 24-year-old gymnast left Tokyo on Wednesday after competing in the balance beam finals, placing third. The bronze marks Biles' seventh Olympic medal, which puts her in a tie with Shannon Miller as the most decorated U.S. Olympic gymnast ever. Biles also won a silver medal as part of Team USA.
On social media, the athlete reflected on her time at the Tokyo Olympics, writing that is was "not at all how I imagined or dreamed my second olympics would go," but that she would "forever cherish this unique olympic experience."
"I am going back home in one piece, which I was a little bit nervous about. It's not how I wanted it to go, but I think we've opened bigger doors and bigger conversations," she added in an interview NBC earlier this week.