Most Americans Back Trump for 2024 GOP Primary, Pence and Don Jr. in Second and Third: Poll
President Donald Trump would be the top contender for the Republican presidential nomination in 2024 should he choose to run again after losing to President-elect Joe Biden this year, according to a new poll.
A poll released Tuesday by Morning Consult and Politico found that 53 percent of respondents would choose Trump as the GOP nominee in the next election. Vice President Mike Pence was a distant second choice with 12 percent support, while the president's son, Donald Trump Jr., was the third favorite at 8 percent.
Other names appearing in the survey were even further away from the pack. Sen. Mitt Romney, the 2012 GOP nominee, was tied at 4 percent with both Sen. Ted Cruz and former Ambassador to the United Nations Nikki Haley. Sen. Marco Rubio registered at 2 percent, while South Dakota Governor Kristi Noem joined Sens. Josh Hawley, Tom Cotton, Rick Scott and Tim Scott at 1 percent each.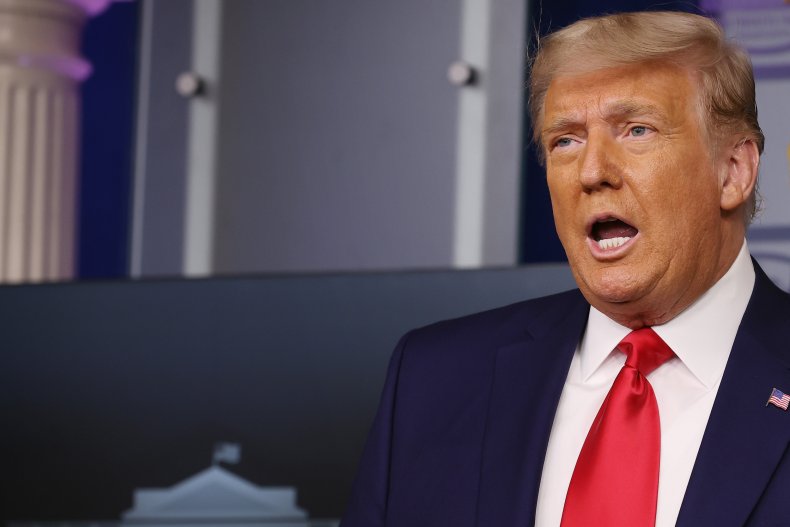 Although a majority favored Trump as the Republican nominee for president in 2024, the same poll found that a larger majority disapproved of his current job performance. While 43 percent said they either "somewhat" or "strongly" approved of Trump's performance as president, 56 percent said they somewhat or strongly disapproved, with strong disapproval being the most common response at 45 percent.
The poll was conducted among 1,990 registered voters between November 21 and November 23. It has a margin of error of 2 percent.
A formal transition between the outgoing Trump administration and the incoming Biden administration was ongoing as of Tuesday, but Trump has refused to concede the clear result of the election, instead alleging that evidence-free claims of voter fraud mean that the election was "stolen" from him.
As legal challenges and other attempts to overturn Biden's victory continue to fail, speculation has swirled that the president could announce his 2024 candidacy even before the end of the year, with some suggesting that Trump could continue to control the Republican party by drawing attention and holding rallies throughout the Biden presidency.
"It would be a fool's errand to declare you're running for president at the end of this year, " Sam Nunberg, a Trump campaign adviser in 2016, told The Washington Post. "But on the other hand, to keep your hold over the party and fight Republican legacy hierarchy so that they can't erase you from history, it's important to remain a front-runner in this process."
"He's highly competitive," added Nunberg. "It's pretty cool to be elected in 2016 — it's historic — but it will be the comeback of political comebacks to regain in 2024."
Newsweek reached out to the Trump campaign for comment.