Most Americans Dislike Donald Trump, Regardless of His Policies, New Poll Finds
A majority of American voters dislike President Donald Trump, despite their feelings about his policies, according to a new NBC/Wall Street Journal poll.
According to the survey, a record 69 percent of registered voters said they personally did not like Trump. Of those who responded that they disliked the president, 50 percent disapproved of most of his policies while 19 percent approved of them.
Overall, less than 30 percent of those polled said they liked Trump on a personal level. Twenty-five percent said they liked Trump and approved of his policies while four percent said they liked him but didn't like his policies.
The poll shows that Trump is the most disliked president out of the 5 most recent Oval Office predecessors, including Barack Obama, George W. Bush, Bill Clinton, George H.W. Bush and Ronald Reagan.
The president's approval rating, however, remains steady at 45 percent—which is the same as Obama and Clinton at this point in their first term. But the survey shows Trump may face a more formidable re-election battle than either Obama or Clinton.
Forty-nine percent of those polled said they were "very uncomfortable" with Trump running again in 2020 while just 26 percent responded that they were "enthusiastic" by his candidacy. The poll was conducted from September 13 to September 16 and surveyed 900 registered voters.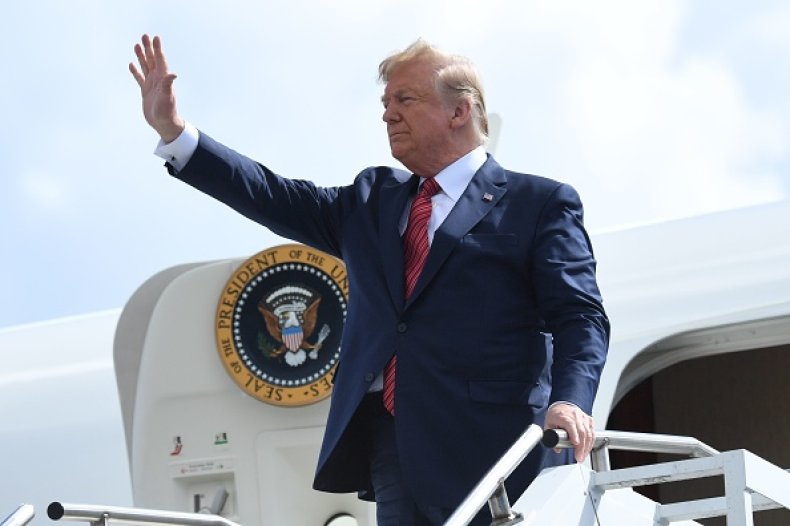 When it comes to Trump's 2020 challenger, the poll showed that voters are more comfortable with the Democratic candidates. Forty-one percent said they were "very uncomfortable" with Bernie Sanders (compared to Trump's 49 percent) and 33 percent said the same about Joe Biden and Elizabeth Warren.
Plus, a recent poll from Fox News showed Trump to be in trouble with every top Democratic opponent. Former Vice President Biden had the biggest lead over Trump, with 52 percent support among voters compared to the president's 38 percent support.
Sanders was the second most favored Democrat when put in a head-to-head matchup against Trump, with 48 percent support compared to Trump's 40 percent. The Vermont senator was followed by Warren and Kamala Harris, who edged out Trump by 6 points and 2 points respectively.
It was the second time that a Fox News poll showed Trump in danger of losing to multiple Democratic challengers. After the first poll came out in August, Trump slammed his favorite cable news network and said the outlet was making a "big mistake."
Trump's former chief strategist Steve Bannon told CNBC last week that the president's 2020 White House bid is not a guaranteed victory. The 2020 race, Bannon said, is going to "be very tough" and Trump doesn't have it "in the bag."
"Trump knows that. That's why he's very focused in his efforts," Bannon said.