Most Americans Now Support Pausing All Immigration Because Coronavirus Changed Their Minds, Polls Show
Americans increasingly support major restrictions on immigration from other countries, particularly as the coronavirus pandemic spreads across the globe, a Newsweek review of recent polls showed.
A USA Today/IPSOS poll conducted March 10-11 found that 76 percent of Americans supported a temporary stop to immigration from high-risk countries affected by the virus at the time, such China, South Korea, Iran, and Italy. One month later, the same poll conducted from April 9-10 found that 79 percent of Americans surveyed said they supported a temporary stop to all immigration, not just from high-risk countries.
Those figures contrast with surveys that captured Americans' attitudes during other parts of Trump's presidency—before Covid-19 deaths and restrictions were part of the national psyche.
Gallup, which has monitored sentiment yearly about immigration since 1999, last summer found that while 35 percent of Americans said they supported decreasing immigration, 64 percent said they supported keeping immigration at its current level or increasing it.
Pew Research Center has consistently found in recent years that more than 60 percent of Americans said they believe immigrants strengthen the country "because of their hard work and talents," while about 30 percent said that immigrants "are a burden on the country because they take jobs, housing and health care." Those numbers are almost exactly the opposite of its findings in 1994, when 63 percent said immigrants were a burden and 31 percent said they benefitted the country. The polls also serve to illustrate how Americans' attitudes about the subject shift over time due to current events.
On Wednesday night, President Donald Trump is expected to sign an executive order that bars people seeking green cards from the country for 60 days. The order will not affect temporary immigrants such as guest workers. Amid criticism from Democrats over his response to the crisis, Trump first moved to stop travel from China and then other countries. When he shut down the border in March, he said the country would be closed "mostly, and even beyond, but mostly during this global pandemic," because of "unscreened" and "unvetted" people entering the country.
It is not yet clear what effect Trump's temporary order will have on individuals' opinions—no polls have yet released such results. But as Trump has said often during his presidency, he may be most interested in rallying his base and giving them what they want from him.
"By pausing immigration, we'll help put unemployed Americans first in line for jobs as America reopens," Trump said Tuesday. "It would be wrong and unjust for Americans laid off by the virus to be replaced with new immigrant labor flown in from abroad. We must first take care of the American workers."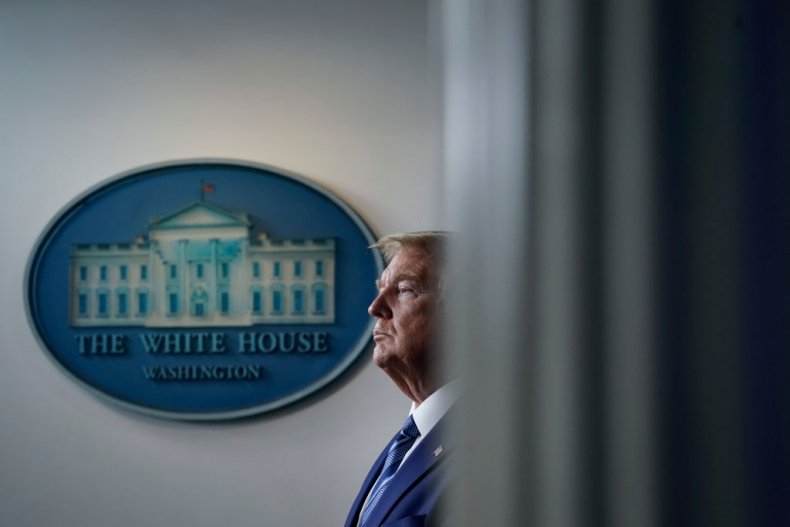 Polls have shown the differing priorities Trump may be interested in. For example, a January Pew Research Center poll looked at what Americans view as political priorities for Trump and Congress to address. It found that while immigration was ranked ninth, buried under issues such as the economy, health care, the environment, social security, education, and helping the poor and needy, Republicans and those who lean Republican who were polled ranked it their third most important issue behind the economy and terrorism.
Tucker Carlson of Fox News, one of the most influential cable news hosts in America—particularly with the people who helped Trump win the presidency, and someone who influences the president, has been railing nightly over the last few weeks that Trump should stop immigration.
"If President Obama was able to ignore existing immigration law and create DACA, and he did, then certainly the current president has the power to cut legal immigration in order to protect the nation," Carlson said earlier this month. "And, in fact, American law gives him explicitly this right."
Trump's temporary move, however, did not appear to assuage Carlson, who argued that it contained "an awful lot of exceptions."
"If the point of this executive order was to protect American jobs, maybe there was another point, but if it was to protect American jobs, it failed," he said Tuesday night.
Trump for his part responded to the high-profile criticism by touting border strength.
"I will be signing my Executive Order prohibiting immigration into our Country today," he tweeted early Wednesday morning. "In the meantime, even without this order, our Southern Border, aided substantially by the 170 miles of new Border Wall & 27,000 Mexican soldiers, is very tight - including for human trafficking!"