Most Americans Say Country Hasn't Gone Far Enough in Giving Women Equal Rights, Report Finds
Has America done enough to ensure gender equality? Most U.S. adults don't think so.
In fact, 57 percent of Americans don't think the country has gone far enough in giving women equal rights with men. Thirty-two percent of adults said "things have been about right" and just 10 percent think the U.S. had gone too far in giving women equal status.
The findings are part of a comprehensive report published Tuesday by the Pew Research Center. The nonpartisan think tank based in Washington, D.C., surveyed 3,143 adults in March and April.
"The fact that a majority of Americans think that things have not gone far enough to give men and women equal rights, even 100 years after the 19th Amendment was ratified, that tells you something about the current state about how Americans think about women's rights," said Ruth Igielnik, one of the co-authors of the report. The 19th Amendment, which gave women the right to vote, was ratified in August 1920.
The number of Americans who think the country hasn't made enough progress in on the rise. In the summer of 2017, Pew researchers found that half of the respondents said the U.S. hadn't gone far enough in giving women equal rights.
"We saw an increase among men, women, Republicans and Democrats. So across the board, people are more likely to say the country hasn't gone far enough in giving women equal rights with men," Igielnik said.
While most respondents agreed that the nation hasn't made enough progress, there was a sizable gap when it came to party affiliation. Roughly three-quarters of Democrats surveyed said the United States hasn't gone far enough when it comes to gender equality, compared with 33 percent of Republicans.
Republicans were also more inclined to think that women's equality has come at a cost. Conservative men were twice as likely as Democratic men—38 percent to 19 percent—to say that the gains of women in society have come at the expense of American males. But overall these respondents were in the minority, as 76 percent of all U.S. adults surveyed said they did not think men have paid a price for women's equality.
Nearly two-thirds of U.S. adults (61 percent) said the Republican Party has done "not much" or "nothing at all" to advance women's rights. For the Democratic Party, just 38 percent said the same.
The biggest obstacle to women's equality, according to respondents, is sexual harassment. Seventy-seven percent of respondents said it was a major barrier to gender equality. Other major obstacles include different legal rights for the two genders and different societal expectations.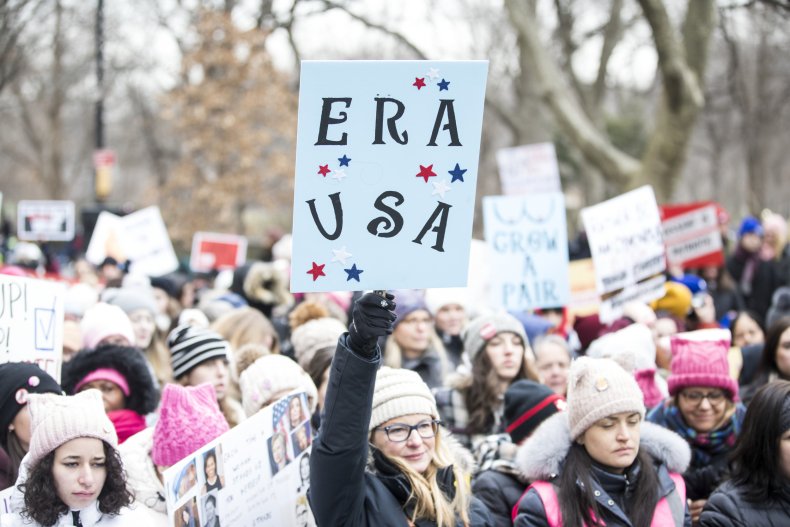 The Pew Research Center also found that most people were optimistic about the future for gender equality. Of those who said the United States hasn't done enough to give women equal rights, more than eight-in-10 respondents said it's likely to happen. Just 16 percent said it wasn't likely to happen at all.
Those changes could start in Congress, where a record-breaking number of women are running for the House of Representatives in 2020. Data gathered from the Center for American Women and Politics at Rutgers University showed that 574 women planned to run for office this election cycle, eclipsing the 2018 "pink wave" that brought Alexandria Ocasio-Cortez, Carol Miller, Ilhan Omar and scores of other female representatives to office.