Most Americans Say Punishments Against Capitol Rioters Are Not Harsh Enough, Poll Finds
As hundreds of people face charges for their alleged participation in the January 6 insurrection, the general public says punishments for those found guilty are not up to scale.
A new poll from The Washington Post and the University of Maryland found 51 percent of Americans think the legal repercussions for those who forced their way into the U.S. Capitol last year have "not been harsh enough."
Fewer than 2 in 10 Americans told surveyors that the punishments are "too harsh" while 28 percent said they believed the consequences to be fair.
The findings come as the nation nears the one-year anniversary of the violent attack, during which Donald Trump supporters stormed the building in an attempt to stop the certification of President Joe Biden's Electoral College victory.
Five people, including one U.S. Capitol Police officer, died during or shortly after the riot. Hundreds of law enforcement officers were also injured in the attack.
Federal prosecutors have since charged more than 700 individuals with crimes stemming from their alleged participation.
A Newsweek analysis found judges have generally been lenient when it came to rioters who pleaded guilty in 2021, and more than half of the 21 people sentenced last year avoided jail time.
In December, the harshest sentence yet was handed down to Robert Palmer of Florida. Palmer received more than five years behind bars after being indicted on eight counts but pleading guilty to one charge of assaulting police with a dangerous weapon.
Palmer told the judge at his sentencing hearing that he'd recently watched a video of his actions during the riot, which included spraying a fire extinguisher at the police before throwing the object at them.
"I'm really ashamed of what I did," Palmer said during the hearing.
Roughly two-thirds of Americans say it's "never justified" for citizens to take violent action, while one-third said such action is justifiable. Roughly 4 in 10 Republicans and independents surveyed said that violent action against the government is sometimes justified.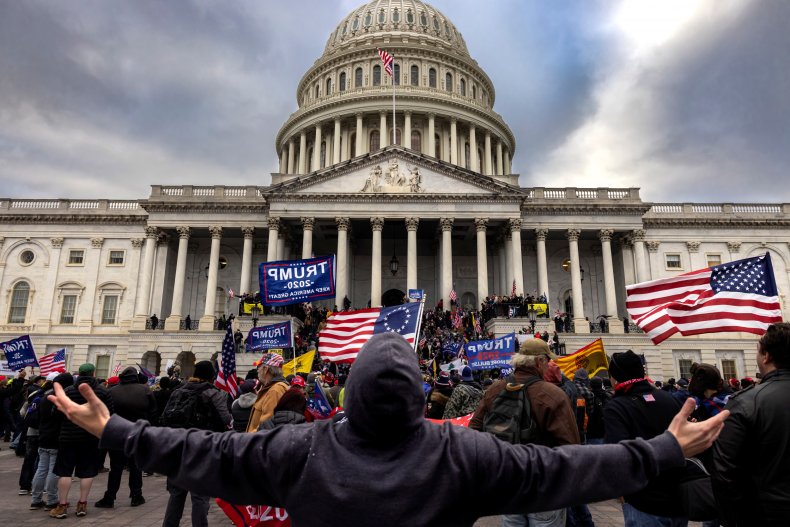 Lawmakers plan to hold a prayer service at the U.S. Capitol on January 6. House Speaker Nancy Pelosi said in a letter to Democrats that there will be a moment of silence in the chamber and a "Historic Perspective" conversation with historians on what happened that day.
"These events are intended as an observance of reflection, remembrance and recommitment, in a spirit of unity, patriotism and prayerfulness," Pelosi said.
At the same time, Trump will give remarks from his Mar-a-Lago resort in Palm Beach, Florida.
"Until then, remember, the insurrection took place on November 3, it was the completely unarmed protest of the rigged election that took place on January 6," Trump said in December when announcing his January 6 news conference.
The Post and the University of Maryland found that a majority of Americans still think Trump bears responsibility for the violence at the U.S. Capitol: 43 percent said he bears a "great deal" of responsibility and 17 percent said he bears a "good amount."
The poll was conducted between December 17 and December 19, and included 1,101 adults. The margin of error for the survey is plus or minus 4 percentage points.