Majority of Americans Say Donald Trump Has Made the U.S. Less Safe With Strike On Soleimani: Poll
Most Americans believe President Donald Trump has made the United States less safe by ordering the assassination of Iranian General Qassem Soleimani, a new poll has found.
The survey by USA Today and Ipsos revealed that 55 percent of the country believe the drone strike on the former Quds Force leader near Baghdad International Airport last Friday has made America either "somewhat" or "much less" safe.
By comparison, only 24 percent of survey respondents said the killing made the U.S. more safe, while a little more than one in five said they don't know if the country was more or less safe.
Ipsos further found that more than two-thirds of Americans believe Iranian-linked attacks on U.S. interests in the Middle East are more likely as a result of the Soleimani killing and its aftermath, with 63 percent telling posters they believe the likelihood of terrorist attacks on home soil has risen.
Newsweek subscription offers >
When the possibility of the United States and Iran going to war was posed, just under two-thirds (62 percent) of those polled said direct conflict was more likely.
A little over half (52 percent) told pollsters that the prospect of Iran obtaining nuclear weapons is also more likely following the Soleimani strike—an unsurprising result, as the Islamic Republic last week announced it was fully withdrawing from the Joint Comprehensive Plan of Action, otherwise known as the Iran nuclear deal.
The same percentage described President Trump's behavior with Iran had been "reckless."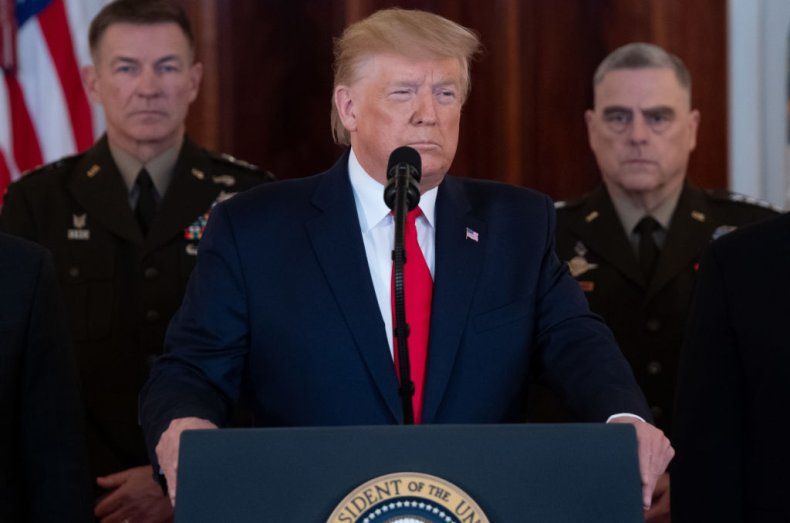 Newsweek subscription offers >
Less than a third of Americans said they felt the "re-establishment of U.S. dominance in the Middle East" was a likely outcome of the Trump administration's assassination of Soleimani, according to the poll.
The Iranian General was killed by the U.S. on January 3 following a protest at the American embassy in Baghdad, Iraq, and amid a series of tit-for-tat exchanges between Iran and America.
Iran responded to the assassination of its top commander with missile strikes against Iraqi military facilities housing U.S. and coalition forces on Tuesday night, but no casualties resulted. In the aftermath, Iranian Foreign Minister said the action had concluded its response to the U.S.
At a press conference on Wednesday, President Trump also acknowledged that Iran "appears to be standing down," following its non-fatal retaliatory strikes.
Surveying Americans as the latest developments in the U.S.-Iran conflict unfolded, Ipsos found the country divided over support for Soleimani's killing, with 42 percent saying they were either "strongly" or "somewhat" in support and 33 percent opposing the strike.
However, there is much less division over whether the killing marked an escalation in the conflict. Almost two-thirds of respondents (64 percent) said it was an escalation of tensions, and more than half said they support congressional congressional limitations on the president's ability to take military action without approval.
Presented with a list of possible actions, and asked whether they would approve, 64 percent said they backed the U.S. killing terror group leaders, and half backed attacks against "foreign military officers of opposing governments who have ties to known terrorist organizations."
But only a quarter supported the killing of opposing government military officers and less than one in five Americans backed the killing of foreign elected officials.
The USA Today/Ipsos poll was conducted between January 7-8 and surveyed 1,005 American adults, including 429 Democrats, 387 Republicans and 115 Independents. Pollsters said its margin of error was 3.5 percentage points.
Majority of Americans Say Donald Trump Has Made the U.S. Less Safe With Strike On Soleimani: Poll | U.S.