Most Americans Are Scared of Driverless Cars, Poll Finds
In the past few weeks, officials in California and Arizona have approved regulations that allow driverless cars to take to the roads. But new research showing that most Americans aren't comfortable with such vehicles suggests that tech companies have their work cut out when it comes to getting the public to take their hands off the steering wheel.
A poll of over 3,000 U.S. adults by consultancy firm Gallup found that 59 percent of Americans would be uncomfortable riding in a self-driving car, while a further 54 percent said they would be unlikely to use a self-driving vehicle. That figure spiked to 69% when respondents were asked if they would be uneasy sharing the road with self-driving trucks.
Those over the age of 66 were the least likely to accept self-driving cars, with 69 percent saying they would be unlikely to use the vehicles compared with 41 percent of millennials.
The research comes as tech firms attempt to convince officials that driverless cars are not just safe, but should be at the heart of cities in the future.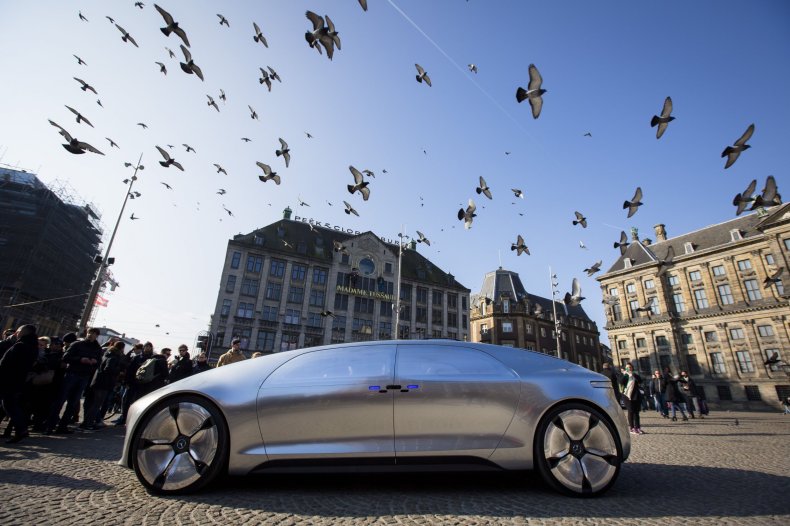 On Monday, California's Department of Motor Vehicles approved new regulations that will allow fully driverless cars to be tested on public roads without a human at the wheel. That decision came after Arizona's state department approved an application by driverless car firm Waymo to operate as a transportation network company, Quartz reported.
Volvo and Uber are likely eyeing these plans nervously, as in 2016 they announced a partnership to invest $300 million in developing self-driving vehicles.
"Tesla, Google and Apple are all working on autonomous electric cars. And mainstream auto makers like Daimler, Volvo, Toyota and BMW—and critically major supply chain firms—are all pushing autonomous vehicle technologies in a big way," Professor David Bailey, an expert in the car industry at Aston Business School, tells Newsweek.
By 2025, some analysts believe that the market will grow from around $6 billion now to $25 billion by 2020, he added.
Read more: Would you get into a car without a steering wheel?
So, how can we as members of the public be convinced to get on board?
First, we must get used to cars which drive while we sit at the wheel, before transitioning to fully autonomous vehicles, Professor Bailey says.
Dr Antonio Espingardeiro, a member of the New York-based Institute of Electrical and Electronics Engineers' (IEEE) Robotics and Automation Society, points out that "in practical terms, autonomous self-driving cars have already driven millions of miles without major issues."
"To build trust we need successful case studies where robots make a difference: easier, safer, faster and less painful are keywords that demonstrate the full potential of robotics."
Professor Kevin Curran, senior member of the IEEE and professor of cybersecurity at Ulster University, added that in the end, driving manually will seem "ridiculous" in a world where devices have taken over from menial tasks and we are "engrossed in cyberspace." The timeframe for this, however, is anyone's guess.
"It is worth noting that driverless vehicles open up new possibilities, such as allowing those who are not legally eligible to drive, for example convicted drink drivers, younger people, older people, and those with disabilities," he added.