New Poll Shows Majority of Americans Support Trump Impeachment if President Suspended Ukraine Aid Over Biden Inquiry
A majority of Americans support impeaching President Donald Trump if he suspended military aid to Ukraine to pressure the foreign nation to investigate former Vice President Joe Biden and his son, according to a new poll.
House Speaker Nancy Pelosi announced on Tuesday the opening of a formal impeachment inquiry against Trump in response to the Ukraine controversy. If it's found that Trump did use his presidential power to force a foreign leader to help take down a political rival, 55 percent of U.S. adults said they would support removing him from office, according to a recent YouGov survey.
Forty-four percent of those polled said they'd "strongly support" removing Trump if the allegations are true, while another 11 percent said they'd "somewhat support" it.
On the other side, 20 percent of adults surveyed said they'd "strongly oppose" impeaching Trump for such an action, and 6 percent said they'd "somewhat oppose" it.
The survey showed support for impeachment was largely partisan, with 66 percent of those who "strongly support" removing Trump identifying as Democrat. Just 22 percent who "strongly support" impeachment were Republican.
The poll was conducted on Tuesday, the same day the House of Representatives launched its formal impeachment inquiry. It's just the fourth time in U.S. history that a president has faced a serious risk of being removed from office.
"The actions taken to date by the president have seriously violated the Constitution," Pelosi said in a speech on Tuesday afternoon. Pelosi added that Trump must be "held accountable" and that "no one is above the law."
At the center of the impeachment debate is a July 25 phone call between Trump and Ukrainian President Volodymyr Zelensky. The White House released a transcript of that call on Wednesday.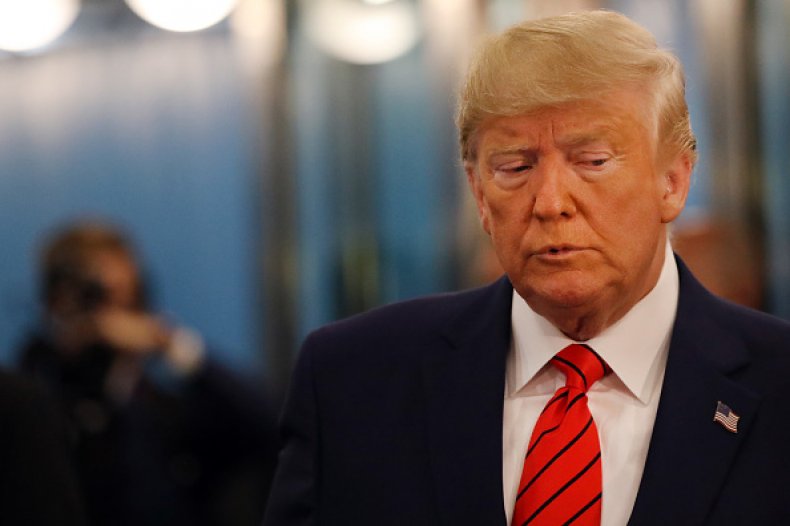 During the call, Trump asked Zelensky to contact Attorney General William Barr, as well as lawyer Rudy Giuliani, about a possible corruption investigation into the Bidens.
"There is a lot of talk about Biden's son, that Biden stopped the prosecution, and a lot of people want to find out about that," Trump said, according to the transcript. "Whatever you can do with the attorney general would be great."
An official in the intelligence community the conversation so troubling that he or she filed a formal complaint with the inspector general. The complaint was deemed credible by the inspector general, but acting Director of National Intelligence Joseph Maguire has refused to share details of the complaint with Congress.
Trump has maintained that the call was "totally appropriate." He responded to the impeachment inquiry on Twitter by accusing Democrats of "PRESIDENTIAL HARASSMENT!"
Reports allege that Trump asked his acting chief of staff to place a hold on $391 million in military aid to Ukraine days before the call in order to incentivize Ukraine to investigate the Bidens. If Trump did, House Democrats argue, that would be the definition of abusing presidential power.
"If the recent reports are accurate, it means the President raised with a foreign leader pursuing investigations related to a political opponent in an upcoming election. That is the very definition of corrupt abuse of power," three House Democratic committee chairmen—Adam Schiff, Eliot Engel and Elijah Cummings—wrote in a statement.