Most Americans Think Donald Trump Bears Responsibility for Capitol Attack: Poll
Most Americans think President Donald Trump bears responsibility for the attack on the U.S. Capitol and that he should be removed from office over the deadly riot.
According to a poll released Friday by ABC News and The Washington Post, 45 percent of U.S. adults surveyed said Trump deserves "a great deal" of responsibility for what transpired last week.
An additional 12 percent of respondents said the president deserves a "good amount" of responsibility. Less than a third—28 percent—of Americans said he bears no responsibility at all.
Thousands of Trump supporters gathered in Washington D.C. on January 6 to protest the congressional certification of President-elect Joe Biden's victory. Making an appearance at the "Stop the Steal" rally, Trump continued to make baseless accusations that the 2020 election was riddled with fraud.
The president told the crowd that "we will never give up" and that they would have to "fight much harder."
Later that day, a mob stormed the U.S. Capitol building to disrupt the joint session of Congress. Five people died in the riot, including one law enforcement officer.
In response, the House of Representatives voted 232 to 197 to impeach Trump on January 13. The charge was "incitement of insurrection." Ten Republicans joined Democrats in approving the impeachment, signaling a shift in the conservative base after zero Republicans supported Trump's first impeachment in 2019.
Trump is the first U.S. president in history to be impeached twice.
"Shortly before the Joint Session commenced, President Trump, addressed a crowd at the Ellipse in Washington, D.C. There, he reiterated false claims that 'we won this election, and we won it by a landslide,'" the impeachment article read. "He also willfully made statements that, in context, encouraged — and foreseeably resulted in — lawless action at the Capitol, such as: 'if you don't fight like hell you're not going to have a country anymore.'"
Additionally, a majority of Americans (54 percent) agreed Trump should be charged with the crime of inciting a riot, according to the new survey. And an even greater majority (56 percent) think he should be removed from office and disqualified from running for a federal post again in the future.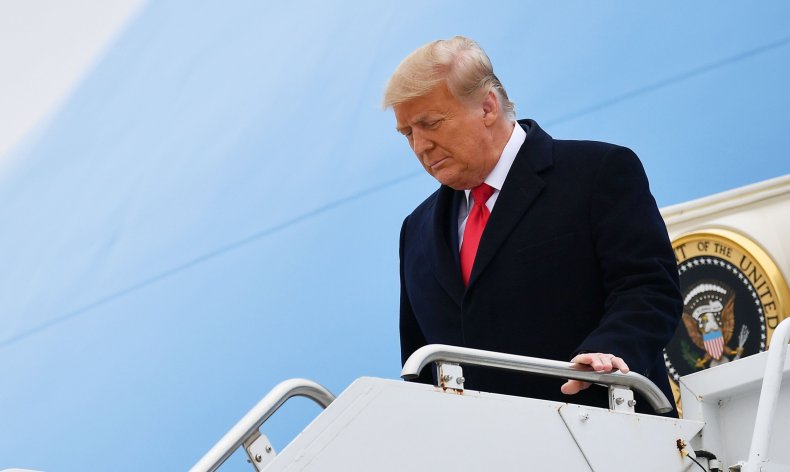 Support from his removal is far greater among Democrats than Republicans. Eighty-nine percent of respondents who identified as Democrats or leaned Democratic said he should be removed, while 85 percent of Republicans or leaning Republican said he should not be removed from office.
It's unclear when the Senate will hold a trial on whether to convict Trump, but it's unlikely to happen before he leaves office and Biden is sworn in this Wednesday. Senate Majority Leader Mitch McConnell (R-Ky.) issued a statement saying Congress should spend the immediate future "completely focused on facilitating a safe inauguration and an orderly transition of power."
The ABC News/Washington Post poll surveyed 1,002 adults from January 10 to January 13, and has a margin of error of 3.5 percentage points.