Most Americans Think Sending Troops to Ukraine Is a 'Bad Idea': Poll
While most Americans agree that the U.S. should help Ukraine, the majority do not back sending U.S. troops to fight Russian soldiers, a new poll shows.
With more than 150,000 Russian troops posted along Ukraine's border, President Joe Biden says the threat of an invasion is high. There are about 80,000 American service members in Europe, sparking concern for their safety.
At a briefing Thursday morning, Biden said the threat of a Russian invasion is "very high," as Russia continues to send troops to the Ukraine border.
"They have not moved any of their troops out; they've moved more troops in," Biden said. "We have reason to believe that they are engaged in a false-flag operation to have an excuse to go in. Every indication we have is they're prepared to go into Ukraine, attack Ukraine."
A poll conducted by YouGov found that 55 percent of Americans think sending U.S. troops to fight Russia "is a bad idea." The majority of those opposed, 62 percent, identified as Republicans. Only 13 percent of Americans surveyed thought it was a good idea.
Though most oppose sending soldiers to face Russia, Americans are in favor of helping Ukraine in other ways.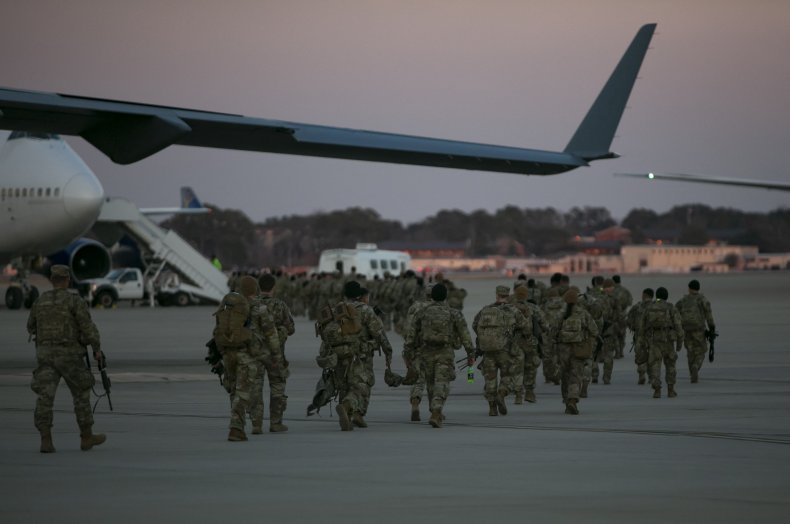 The poll found that 42 percent of Americans believe the U.S. should send financial aid to Ukraine, compared to 24 percent who disagreed and 34 percent who said they were unsure.
Both Democrats, 45 percent surveyed, and Republicans, 39 percent, agree that the U.S. should send weapons to Ukraine, but not fight.
Americans also favored imposing sanctions on Russia and sending troops into NATO countries in Europe instead of sending U.S. troops to Ukraine.
Although most Americans don't support sending troops, another 3,000 from the 82nd Airborne Division will move to Europe in the coming days, according to the U.S. Department of Defense.
"As we've said before, we are in the window when an invasion could begin at any time should [Russian President] Vladimir Putin decide to order it," National Security Advisor Jake Sullivan said.
U.S. officials are working to keep troops safe and have pulled some soldiers out of Ukraine and into other European countries.
"They are departing Ukraine and will reposition elsewhere in Europe," Pentagon Press Secretary John F. Kirby said in a written statement. "[Secretary of Defense Lloyd Austin] made this decision out of an abundance of caution—with the safety and security of our personnel foremost in mind—and informed by the State Department's guidance on U.S. personnel in Ukraine."