Most Americans Think States Are Reopening at Right Pace or Too Slowly: Poll
A majority of Americans believe states have reopened at the right pace or too slowly despite rapid rises in coronavirus cases over the last couple of weeks, new polling data shows.
The latest survey from CBS News and YouGov found that a combined 61 percent of U.S. adults felt their states were reopening at the right pace or too slowly. A little more than four in ten (41 percent) felt state officials had reopened at the right pace, while 20 percent said they had been too slow.
By comparison, only 39 percent of polled Americans said their state authorities had reopened the local economy and lifted stay-at-home measures too quickly.
Although a majority of those surveyed said they were either happy with the pace of reopening or wanted a faster lifting of lockdown measures, pollsters also found that most U.S. adults were cautious about their return to public places.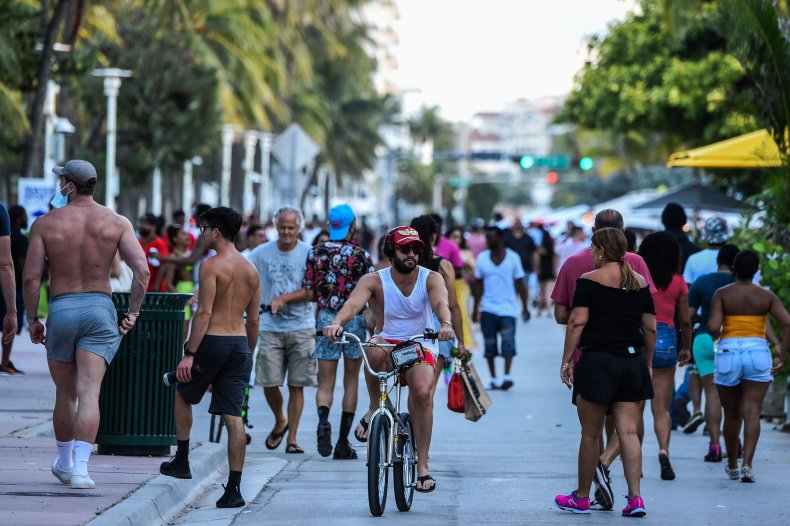 A little more than half of respondents (52 percent) said they were only returning to some public spaces, depending on their needs and whether the places appeared to be safe. Twenty-six percent claimed they were not returning to public places at all, and wouldn't do so until they were confident about the COVID-19 outbreak passing.
Roughly a fifth of Americans said they were returning to as many spaces as they did before lockdown, granted that they were open to the public.
Asked how they felt about the novel coronavirus now, compared to how they felt a couple of months before, 58 percent told pollsters they felt the same way about the disease. A quarter of respondents (25 percent) believed they were more at risk, while 17 percent reported feeling safer than before.
Americans were also found to be damning in their view of President Donald Trump's handling of the pandemic, with 73 percent saying coronavirus deaths could have been lower if plans to combat the outbreak had been made sooner.
Fifty-nine percent of U.S. adults also told YouGov pollsters that they believed Trump's handling of the pandemic was either "somewhat" or very bad. A further 72 percent felt that his administration was unprepared to handle the outbreak when it reached U.S. shores.
The latest CBS News poll surveyed more than 2,000 U.S. adults between June 23 and June 26. Its margin of error stands at 2.6 percentage points.
The survey's findings were published as the total number of confirmed COVID-19 cases in the U.S. topped the 2.5 million mark amid reports of significant surges in some states.
Texas Gov. Greg Abbott warned on Sunday that the average number of daily cases in the Lone Star State had taken a "very dangerous turn," having jumped from around 2,000 to more than 5,000 in a matter of weeks.
In the nearby state of Arizona, a record single-day increase in coronavirus cases was reported on Sunday. According to the Arizona Department of Health Services, more than 3,858 new confirmed infections were reported on Sunday.
Florida also reported a spate of new COVID-19 cases at the end of last week, with roughly 27,000 more confirmed cases of infection recorded between Thursday and Sunday. More than 9,500 new cases were reported in the state on Saturday alone.