Trump Voters Back the President No Matter What, Poll Suggests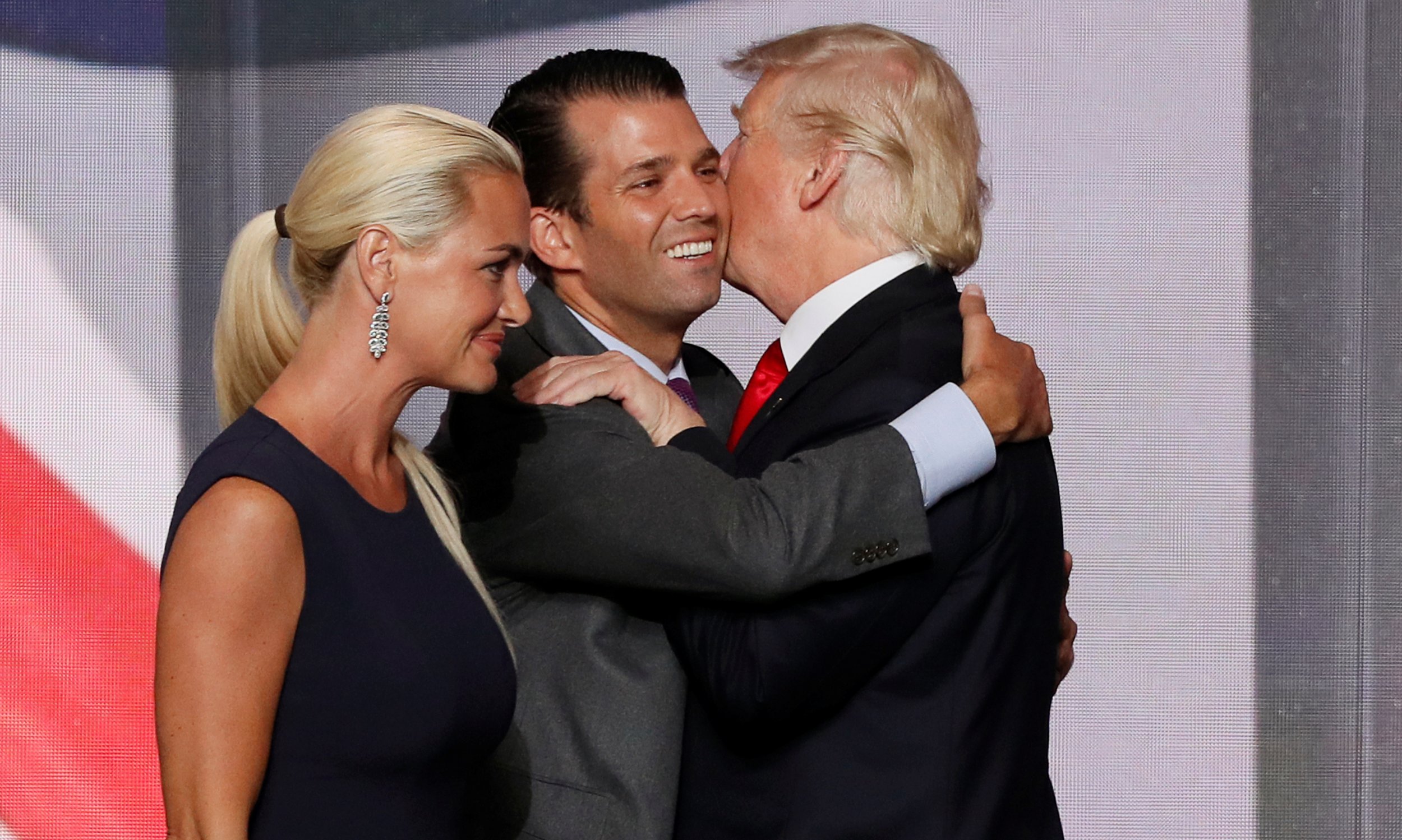 The majority of Americans think it was inappropriate for Donald Trump's son, Donald Trump Jr., to meet with a Russian lawyer who promised him damaging information about Hillary Clinton.
Donald Trump Jr. met with Kremlin-linked lawyer Natalia Veselnitskaya in June 2016, and it has since emerged that the president's eldest son was informed via email that the information was part of Moscow's attempt to aid a Trump victory, three people aware of the email told The Washington Post.
And news of his meeting with Veselnitskaya has not gone down well with the American people, with a new survey from HuffPost/YouGov released on Thursday finding 53 percent of respondents thought that it was inappropriate for Donald Trump Jr. to attend the meeting.
The survey found 22 percent of people thought the meeting was appropriate, while a further quarter of people were unsure whether or not it was appropriate for Donald Trump Jr. to meet Veselnitskaya.
The number of people who believed the meeting was inappropriate was higher among those voters who previously supported Hillary Clinton in the 2016 presidential election, with just 1 percent of Clinton voters thinking it was appropriate for Donald Trump Jr. to take the meeting and 89 percent finding it inappropriate.
However, most Donald Trump voters were unfazed by the meeting, with 60 percent feeling the meeting with appropriate, 24 percent unsure, and just 17 percent calling it inappropriate.
Indeed, it is not the first time Donald Trump voters have showed they are prepared to stick by the president no matter what. During the Republican's election campiagn, following the leaking of a tape in which Donald Trump appeared to boast about assaulting women, three separate polls showed his supporters were not overly concerned by the tape.
A poll by Morning Consult for Politico showed Republicans weren't thrilled by the tape but that after Trump's apology video they continued backing their guy, with only 12 percent of Republican voters believing he should have stood down.
And since taking office, some of Trump's more questionable actions, such as his dismissal of then-FBI chief James Comey, have not swayed his voter base, with an NBC News/Survey Monkey poll showing 79 percent of Republicans backed his decision.
Donald Trump Jr.'s admission of the meeting on Clinton comes amid investigations into Russia's alleged interference in the U.S. election and whether or not Trump's team worked with Russia to do so.
Sine news of the meeting has emerged, Trump Jr.'s actions have divided opinion in the GOP, with lawmakers appearing uncertain whether to back the president's son or distance themselves from the situation by speaking out against the meeting.
New York GOP Congressman Lee Zeldin tweeted following the emergence of the emails: "I voted for @POTUS last Nov. & want him & USA to succeed, but that meeting, given that email chain just released, is a big no-no."