Most Americans Want Senate Vote on COVID Stimulus Before Amy Coney Barrett's SC Nomination: Poll
Americans would rather see the U.S. Senate approve a new coronavirus stimulus package before deciding whether Judge Amy Coney Barrett should sit on the U.S. Supreme Court, according to poll data released Tuesday.
In the latest Yahoo News/YouGov poll, 66 percent of registered American voters want the Senate to put a new coronavirus package to a vote as its first priority. Voting on Barrett's nomination was named by 27 percent of those polled as the item the Senate should address first.
Talks between Democrats and Republicans concerning an economic stimulus package have been unproductive. While Democrats have been eager to pass a bill costing $2.2 trillion dollars, the White House has offered its own plan with a price tag of $1.8 trillion. Democrats say the White House's plan does not go far enough to aid Americans.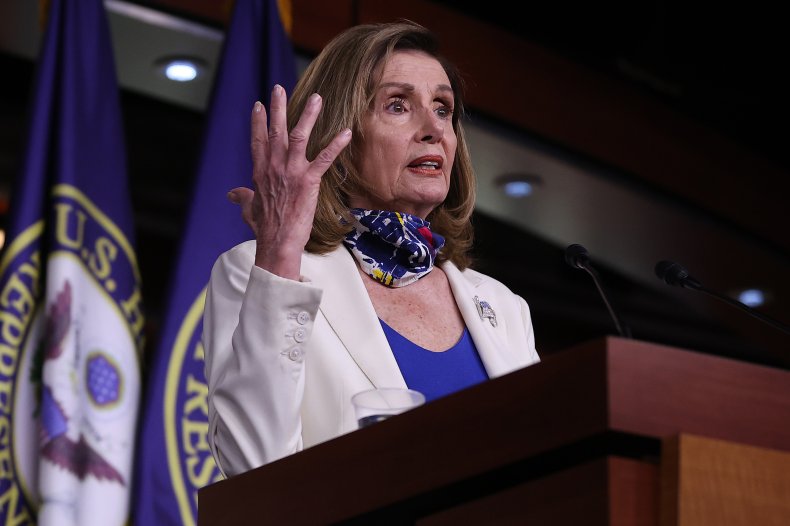 Meanwhile, Barrett's hearings are expected to enter their third day on Wednesday. Barret's nomination has drawn criticism for taking place during an election year, with some Democrats contending that nominating a new justice should wait until after the November election.
Democrats overwhelmingly wanted emphasis placed on voting on the COVID-19 package. While 92 percent of Democrats said they wanted the Senate to vote on a new stimulus bill, only 6 percent wanted Barrett's nomination to come first. A little more than half of the Republicans polled wanted a vote on Barrett's nomination to happen before the next stimulus bill got a vote. According to the poll, 57 percent of Republicans said Barrett's vote should be first, while 33 percent of Republicans said voting on the next stimulus package should happen first.
Most Americans do not support increasing the number of justices on the Supreme Court. Out of all individuals surveyed, 46 percent were opposed expanding the Supreme Court bench, while only 21 percent were in favor of adding more justices.
The poll was conducted between October 9-11 among 1,525 registered U.S. voters. It's margin of error is plus or minus 4.3 percent.
Democratic House Speaker Nancy Pelosi said Tuesday that waiting until after the election to pass the stimulus bill was not a viable option.
"Nobody's waiting till February," Pelosi said in a CNN interview. "I want this very much now because people need help now. But it's no use giving them a false thing just because the president wants to put a check with his name on it in the mail."
Senate Majority Leader Mitch McConnell called Democrat proposals a "multi-trillion-dollar wish list" on Tuesday.
"Democrats have spent months blocking policies they do not even oppose," McConnell said in a Tuesday statement. "Speaker Pelosi frequently says she feels 'nothing' is better than 'something.' And she has worked hard to ensure that nothing is what American families get."
When the full Senate reconvenes on Monday, McConnell said, it will vote on a $500 billion relief bill that would replenish some funds to the Paycheck Protection Program, which some businesses used to pay both workers and expenses during coronavirus related closures.
Newsweek reached out to Pelosi's office for comment.
Barrett's confirmation hearings are expected to end on Thursday. A final vote on her nomination is expected to occur before Election Day. Some Democrats have alleged that Barrett would work to undermine the Affordable Care Act, which provides health insurance to millions of Americans. Barrett denied those claims during Tuesday's hearings.
"I'm not here on a mission to destroy the Affordable Care Act," Barrett said. "I'm just here to apply the law and adhere to the rule of law."