Most Americans Would Get Second $1,200 Check Under New Democratic Stimulus—But GOP Says it Won't Pass
A massive new economic stimulus that clocks in at $3 trillion—even more than the historic $2 trillion package passed in March—would provide most Americans with another installment of $1,200 for each individual, with a maximum of $6,000 per household.
House Democrats' 1,800-page HEROES Act would also extend weekly $600 federal unemployment payments through January; give $1 trillion to state, local and tribal governments; provide $200 billion for a boost in pay to essential workers; and give $75 billion for coronavirus testing, contact tracing and free treatment, among other provisions.
Citing low interest rates, House Speaker Nancy Pelosi made her case for why the federal government should continue to "think big."
"We face the biggest catastrophe in our nation's history. Setting aside how we got here, we must approach this tragedy with the deepest humanity as we go into the future," the California Democrat said. "We must think big for the people now because if we don't, it will cost more in lives and livelihood later. Not acting is the most expensive course."
However, the package is dead-on-arrival with Republicans.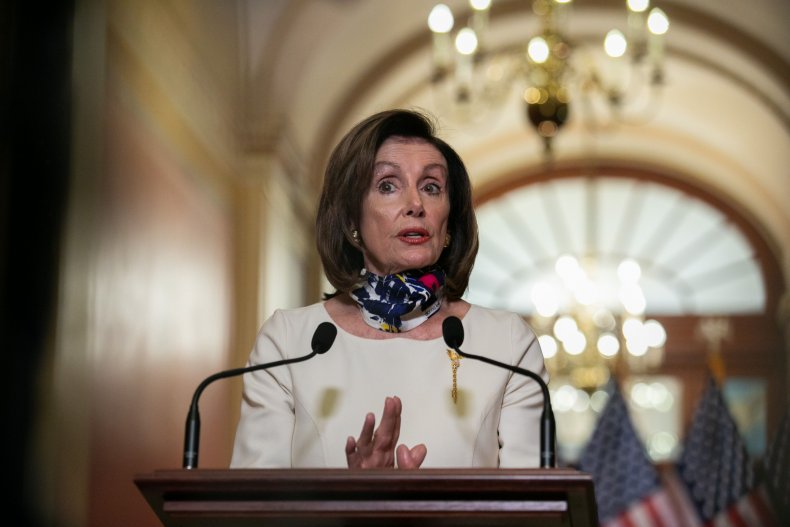 "We can't spend enough money to prop this economy up forever," said Senate Majority Leader Mitch McConnell. "This is not a time for aspirational legislation, this is a time for a practical response to the coronavirus pandemic."
"So," the Kentucky Republican continued, "we're gonna insist on doing narrowly-targeted legislation—if and when we do legislate again, and we may well—that addresses the problems, the needs and not the aspirations of the Democratic majority in the House."
The Democratic-led House, which is on recess, will return to Washington, D.C., on Friday to approve the legislation. Its passage will come as the ongoing pandemic has plunged the country into unemployment levels not seen since the Great Depression and states beginning to reopen their economies by lifting social distancing guidelines. Congress has already passed a sum of about $3 trillion in previous coronavirus bills.
Democrats crafted the legislation without consultation of their colleagues across the aisle or in the White House, lending Republicans to label the proposal a "Democrat wish list" long before the final text was unveiled. Republicans are pushing for liability protections for businesses and schools against lawsuits but remain split on when—and if—more aid like state and local funding should be doled amid a mountain of skyrocketing debt.
Meanwhile, President Donald Trump wants payroll tax cuts, a proposal that has on Capitol Hill a lukewarm response among Republicans and disapproval with Democrats. Senate Republicans are slated to meet with the president at the White House Tuesday afternoon.
But the fate of the HEROES Act is still uncertain, thanks to some progressives who aren't satisfied. Because of the lack of GOP support, Pelosi can't afford to lose but roughly a dozen and a half Democratic votes.
Congressional Progressive Caucus (CPC) co-Chairs Pramila Jayapal (D-Wash.) and Mark Pocan (D-Wis.) sent a letter to Pelosi and Majority Leader Steny Hoyer (D-Md.) Tuesday afternoon requesting that the vote be postponed until next week. Jayapal and Pocan want time for the Democratic caucus to meet as a whole and discuss "any amendments that might be needed to ensure that it truly reflects the priorities and the work of the entire caucus." The letter was provided to Newsweek and first reported by Politico.
In a series of tweets, Jayapal contended the draft bill does not go far enough to ensuring access to affordable health care and getting paychecks back into people's pockets. Jayapal, Pocan and liberal CPC colleagues wanted Jayapal's Paycheck Guarantee Act included, an idea where the federal government would pay for Americans' salaries for three months for those who earn up to $100,000.
Still, liberal groups lauded the legislation as "an important step." And Democratic leadership said they do not plan to deviate from their schedule.
"The staggering scale of this crisis demands extraordinary urgency, and therefore, the House will be proceeding with our vote on the Heroes Act on Friday," the Democratic chairmen of 13 committees wrote in a letter to their colleagues Tuesday night. "We urge you to support the legislation and to be present on Friday. Thank you again for your thoughtful input."
The HEROES Act also includes $10 billion in emergency grants for small businesses; creates a special enrollment period for the Affordable Care Act; $175 billion in rent, mortgage and utility relief; a 15 percent increase to food stamps; and more resources for the November elections and the U.S. Postal Service.
Similar to the first round of checks, the individual economic relief would be gradually phased out for joint filers, head of households and individuals whose adjusted gross incomes exceed $150,000, $112,500 and $75,000, respectively.
This story was updated to include information about the letter sent to Pelosi and Hoyer by Jayapal and Pocan. It was further updated to include a letter by committee 13 chairmen.