Under a massive $1 trillion economic stimulus package released by Senate Republicans on Thursday, certain Americans would receive individual checks from the federal government to counteract the strain that the coronavirus pandemic has placed on millions of workers.
An individual who makes up to $99,000 and couples who make up to $198,000 would be eligible to receive tax rebate checks. The income levels would be based on adjusted gross income from taxpayers' 2018 tax return. Families with children would receive more.
The 247-page proposal was drafted by Senate Republicans in consultation with the White House. It also includes travel industry bailouts and small business loans. The next step will be for the White House and GOP senators to work with their Democratic counterparts in the House and Senate to strike a deal that can muster enough support in Congress to land on the president's desk, a goal that lawmakers hope to complete by early next week.
"If we don't, we're gonna get our ass kicked," Sen. Lindsey Graham (R-S.C.) said. "That's why I think we'll do it. I will be the first one to kick myself."
Here's who qualifies under the proposal and how much you would receive:
Individuals
Less than $75,000: $1,200 check.
More than $75,000: "the rebate amount is reduced by $5 for each $100 a taxpayer's income exceeds the phase-out threshold" up to $99,000, the plan states. That means someone who made $80,000 would receive $950, $85,000 would get $700 and $90,000 would get $450.
Married couples who filed a joint return
Less than $150,000: $2,400 check.
More than $150,000: "the rebate amount is reduced by $5 for each $100 a taxpayer's income exceeds the phase-out threshold" up to $198,000, the proposal says. That means a couple who made $160,000 would get $1,900, $170,000 would receive $1,400 and $180,000 would get $900.
Families
For each child, the amount received will be increased by $500.
Additional Details
Those who are diagnosed with coronavirus or suffer "adverse financial consequences due to it" would be able to tap into their 401(k)s and their Individual Retirement Accounts without penalty.
Taxpayers with little or no income tax liability but at least $2,500 of qualifying income, such as earned income, Social Security retirement benefits, and certain compensation and pension benefits paid to veterans, would be eligible for a minimum rebate check of $600 for individuals and $1,200 for married couples.
"I hope this bold, new proposal will find a similar degree of bipartisan respect and mutual urgency on the other side of the aisle and across the Capitol," Senate Majority Leader Mitch McConnell (R-Ky.) said on the floor. "These bipartisan discussions must begin immediately and continue with urgency—at the member level—until we have results."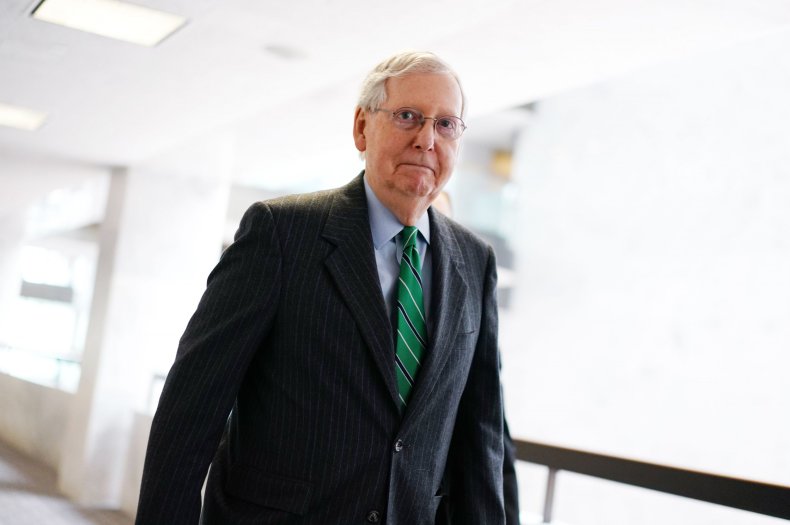 The uphill climb for leaders in Washington to come to a consensus on the trillion-dollar package will be a steep one. Republicans and Democrats on Capitol Hill have wide-ranging opinions on several aspects of the legislation, even among their respective parties.
But members of Congress and the president have expressed urgency in approving measures that address both the health and economic fallout from an illness that's made most of the globe come to a standstill.
On Wednesday, Trump signed a bill passed by Congress that affords some workers paid sick leave from their employer, in addition to expanding unemployment insurance, food stamps and Medicaid. Last week, an $8.3 billion bill became law that gave funds for treatment and vaccine research, as well as gave money to local and state agencies. And Trump has declared a national emergency and on Friday invoked the wartime Defense Production Act to force private industries to produce much-needed medical supplies.
Lawmakers are now racing to boost small and midsized businesses across the country in an attempt to stave off a recession as the stock market continues to plummet from record highs and businesses have been forced to lay-off workers amid decreased economic activity from local governments forcing them to reduce service or close.
The Republican proposal consists of four main "pillars," as McConnell characterized it: hundreds of billions of dollars for individual checks, $300 billion in loans for small businesses (with the opportunity for a portion of them to be forgiven), $200 billion in loans and loan guarantees for travel industry companies (like airlines, cruises and hotels) and more money for the health care industry.
"We are beginning to review Senator McConnell's proposal and on first reading, it is not at all pro-worker and instead puts corporations way ahead of workers," Senate Minority Leader Chuck Schumer (D-N.Y.) and House Speaker Nancy Pelosi (D-Calif.) said in a joint statement.
Democrats also back a cash installment, though some would like there to be several or recurring payments.
"That might help families cover rent, groceries, for a month. But then what?" Schumer said earlier on the floor, referring to the one-time checks. "If we're going to do it, it's got to be bigger, more generous, and more frequent than some that I've heard proposed from the other side."
Then there are some Republicans, like Appropriations Chairman Sen. Richard Shelby (R-Ala.) and Graham, who oppose handing out checks, particularly to those who may still have their jobs.
"I don't know the logic of that," Shelby said. "I can see tying it to unemployment to boost somebody who's going to be laid off temporarily... I understand the logic of helping people who are newly unemployed."
Graham, a close alley to Trump, said direct payments "makes no sense now, to me."
"I think the president's No. 1 goal now is income stability. So, it's not a check, it's checks. Not a payment, it's income," he added.
Democrats have also called for further increasing unemployment insurance and Medicaid. Some Republicans also floated the idea of utilizing unemployment insurance rather than a cash installment.
Both parties have also expressed a need to tack on stipulations to any federal funds or loans provided to large travel industry companies.
Republicans, like Sen. Josh Hawley (R-Mo.), have said this could include a promise from corporations to bring back jobs to America that have moved overseas. For Democrats, it means increasing their minimum wages and vowing not to layoff employees at a later date.