Most Capitol Rioters Dodged Jail in 2021, Offenders Facing 20 Years Got Less Than 6
Judges have generally been lenient on Capitol rioters who plead guilty in 2021, a Newsweek analysis of sentencing found. Only about one-third of the people who accepted responsibility for misdemeanor charges received prison sentences.
More than half of the 71 Capitol rioters who were sentenced in 2021 avoided jail time, but the majority of those defendants were only facing a maximum sentence of 6 months. Judges have sought to balance punishments that fit the individual cases with the need to send a message that deters future attacks, and most of those who were sentenced for serious felonies were given years behind bars.
Five defendants have pleaded guilty to obstructing an official proceeding or assaulting resisting or impeding officers with a dangerous weapon, both felonies with a 20-year maximum sentence. Two defendants received 41 months in prison, one received 46 months and Robert Palmer, who is accused of Robert Palmer, accused of attacking police officers with a wooden plank and spraying a fire extinguisher, received the longest sentence at 63 months.
Paul Hodgkins, who was photographed on the Senate floor, was the only defendant so far to plead guilty to a felony and receive a jail sentence that was less than a year. He received eight months.
Judges have tended to be far more lenient on Capitol rioters who pleaded guilty to misdemeanor charges than those accused of more serious crimes. Of the 63 Capitol rioters sentenced on misdemeanor charges, only 23 received jail time. Their jail sentences ranged from 14 days to six months with rioters receiving an average of 51 days, according to Department of Justice data reviewed by Newsweek.
Most misdemeanor defendants received probation and four sentences were a year or less. Two defendants were sentenced to 18 months of probation and 32 received either two or three years.
Lori Ann Vinson and Thomas Vinson received the harshest probationary sentences at five years each. Judge Reggie Walton said at Lori Ann's sentencing hearing that he decided against the 30-day jail sentence prosecutors sought because of the "additional costs" incarceration puts on taxpayers.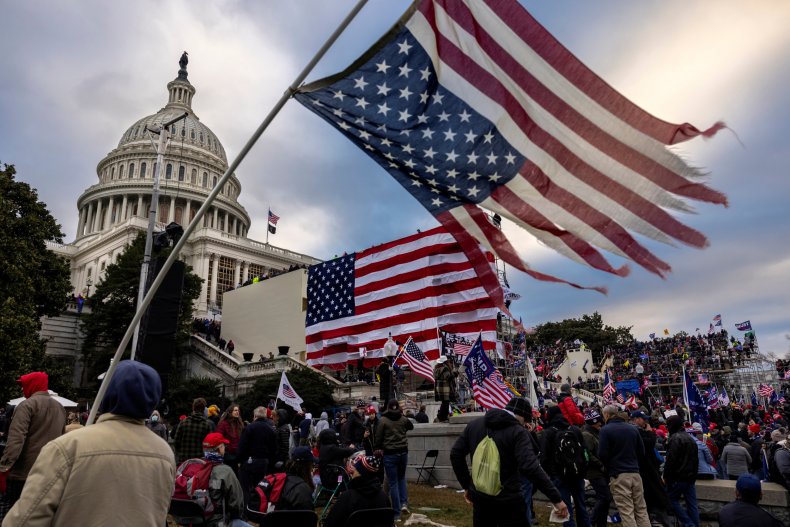 Neama Rahmani, a former federal prosecutor and president of West Coast Trial Lawyers, told Newsweek that it's "not surprising" that most Capitol rioters who accepted misdemeanor plea agreements received no jail time. Many of them had little or no criminal history and pled guilty to nonviolent offenses like parading, demonstrating or picketing in a Capitol building; disorderly conduct in a Capitol building; or entering or remaining on restricted grounds.
"Unlike state courts, misdemeanor prosecutions are uncommon in federal courts, but the U.S. Attorney's Office had to separate out the worst rioters when prosecuting hundreds of criminal defendants," Rahmani said.
While judges have credited defendants for taking responsibility for their actions and pleading guilty, they've also considered the gravity of the attack when issuing rulings. Seven Capitol rioters, including Matthew Mazzocco, who pleaded guilty to a misdemeanor, received harsher sentences than prosecutors sought.
In October, Judge Tanya S. Chutkan sentenced Mazzocco to 45 days in jail because if he walked away with "probation and a slap on the wrist," she believed it wouldn't "deter anyone" from attempting another attack on the Capitol.
"The country is watching," she said. "To see what the consequences are for something that has not ever happened in this country before, for actions and crimes that undermine the rule of law and our democracy."
The January 6 riot is the largest prosecutorial undertaking in America's history with more than 700 people facing charges. Cases are likely going to increase because officials have vowed to bring every person involved to justice and continue to ask the public for help in identifying those who were present.
The massive judicial effort has prompted delays in bringing defendants to trial, and some accused rioters could spend more than a year in jail before facing a jury. Offering plea deals give prosecutors a chance to lighten their caseloads and gain the cooperation of some higher-level defendants.
Kendall Coffey, a former U.S. attorney, previously told Newsweek that prosecutors traditionally use cooperation to go "far beyond the guilty who can be identified on videotape." Cooperation from defendants could help prosecutors identify organizers, funders, or anyone orchestrating the insurrection.
Michael McAuliffe, a former federal prosecutor, also wasn't surprised by the sentences that have been imposed in the Capitol riot cases, so far. He told Newsweek that federal sentencing guidelines likely allowed for no incarceration. Sentences have also been longer for defendants who engaged in physical violence or faced more serious felony charges.
"The judges have been clear that the sentences reflect the severity of crimes and the degree of involvement of the defendants in the riots. Future cases involving violence or assault or more significant roles will assuredly result in more significant sentences. Time will tell," McAuliffe added.