'Most Crucial Step, Bread Bag': Woman Shares 'How to Dress Appalachian' in Viral Video
A video has gone viral after a woman shared "How to Dress Appalachian" on TikTok to the tune of 7.5 million views.
The video comes after parts of Appalachia—which for Whitney Johnson, who goes under the username @appalachian_forager, means Eastern Kentucky—received inches of snow.
In the clip, which has so far received over 15,000 comments, Johnson takes viewers through the steps she takes to get prepped for snow.
Step one, she says, is a base layer. Step two however is putting on "three pairs of nasty sweatpants."
From there, Johnson shows the details of how she keeps warm from head to toe. Beyond showcasing her winter gear, Johnson also shows viewers how to make "snow cream"—ice cream made with fresh snow.
In February, Jenna Bush Hager shared on TODAY With Hoda & Jenna how she and her family cooked up the makeshift treat after a snowstorm hit New York City.
NBC News' health and nutrition editor, Madelyn Fernstrom, said the snow used for this recipe must be fresh.
"It always has to be fresh, though," she told TODAY Food. "Meaning freshly fallen, and it goes without saying, no snow plows, either anything that's plowed or on the side, even if it looks OK, skip that. And of course, skip anything that is not snowy white, anything that's discolored at all."
In Johnson's recipe, she uses eight cups of snow, salt, sugar, milk, vanilla, and chocolate chips.
As the video continued, Johnson adds three layers of sweatshirts to compliment the three layers of sweatpants.
"Bonus points if any of your top layers were purchased for a quarter at First Church of God's basement thrift store," she wrote over the video.
She then moves onto her feet which she starts with a base layer of socks.
"Most crucial step, bread bag," she says referencing a plastic Wonder bread bag that she wraps her foot in. She says the bag keeps her feet drier than "any Muck Boot, Justin boot, Red Wing boot."
Johnson secures the bag by wrapping her calf in tape.
"Don't get it too tight," she says. "You'll cut off your circulation."
On the other foot, Johnson uses a grocery bag that she says "will work just fine."
After another layer of socks, she's ready for the next step.
"If you ain't sweating yet, you ain't doing it right," she says.
After layering up with two hats and a face mask, she throws on a pair of socks as gloves.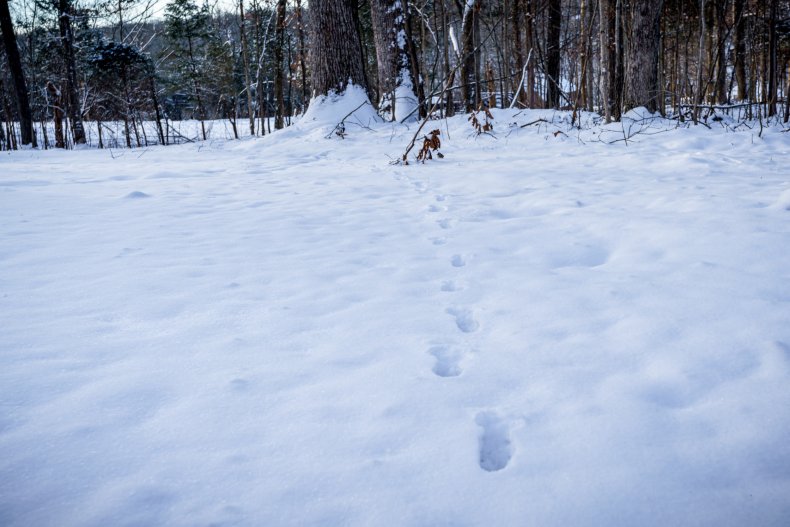 Johnson then shows viewers how she collected the snow for snow cream. After bringing the snow inside and combining all the ingredients for the sweet treat, Johnson takes a bite.
"Tastes like childhood," she says.
Johnson told Newsweek in an email that while the video was made to be funny, it's all based on real-life experiences.
"This video is meant to be comedic, but don't get it twisted, this is literally what we did as kids before we played in the snow. I may have churched it up just a *tiny* bit, but this is real life, honey."
Johnson explained that she came up with the idea for the video after being snowed in for days and developing a "hankerin' for something sweet."
"This is just authentically me being me and someone happens to be filming it," she said. "I would have done this exact thing whether it was going to be posted on TikTok or not."
Some commenters were drawn to the "random" nature of the video, while others said her routine looked all too familiar.
"THAT BREAD BAG UNLOCKED A CORE MEMORY," one commenter said.
"If you've never wore socks for gloves, have you really even lived?" another added.
Johnson told Newsweek: "The comments have slayed me. From people who totally understand and relate and shared their personal stories, to the people in other countries who are like, 'I have never seen snow, I have no idea what I am watching, but I felt the need to watch every minute of this and loved it.'"
Update 01/20/22 9:40 a.m. ET: This story has been updated to include comment from Whitney Johnson as well as her full name and the number of views and comments that her video has generated.