Most Democratic Senators Pressing Amy Coney Barrett to Protect Obamacare Wanted to Replace It With Medicare for All
Democrats focused the first two days of Judge Amy Coney Barrett's confirmation hearings on the Affordable Care Act (ACA) and abortion rights, framing Barrett's nomination as an attack on Obamacare.
On Monday and Tuesday, equipped with large posters of Americans who they said would lose their health care should the Supreme Court overturn the ACA, Democratic senators of the Senate Judiciary Committee pressed on Barrett to protect the law in both their opening remarks and lines of questioning. However, six of the 10 minority members have previously expressed interest in replacing that same Obama-era health care system with Medicare for All.
President Donald Trump has repeatedly vowed to repeal the ACA and to nominate a judge who would rule against it. Controversy surrounding Trump's Supreme Court nomination less than a month before Election Day is only exacerbated by the court's upcoming schedule.
The high court is scheduled to hear arguments challenging the constitutionality of the ACA a week after the presidential election on November 10. Repealing the ACA could leave 32 million without health insurance by 2026, according to a 2017 Congressional Budget Office report.
The Trump administration has argued that the ACA is unconstitutional because Congress had meted out individual tax penalties for failing to purchase medical insurance.
Trump has criticized Obamacare in the past, calling it a "disaster" and claiming that "it covers very few people," despite the fact that about 20 million Americans have gained insurance under the act. Although the president wants to repeal the ACA, he has not said what he will replace it with.
During the first presidential debate last month, moderator Chris Wallace called out Trump for failing to provide an alternative, telling him, "You have never, in these four years, come up with a comprehensive plan to replace Obamacare."
When asked what his health care plan is, Trump failed to provide a response but touted that "drug prices will be coming down" before likening access to insulin to that of water.
Contention over Barrett's nomination is heightened by the fact that the late Justice Ruth Bader Ginsburg, whose Supreme Court seat Barrett would fill, voted to uphold Obamacare in 2012 alongside the other three liberal justices and Chief Justice John Roberts. Ginsburg had been expected to do so again during the law's third review this November if she were still alive.
Barrett has previously written that she disagrees with Roberts' opinion that upheld the ACA eight years ago. When Trump nominated Barrett, he said that eliminating Obamacare would be "a big win for the USA."
While senators Kamala Harris, Cory Booker, Sheldon Whitehouse, Patrick Leahy, Richard Blumenthal and Mazie Hirono came down on Barrett to uphold the ACA, these same senators have argued that Obamacare doesn't go far enough and have pushed for a single-payer system to replace it. Each lawmaker was among the 14 co-sponsors supporting Senator Bernie Sanders' Medicare for All bill when he introduced it last year.
Senator Kamala Harris
On Monday, Harris emphasized that Republican efforts to repeal Obamacare in Congress have been unsuccessful.
"A clear majority of Americans want whomever wins the election to fill this seat, and my Republican colleagues know that. Yet they are deliberately defying the will of the people in their attempt to roll back the rights and protections provided under the Affordable Care Act," Harris said.
Harris has held shifting views on health care. She had originally backed Medicare for All before changing to supporting a government-run health system in which private insurance is positioned as a competitor. Democratic nominee Joe Biden, Harris' running mate, has not embraced the Medicare for All platform.
Senator Cory Booker
"Judge Barrett to me is not the issue as much as the illegitimacy of this process and trying to push through a nominee who is clearly intended to end the Affordable Care Act," Booker said on Monday.
Booker has said "if we're designing our system, Medicare for All is the right way to go." He has previously expressed willingness to consider allowing private insurers play a role in a new, single-payer system.
Earlier this year, the senator introduced legislation amid the coronavirus pandemic to expand access to comprehensive health insurance to immigrants.
"While we should always be working to expand access to health care for everyone, the dire current situation highlights the urgency of addressing these gaps in health care coverage. Health care is a right, and it shouldn't depend on immigration status," Booker said.
Senator Sheldon Whitehouse
On Monday, Whitehouse called Barrett a "judicial torpedo" aimed at the ACA.
"This Supreme Court nominee has signaled in the judicial equivalent of all caps that [Barrett] believes the Affordable Care Act must go, and that the precedent protecting the ACA doesn't matter," Whitehouse said in his opening remarks.
In March of 2019, Whitehouse said in a statement that although the "health care system has come a long way under the Affordable Care Act," many still "spend far too much on health care." He called it a "national shame" that not every American had "quality, affordable health insurance coverage" under Obamacare.
Senator Patrick Leahy
Leahy said that overturning the ACA "has been the single most important policy objective of the Republican Party over the last decade" during his opening statement on Monday. He went on to say his constituents fear that Barrett's confirmation "would rip from them their most basic health care protections."
However, when the senator cosponsored the Medicare for All bill, Leahy described that same law as "complex and costly" and said it left out 28 million Americans.
Leahy's office declined Newsweek's request for comment and pointed to his Monday comments.
If Barrett is confirmed and Trump loses the election, questions would arise over whether she should be allowed to rule on the lawsuit.
When asked by Leahy on Tuesday if she would recuse herself should there be a dispute emerging from the election, Barrett said, "I can't offer an opinion on recusal without short-circuiting that entire process."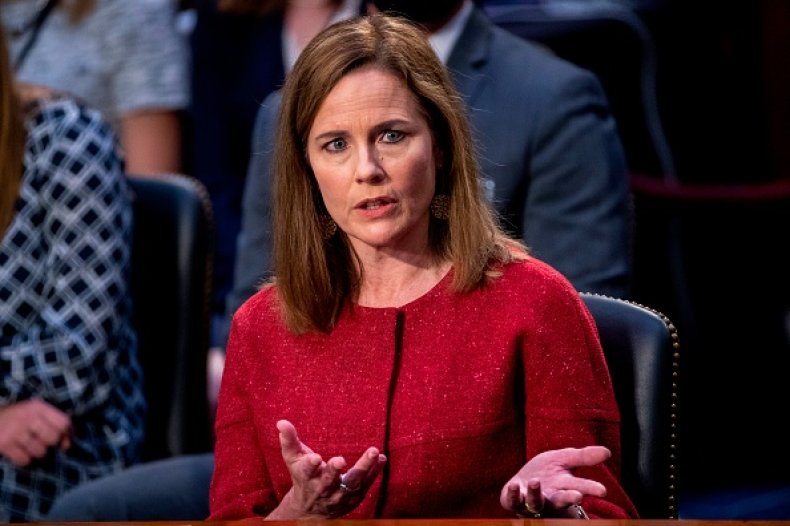 Senator Richard Blumenthal
Blumenthal has supported the Medicare for All plan since its beginning, saying it would "make healthcare a right, not a luxury."
In his opening statement on Monday, Blumenthal told Trump that selecting Barrett was a direct attack on Obamacare.
"Your nomination is about the Republican goal of repealing the Affordable Care Act, the Obamacare they seem to detest so much...protections for people with pre-existing conditions, tax credits that will make health care more affordable, bans on charging women more simply because they are women," he said.
He also told Barrett she "must recuse" herself and that he plans to oppose her nomination to the Supreme Court, a stance the senator has taken since Trump was elected.
"Any nominee who fails to commit to upholding these protections for people who suffer from these pre-existing conditions ought to be rejected by the United States Senate," Blumenthal said during a press conference in July 2018. "I will oppose that nominee and I will ask specifically for explicit guarantee of support for the Affordable Care Act protection."
Senator Mazie Hirono
As part of a larger strategy to center the conversation on the ACA, Hirono told the story of how she came to be diagnosed with Stage 4 kidney cancer during the hearing on Monday. She said without insurance, the cost of her treatment would have been enormous.
Urging the committee's chair Lindsey Graham to "do the right thing," Hirono said "This can be a moment, Mr. Chairman, for you and your Republican colleagues to show the American people, who are terrified about losing their health care, the same care and compassion you showed me and continue to show me when I was diagnosed with cancer instead of rushing to jam another ideologically driven nominee onto the Supreme Court in the middle of an election when over 9 million Americans have already voted."
In 2017, Hirono said she would support a single-payer system over Obamacare. "I support universal, affordable, accessible, quality health care as a right, not a privilege. A single-payer, Medicare for All system is a strong articulation of this principle," she said in a statement.