Most Democratic Voters in Every Super Tuesday States Support Universal Health Care Like Bernie Sanders, Exit Polls Show
Most Democratic voters in every Super Tuesday state support a universal government-run health care system, like the one Senator Bernie Sanders has proposed, instead of private insurance, despite former Vice President Joe Biden winning in most states, exit polls showed.
Sanders has pushed for universal health care – or Medicare for All – for decades, and the policy idea has also been backed by fellow Democratic presidential candidate Massachusetts Senator Elizabeth Warren. Biden, however, supports expanding the Affordable Care Act, also known as Obamacare, and adding a public option, which would allow some Americans to buy into the government's Medicare insurance program. While Sanders' proposal would largely do away with all private insurance, Biden's plan would have private insurance continue to compete alongside an expanded government program.
Although Biden was the big winner on Super Tuesday, most voters voiced their preference for a universal health care system, like Sanders is proposing, instead of maintaining the private insurance system, according to CNN exit polls. In 13 out of the 14 states, clear majorities supported "a government plan for all." In Massachusetts, 50 percent backed universal health care, while 45 percent preferred to stick with the private insurance system.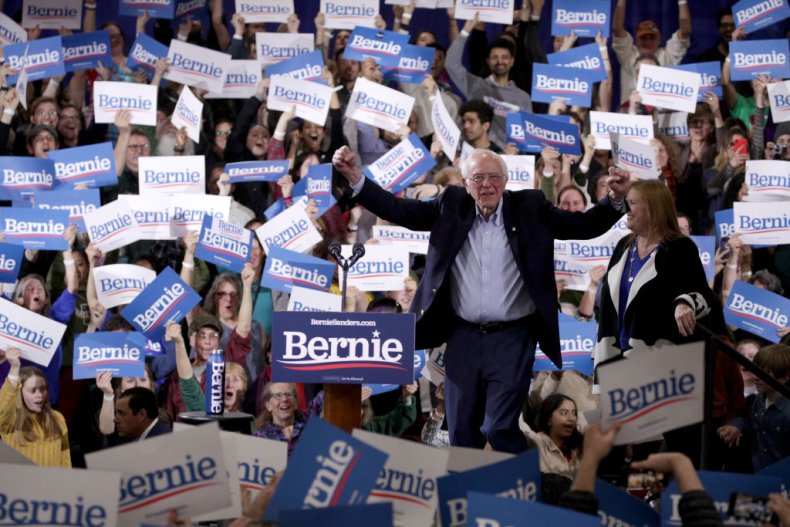 While most voters backed a health care plan more like the one proposed by Sanders, Biden was the clear winner in nine of the 14 states: Alabama, Arkansas, Massachusetts, Minnesota, North Carolina, Oklahoma, Tennessee, Texas and Virginia. He also appears to be poised to win Maine as well when all the votes are counted. Meanwhile, Sanders only came out on top in four states: Colorado, California, Utah and his home state of Vermont.
The support for universal health care among Democratic voters aligns with the preferences of voters in the first four state contests, as well. Clear majorities of voters said they supported government health care for all in Iowa, New Hampshire and Nevada, while a plurality (49 percent) said the same in South Carolina, according to previous CNN exit polls.
Some commentators and political analysts weighed into the disparity between voters appearing to support Sanders' signature policy proposal compared to Biden coming out on top on Super Tuesday.
"This is amazing. Voters backed Sanders' ideas even though they didn't vote for him. Same goes for socialism," Yousef Munayyer, a political analyst, wrote on Twitter. "Shows you voters didn't vote for who they agreed with but who they were told would be less risky."
MSNBC anchor Ayman Mohyeldin also shared a similar perspective.
"Based on this, you'd have to wonder if the vote for Biden was driven by his support for his: 1) policies? 2) a calculation (rightfully or wrongfully) that he can beat Donald Trump? 3) fear of Bernie Sanders being the nominee?" he tweeted.
Following the results of Super Tuesday, Biden is now the frontrunner for the Democratic nomination, while Sanders remains a strong second-place contender. Warren is in a distant third, having not won in any state. Even in her home state of Massachusetts, she only placed third. Until now, 18 states and American Samoa have voted in the Democratic primaries and caucuses.