The Most Devastating Photos of Hawaii's Kilauea Volcano Eruption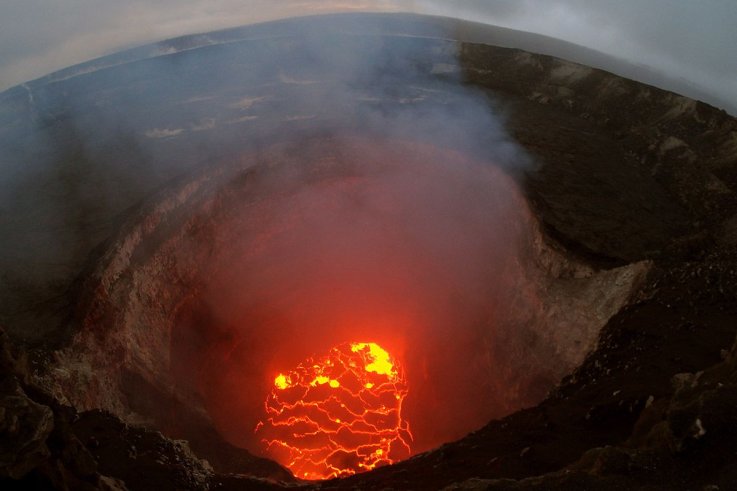 As volcanic activity at Hawaii's Kilauea hits the one-month mark, at least 75 homes—most of them in Leilani Estates—have been devoured by streams of red-hot molten rock creeping from about two dozen large volcanic vents, or fissures, that have opened in the ground since Kilauea rumbled back to life four weeks ago. Lava flows have knocked out power and telephone lines in the region, disrupting communications.
Besides spouting fountains of lava around the clock, the fissures have released high levels of toxic sulfur dioxide gas on a near constant basis, posing an ongoing health hazard.
Meanwhile, the main summit crater has periodically erupted in clouds of volcanic ash that create breathing difficulties and other problems for residents living downwind.
The heightened volcanic activity has been accompanied by frequent earthquakes, as magma—the term for lava before it reaches the surface—pushes its way up from deep inside the Earth and exerts tremendous force underground.
After a month of continual eruptions at Kilauea's summit and along its eastern flank, geologists say they have no idea how much longer it will last.
"There's no sign we're getting that anything is going to slow down at the moment," Wendy STOVL, a vulcanologist for the U.S. Geological Survey, told reporters on a conference call on Thursday. "We don't see any changes occurring."
The island's mayor on Wednesday renewed an emergency proclamation for 60 more days, allowing construction of temporary shelters and other relief projects to proceed on an expedited basis, without reviews and permits normally required.
The month-old eruption of Kilauea, one of the world's most active volcanoes, followed an eruption cycle that had continued almost nonstop for 35 years. The volcano's streams of lava and billowing smoke are spectacular as they are destructive.
We've found 50 of the most breathtaking photos of the eruption, which shows no sign of stopping.
—Reuters contributed to this report.