New York City, with its heady mix of commerce and culture, is known the world over as the apex of elite urban living.
But the cost of living in this most glamorous of cities does not come cheap.
In 2021, the city surpassed San Francisco as the most expensive rental market in the U.S., with a one-bedroom apartment costing $2,810 on (median) average.
The richest one percent pf residents live in some of the most opulent penthouses imaginable, with many curated by the world's best architects.
Cathy Taub of Sotheby's International Realty suggests New York's property market shows no signs of slowing.
She told Newsweek: "High and ultra-high net worth buyers have seen their portfolios mushroom over the past several years and are now excited to buy New York City luxury real estate at what they perceive as extremely opportunistic prices."
Read on to discover the most expensive apartments in New York City.
26. 8 East 63rd Street, 10065
$29.995 million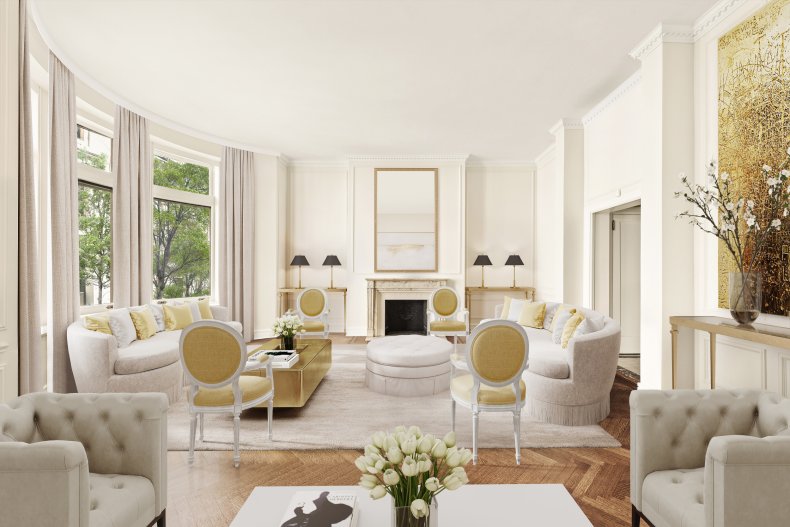 This "extraordinary" 25ft-wide townhouse is spread over five stories and 10,000 square feet, with nine bedrooms and three terraces.
The Sotheby's listing states: "Superbly located, this prime townhouse, which has an architecturally significant brick façade with limestone trim and a beautiful three-story rounded bay, is sited on a lovely tree-lined street between Fifth Avenue and Madison Avenue."
25. 9 East 68th Street, 10022
$29.5 million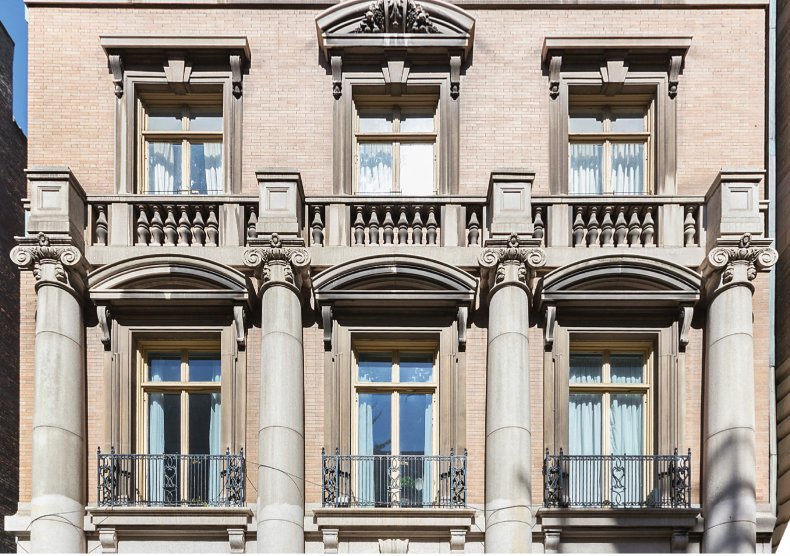 Built 39ft wide by 93ft deep, this grand 10-bed property, built in 1906, is considered one of New York's great houses.
Sotheby realtors call it "an extraordinary mega-mansion" that boasts an original drawing room, library and dining room spanning the full width of the house.
24. 10 East 76th Street, 10021
$32 million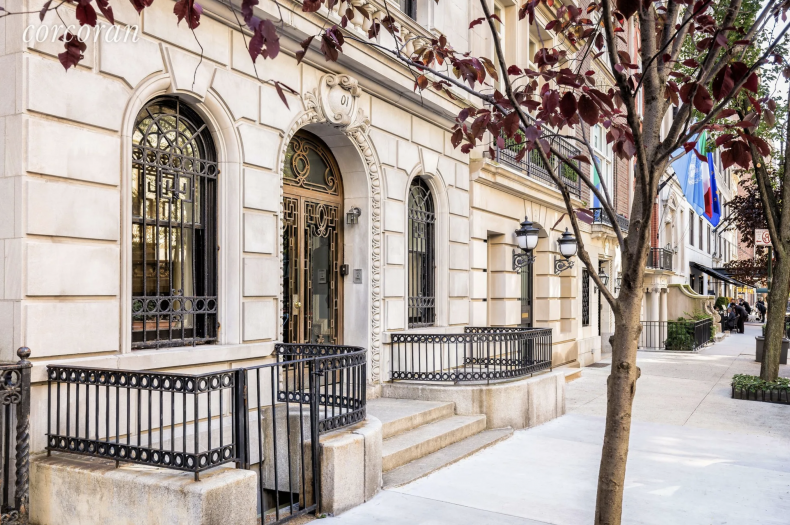 This New York City mansion is described as "extremely light [with] exceptional ceiling height [and] phenomenal rooftop views!"
Built in 1904, the property's interior covers 12,380 square feet, with a further 2,500 of square foot of outdoor space and majestic 13ft-high ceilings.
23. 927 Fifth Avenue, 9th Floor, 10021
$32.25 million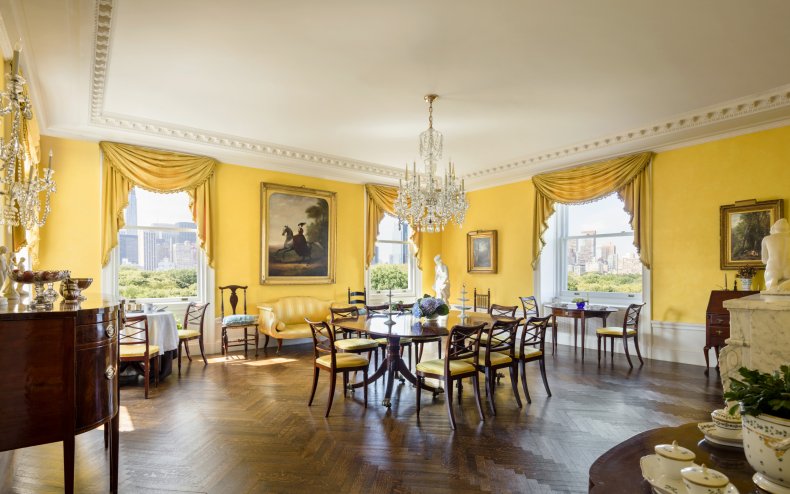 This opulent six-bedroom apartment is located on one of the most coveted pre-war buildings on New York's famed Fifth Avenue.
Sotheby's listing states: "[Celebrity jeweler] Harry Winston entertained up to 100 guests at legendary parties in the apartment, taking full advantage of the magnificent spaciousness emanating from grand rooms with soaring ceilings, an enormous amount of wall space, exquisite moldings, four fireplaces, huge oversized windows with extraordinary views of Central Park."
22. 515 Park Avenue, 15/16, 10022
$33 million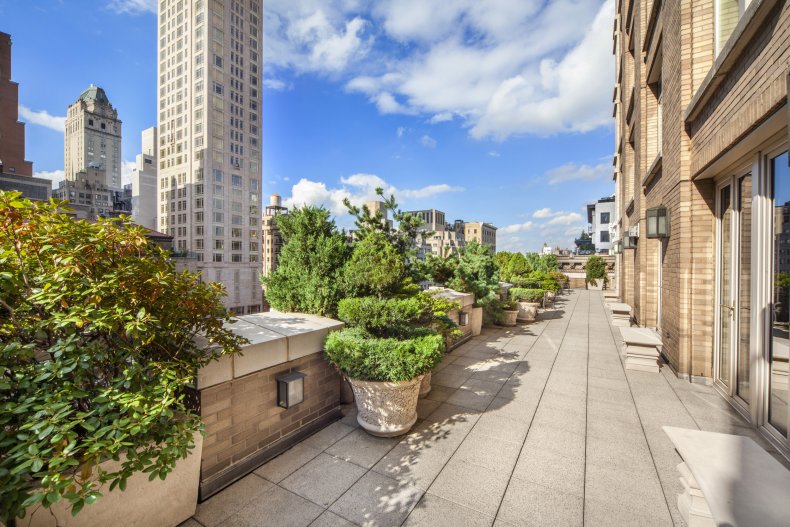 This stunning seven-bedroom property is described by Sotheby's as a "mansion in the sky."
The apartment's spectacular terraces overlook New York's bustling Park Avenue and the "mint-condition duplex" is served by a private elevator.
21. 990 Fifth Avenue, New York
$35 million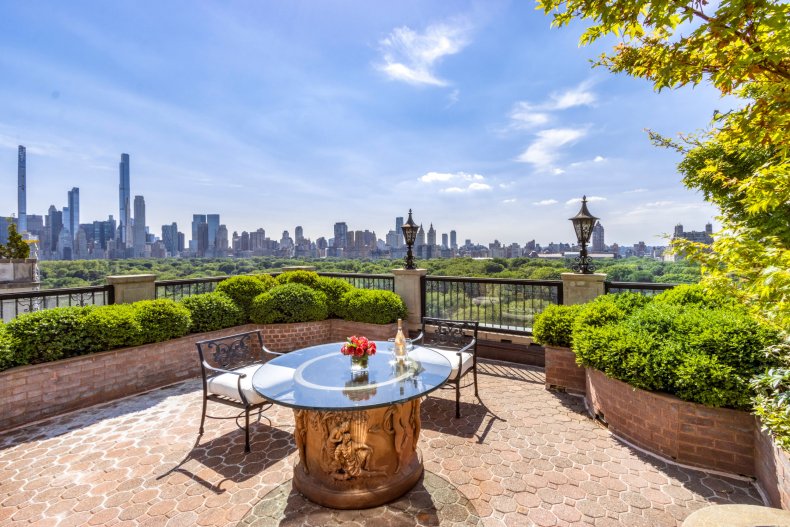 This sumptuous six-bed property was created by Rosario Candela, who in the beginning of the 1920s was responsible for many of New York's most sought-after spaces.
This stunning 14 room Penthouse Triplex, which includes a generous outdoor terrace, has been renovated to blend contemporary style with Candela's retained architecture.
20. 995 Fifth Avenue
, New York
$36 million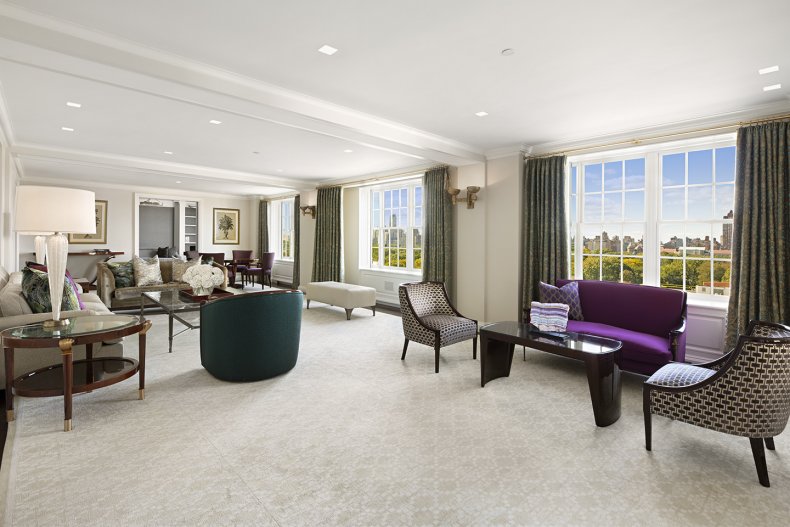 Perched just off Fifth Avenue is this renovated residence sprawling across 8,360 square feet and occupying the entire 15th floor of one of Manhattan's finest full-service pre-war condop buildings.
This 7-bed apartment boasts almost unparalleled views of Central Park and the Manhattan skyline, while 47 oversized windows span all four exposures.
19. 795 Fifth Avenue, New York
$37 million
This extraordinary three-bedroom apartment comprises a full floor and boasts marvelous city and Central Park views in every direction.
The sun-filled property is described by realtors Brown Harris Stevens as the "ultimate high floor trophy apartment and the dream residence for an owner who enjoys opulent entertaining and requires gracious living space."
18. 56 Leonard Street, New York, 10013
$34.5 million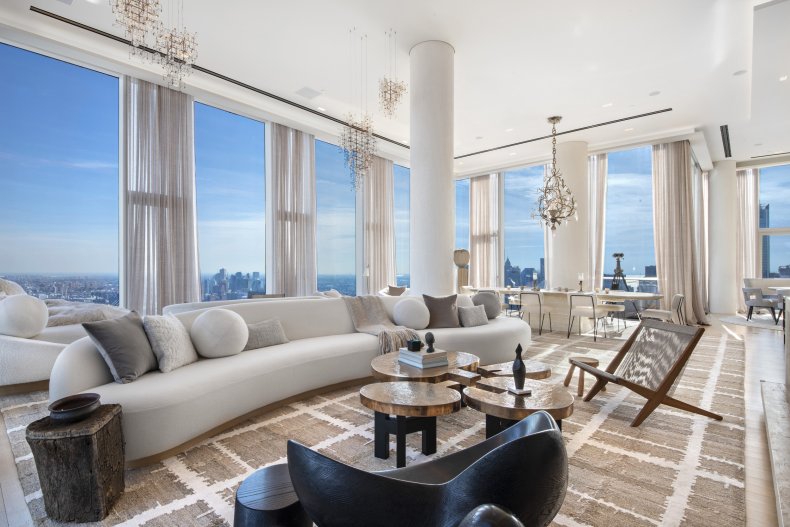 This five-bedroom property is described by Sotheby's as a "rare opportunity to own a spectacular, one-of-a-kind, full-floor Penthouse in the heart of Tribeca."
Penthouse 58 is 5,489 square foot of glass-wrapped home, complete with generous 14ft ceilings, two terraces and unobstructed, panoramic views from river to river.
17. 1016 Fifth Avenue, 2ABC, 10028
$37 million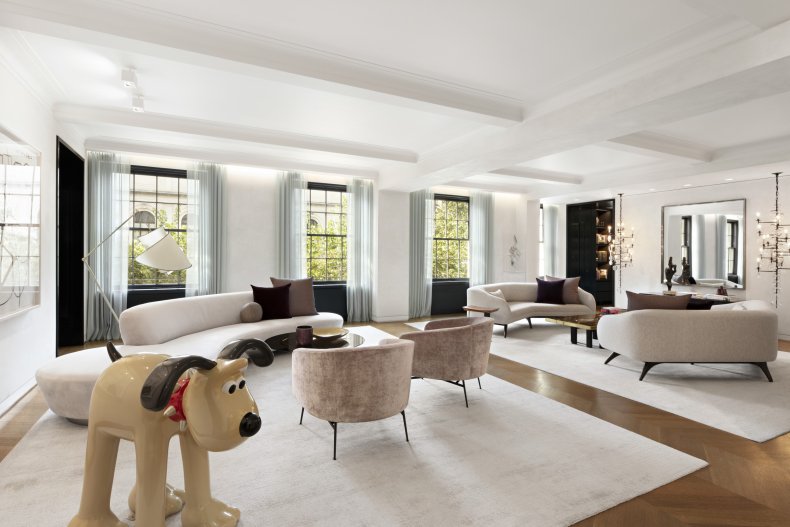 The stately pre-war building at the corner of Fifth Avenue and 83rd Street is widely considered one of New York's most prestigious.
The current owners of this distinctive 8,000-square-foot simplex— one of whom is an esteemed architect—have created a stunning and spacious modern home that the listing states has "honored the building's history, style, and essence."
16. 200 Amsterdam Avenue, New York
$38 million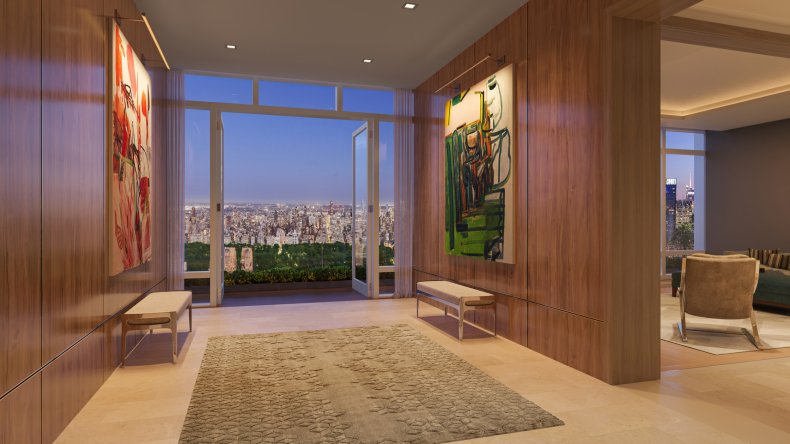 Occupying the entire 49th & 50th floors of 200 Amsterdam, this sprawling four-bedroom duplex offers rooms with each offering dazzling views of New York.
Owners of this spacious property in Manhattan's vibrant Upper West Side will also have access to a live-in resident manager, 24-hour concierge, doormen, handymen and porters.
15. 820 Fifth Avenue, New York
$39 million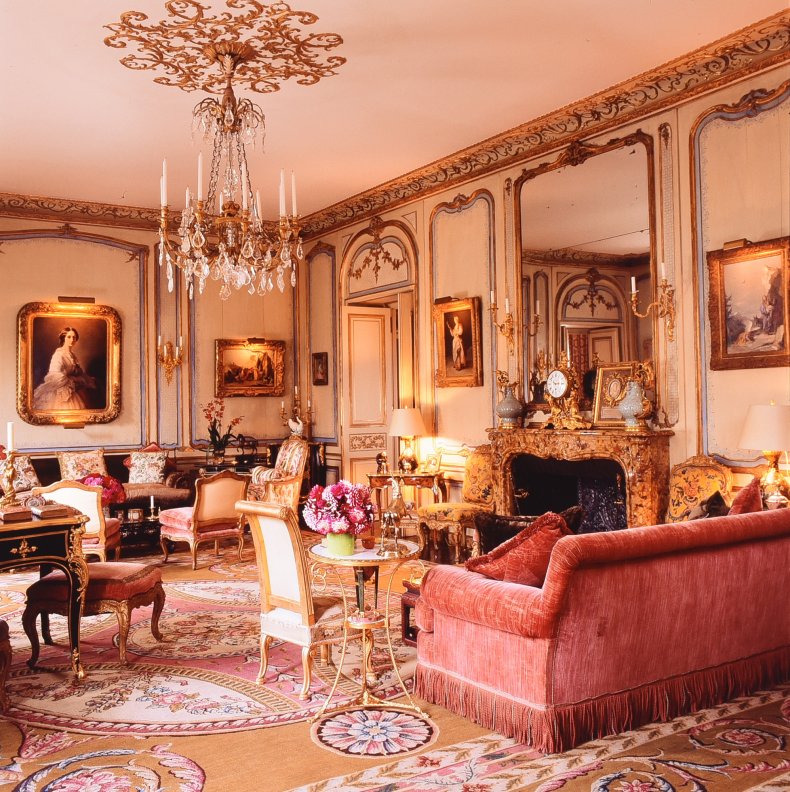 Described by realtors Brown Harris Stevens as "exceptionally grand and architecturally important", this 18-room home is being offered for sale for the first time in more than 60 years.
The sumptuous 6-bed apartment occupies an entire private floor in one of Fifth Avenue's most sought-after limestone-clad cooperatives, on the northeast corner of New York's East 63rd Street and Fifth Avenue.
14. 993 Fifth Avenue, New York
$39.5 million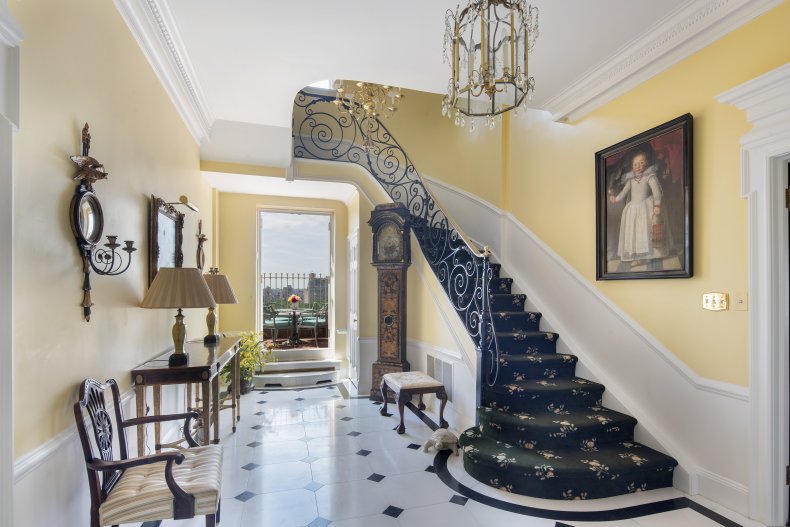 The Penthouse at 993 Fifth Avenue is considered by realtors Brown Harris Stevens to be one of the most significant penthouses to be available in more than 30 years.
The 4-bed property is listed as a "stunning example of the grand scale, elegant proportions, and admirable floorplans that made Emery Roth one of the pre-eminent architects of the pre-war era."
13. 25 Columbus Circle, 75CE, 10019
$40 million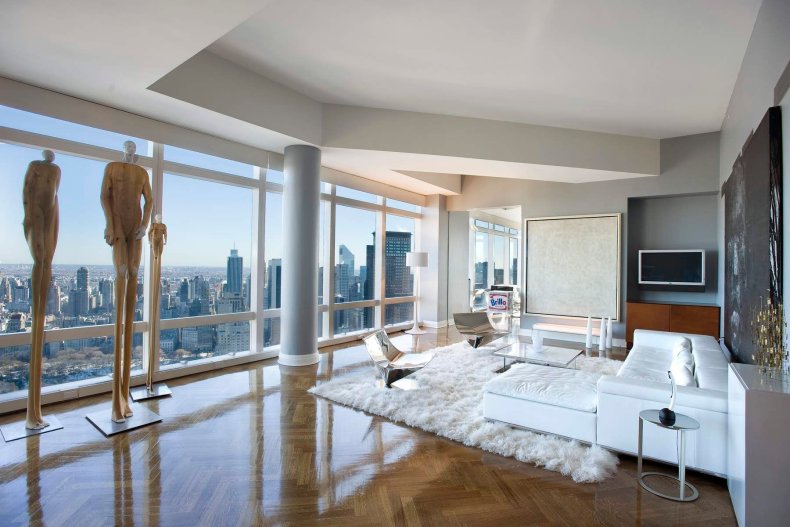 This stunning 5-bed penthouse is perched vertiginously over Central Park on the 75th floor of the Time Warner Center at 25 Columbus Circle.
Boasting 180-degree views from floor to ceiling windows and ceiling heights up to 14ft, Sotheby's describes the apartment as offering "jetliner views of the entire city."
12. 555 West End Avenue, New York, 10024
$42 million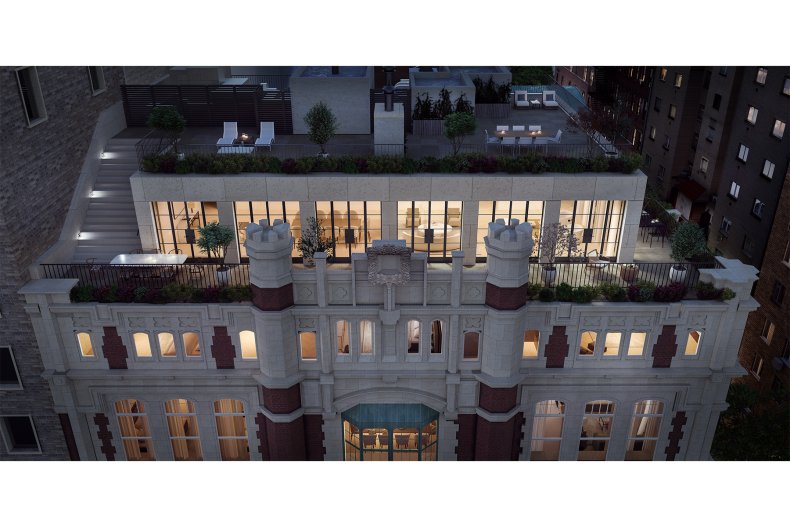 Sotheby's describes this lavish 6-bed penthouse as "unlike any other apartment in New York City."
Combining 3,145 square ft of breathtaking outdoor space and more than 8,429 square ft on two full floors of interiors, owners can expect to live in a space flooded by natural light from every direction.
11. 1 Sutton Place South, New York, 10022
$45 million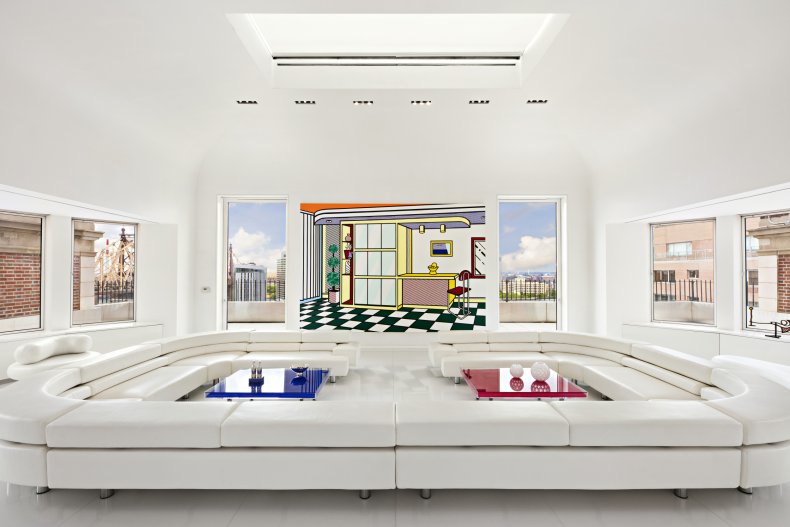 Perched at the pinnacle of Manhattan's iconic 1 Sutton Place South, this unparalleled penthouse is a contemporary tour de force personifying New York at its most superlative.
The interior's modern style houses five spacious bedrooms, while expansive windows throughout allow views of the sun rising over the East River and stunning sunsets over Manhattan.
=9. Ritz Carlton Penthouse, 50 Central Park South
$50 million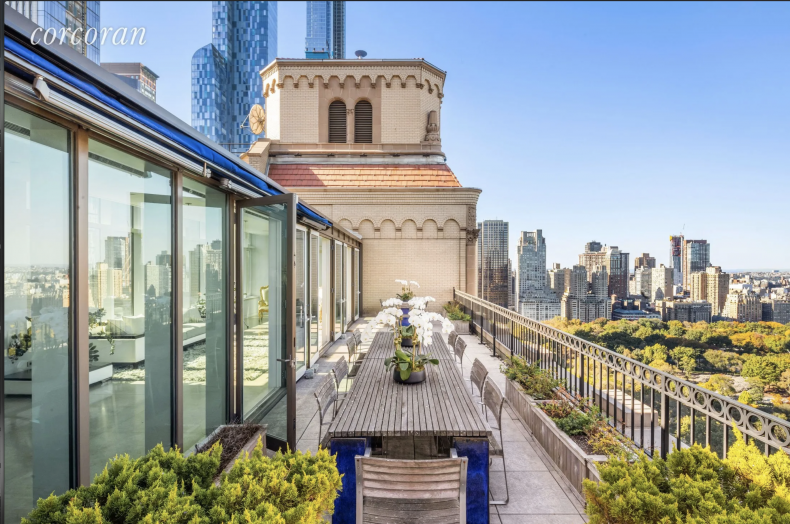 This three-bedroom condominium resides on two stories of New York's luxurious Ritz-Carlton hotel.
The penthouse's generous terraces provide breathtaking views of Central Park, while the lucky owners have access to "every 24/7 Ritz amenity and service."
=9. 854 Fifth Avenue, New York
$50 million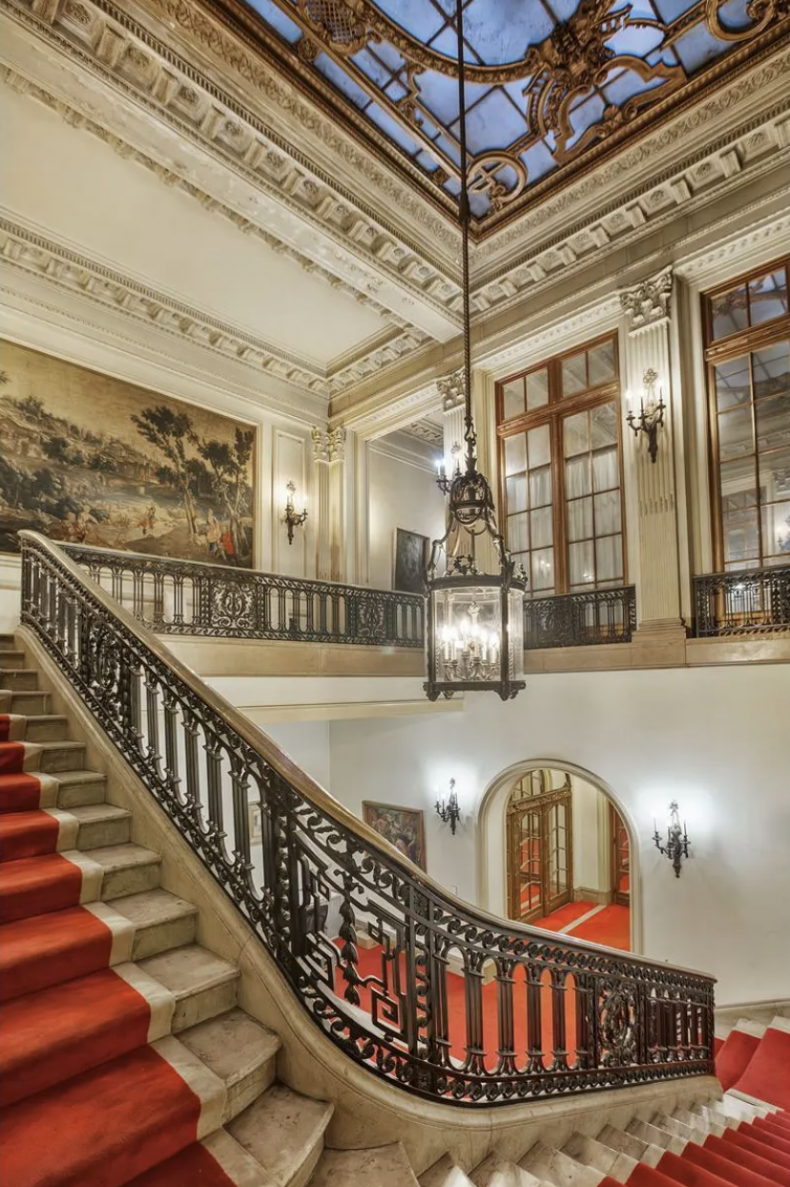 This exquisite New York townhouse is described in its JamesEdition listing as a "one of a kind landmarked historic mansion."
Featuring 20,000 square foot of exceptional space over nine floors, this Beaux Art building was designed by the same architects as the Grand Central Station.
8. 991 Fifth Avenue, Upper East Side, New York
$52 million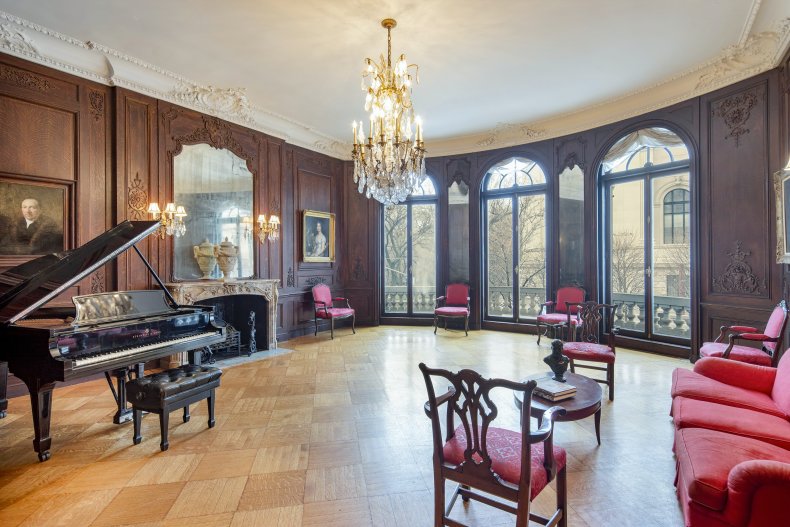 This townhouse located directly on Fifth Avenue is described in its listing as an opportunity to acquire "the Holy Grail" of properties because "such a limited number remain."
An added incentive for those potentially interested in purchasing this elegant property is its unusual east/west orientation that dramatically increases the available interior light.
7. 165 Charles Street, West Village, New York
$53 million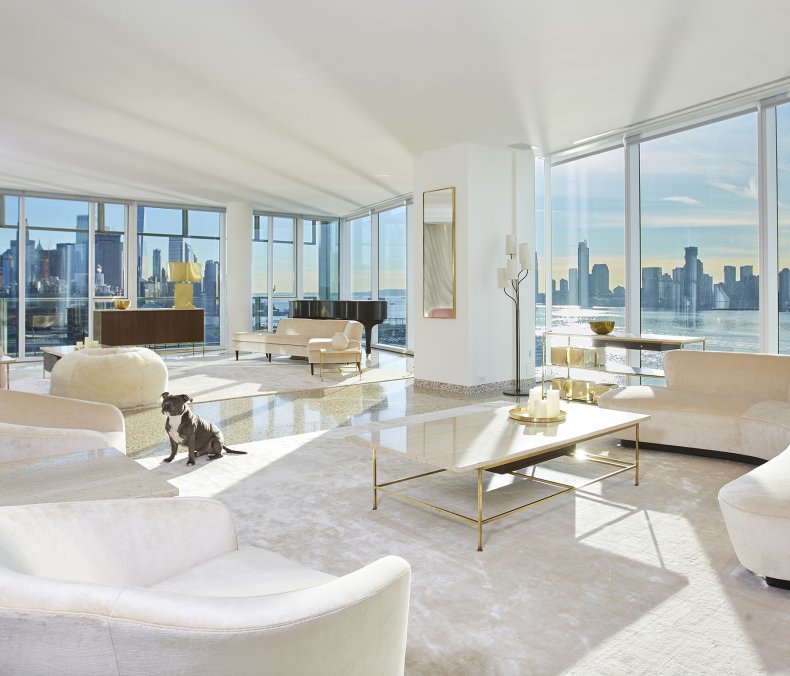 This "extraordinary" six-bed triplex situated high above 165 Charles Street is being offered for sale for the first time since its completion in 2005.
The Brown Harris Steven listing states: "This home was painstakingly created from scratch by combining four apartments in this award-winning building."
6. 781 Fifth Avenue, Upper East Side, New York
$55 million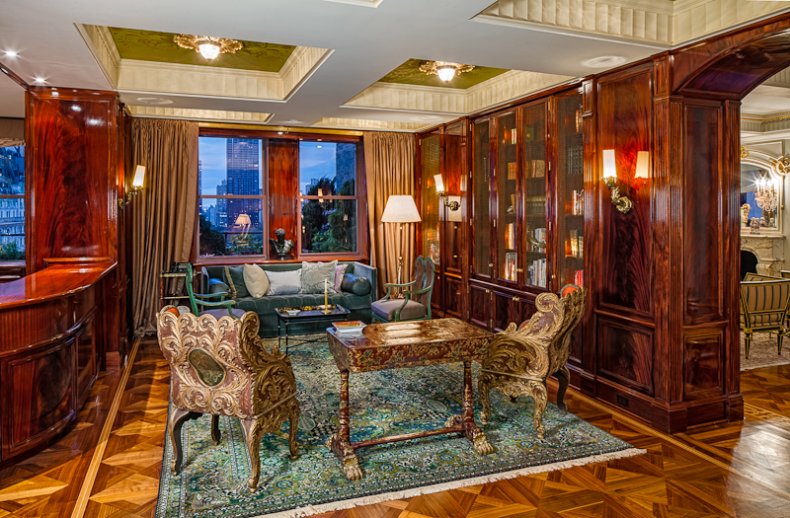 This Upper East Side property is described in its listing as "one of the most important apartments ever created in New York City."
This seven-bedroom "palatial residence" boasts views of Central Park from five public rooms, a stunning Solaris and an entrance with a "sparkling mosaic floor."
5. 795 Fifth Avenue, Upper East Side, New York
$60 million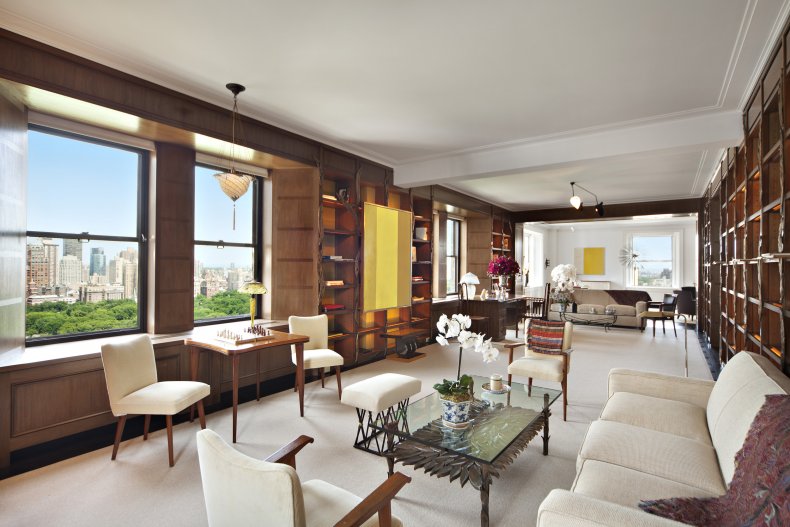 This sumptuous seven-bed duplex is found perched at the apex of Fifth Avenue's prestigious Pierre Hotel.
Among the highlights on offer in this property, described as an "elegant trophy residence is absolute perfection", are its extraordinary 360-degree views of Central Park and the Manhattan skyline.
4. 2 Park Place, Pinnacle Penthouse, 10007
$79 million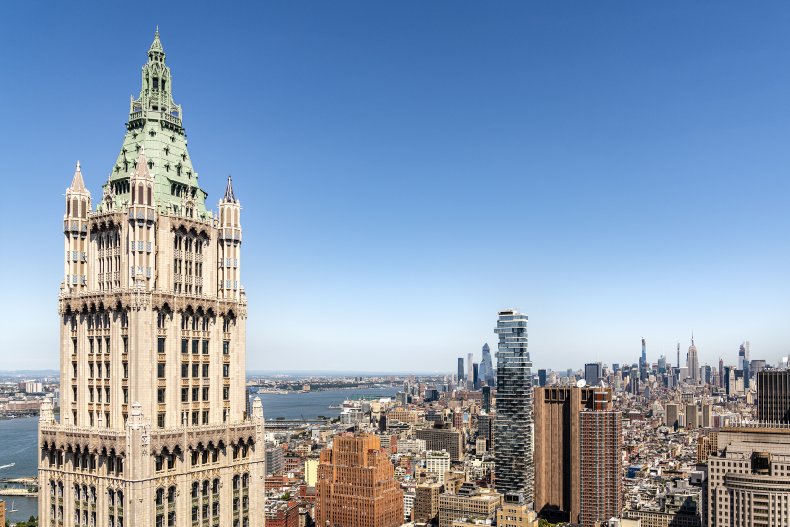 Described by Sotheby's as "New York's pre-eminent residential offering", the Pinnacle Penthouse is a five-story home encompassing 9,680 square feet plus a private 408 square foot observatory terrace.
Among the home's many extraordinary statistics include the fact it boasts 125 windows, 24ft ceilings and an in-residence private elevator.
3. 973 Fifth Avenue, New York, 10075
$80 million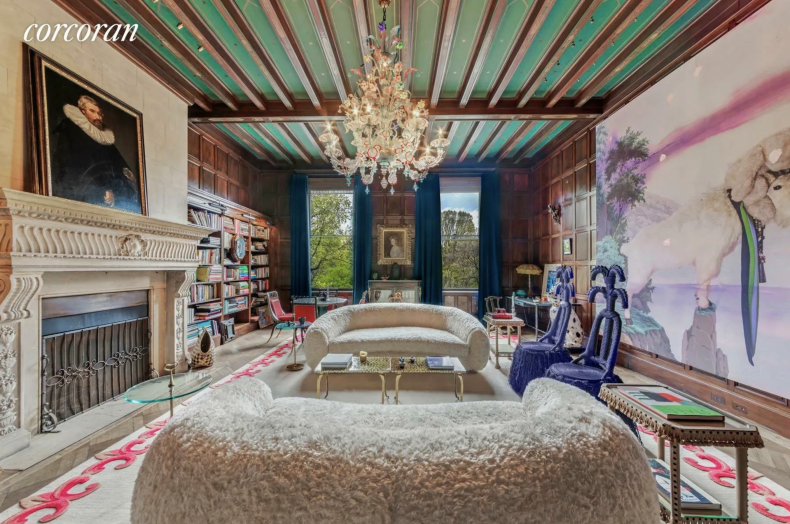 This opulent nine-bedroom residence is described in its listing as "one of the most notable residences remaining in private hands today."
The realtors add that the property "is built by the most sought-after architect in American history, on the finest block of Fifth Avenue."
2. Residence 127, West 57th Street, New York, 10019
$150 million

Standing more than 1,300ft in the sky, the 8-bed Residence 127 is the highest duplex in New York's prestigious Central Park Tower.
The listing on JamesEdition states: "This trophy home spans 11,535 square feet and has breathtaking sweeping views encompassing Central Park, the Hudson River, the skyline and all points south, east, north and west."
1. Penthouse at 432 Park
$169 million
Tlistingat realtor Serhant states: "The true Penthouse of 432 Park Avenue – floor 96 of 96 – at the world's most celebrated ultra-luxury tower."
Among the many highlights of the most expensive listing in Manhattan, include a 93ft-long living room, 360-degree views of New York City and "exclusive lifestyle amenities."
These range from a private restaurant and lounge, a 75ft indoor pool, a state-of-the-art fitness center, a yoga studio, sauna, steam, and massage rooms.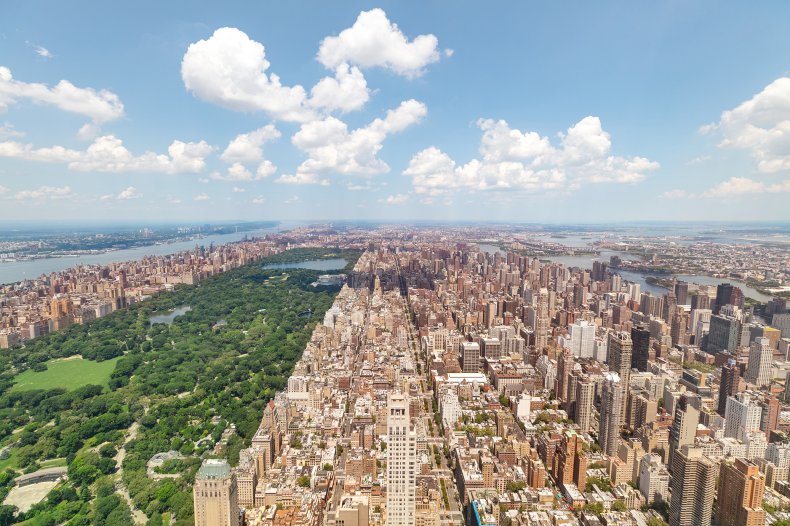 Update: 09/19/21, 3:19 a.m. ET: This article was updated to include the Penthouse at 432 Park.