25 of the Most Expensive Homes in America
America is home to the apex of the luxury property market.
While scrolling Zillow has become an increaingly popular past-time during pandemic-related lockdowns, there are some high-end properties that you might not have spotted.
Below, Newsweek takes a tour of the most expensive properties available through high-end realtor Sotheby's.
Please note, these prices are subject to change and are listed correct as of Thursday, August 5, 2021.
25. Casale Road, Pacific Palisades, California, 90272
$26,000,000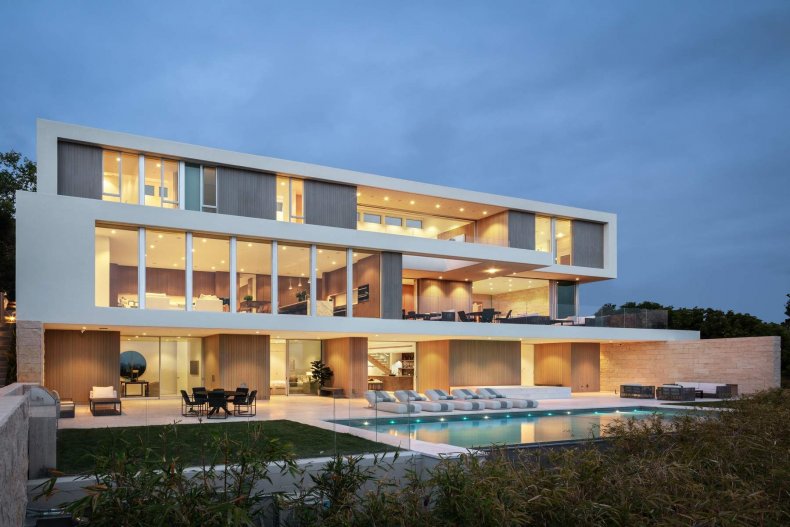 This extraordinary home is described by Sotheby's as "an evolution of Modernist Architecture."
The realtor adds: "This Woods+Dangaren eight bed 11 bath home and detached guest house is perched high above the Pacific Ocean in the highly coveted Upper Riviera."
24. Mott Lane, Houston, Texas, 77024
$27,500,000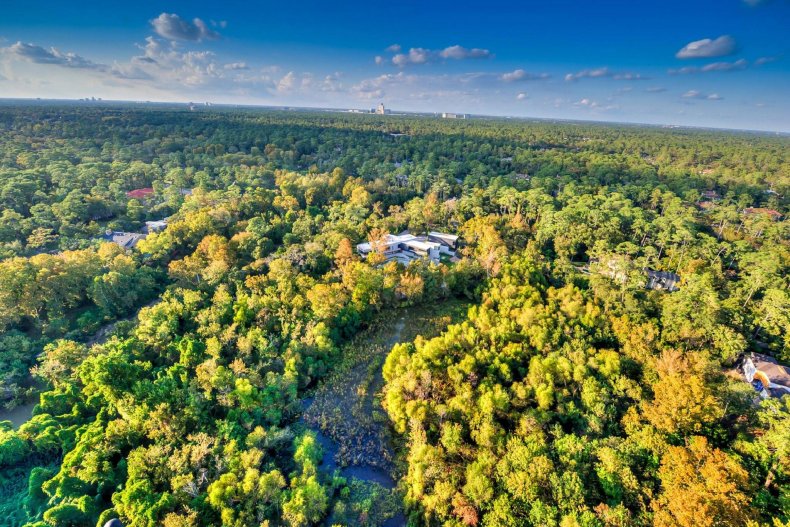 This 14,868 sq. foot, four-bed home is on a private point overlooking Houston's Buffalo Bayou.
Sotheby's states: "Constructed of commercial quality steel, cast concrete, zinc siding and 40 percent storm-resistant floor to ceiling glass, this home sets a new bar and provides privacy, nature and ever-changing vistas. Exceptional details, materials and finishes."
23. Ellice St, Malibu, California, 90265
$27,500,000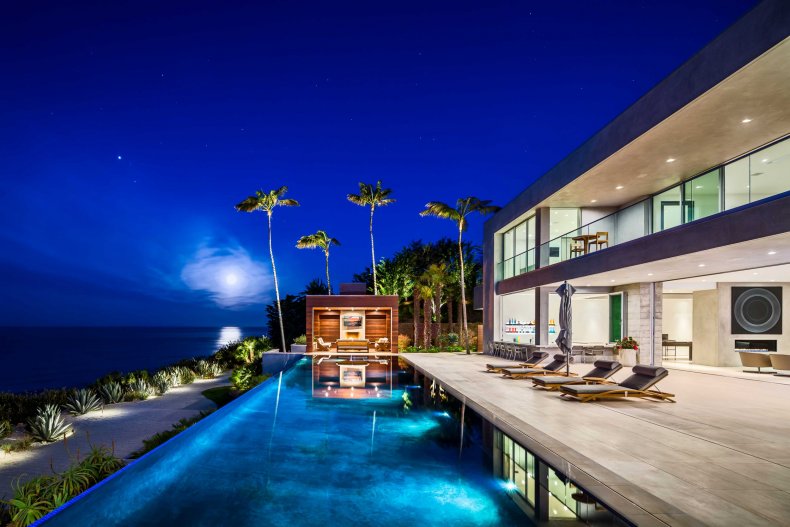 The Marisol Modern Estate is described by the luxury realtor as "a true one-of-a-kind Malibu icon."
This seven-bed Doug Burdge-designed home has won multiple awards from one of America's most prestigious builder's conferences, making it "one of the most extraordinary homes in Southern California."
Sotheby's listing adds: "It combines the feel of the world's finest luxury resorts with the most peaceful oceanside living Malibu has to offer right at your fingertips."
22. Pebble Beach, California, 93953
$28,000,000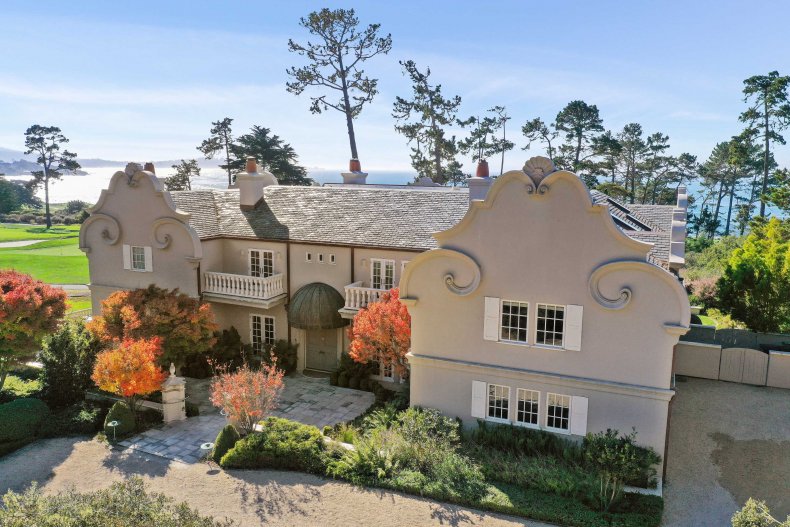 This sophisticated seven-bed Californian estate is situated in a prime location on the 12th green, at the prestigious Pebble Beach Golf Links.
Sotheby's states: "Currently showcasing an 8300 SF main residence on 2.4 acres, with spectacular golf links and ocean views from Carmel Beach to Point Lobos."
21. Carnarvon Drive, Houston, Texas, 77024
$30,000,000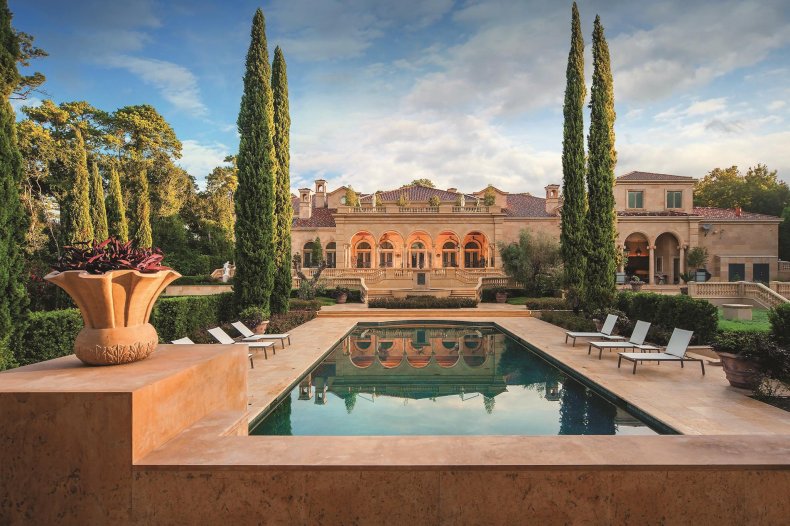 This eight-bed home sitting in secluded 2.5 wooded acres, is a Neoclassical, close-in Memorial-area chateau described as "a masterpiece of luxury and refinement surrounded by private, park-like grounds."
Sotheby's adds: "The 27,000-plus square foot chateau is designed for elegant entertaining and the display of museum-quality art. Amenities include lavish gilt and delicately-wrought, hand painted detail; meticulously reproduced period moldings; white marble tile and inlaid, hand-scraped hardwood floors; antique boiserie, chandeliers, and marble fireplaces."
20. East Mountain Drive, Montecito, California, 93103
$33,000,000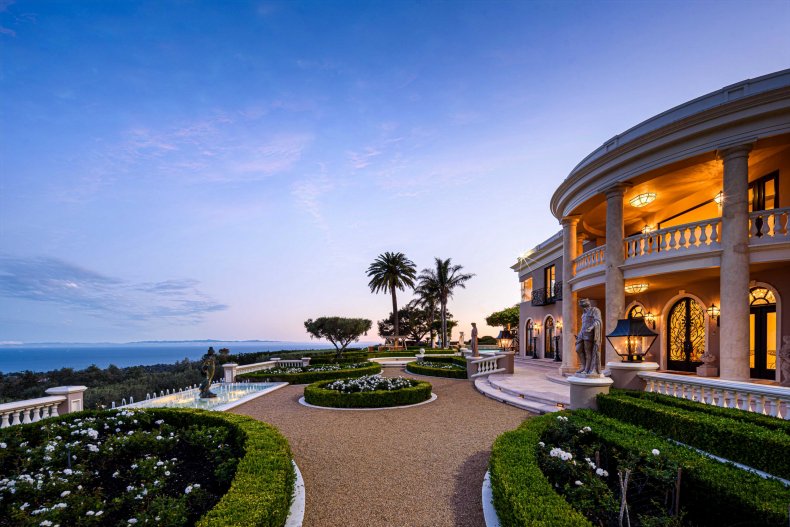 This 10-bed home is a rare opportunity to acquire the largest ocean view estate in all of Montecito, spanning over 43 acres on 2 separate parcels.
Sotheby's states in the listing: "Experience this unique setting with its inspirational views that are unquestionably the best ocean, island, and harbor vistas in Montecito.
"This unique enclave is in a world of its own with unparalleled privacy, yet it is set in the heart of Montecito's golden quadrangle just steps away from the storied San Ysidro Ranch.
"You will treasure this location and value the short distance to schools, restaurants and all that Montecito has to offer."
19. Leonard Street, New York, 10013
$34,500,000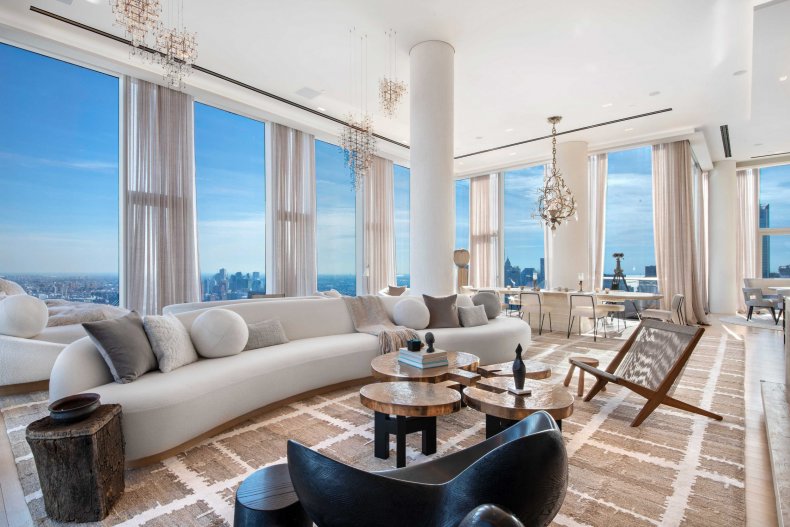 Sotheby's states in the listing how "no expense was spared" in this meticulous renovation of they describe as a stunning five-bed New York penthouse.
The realtor adds: "Rare opportunity to own a spectacular, one-of-a-kind, full-floor Penthouse in the heart of Tribeca, perched above the clouds on the 58th floor.
"Penthouse 58 is a stunning 5,489 square foot glass-wrapped home with soaring 14 ft ceilings, two Terraces and unobstructed, panoramic views from river to river, as well as iconic NYC skyline views."
18. Clarendon Ave Palm Beach, Florida, 33480
$35,000,000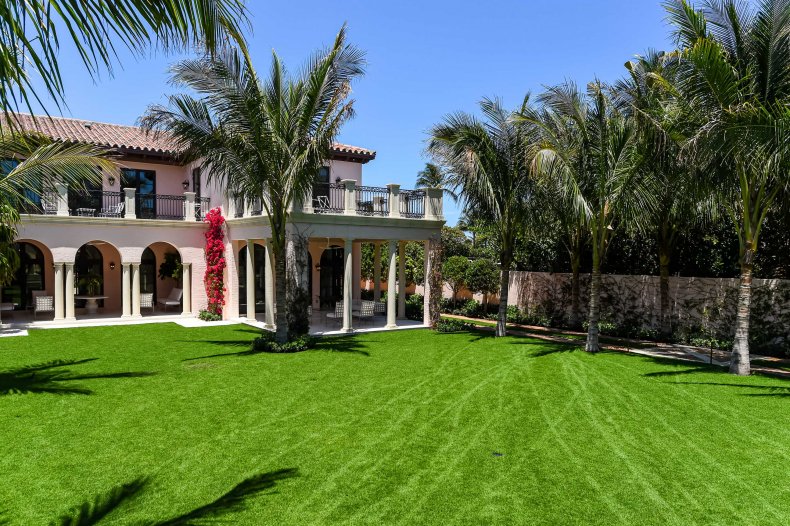 Extensive renovations are now completed at this beautifully appointed Mediterranean Style Mansion.
Sotheby's writes in its listing: "With nearly three-quarters of an acre, this eight-bedroom, nine full bathrooms and three half baths property compromises over 14,200 square feet of real estate, including a brand new construction two-story guest house, two-car garage, gym, and ample staff accommodations.
"Exquisite finishes and detailed craftsmanship are evident throughout the residence."
17. Fifth Avenue, New York, 10028
$37,000,000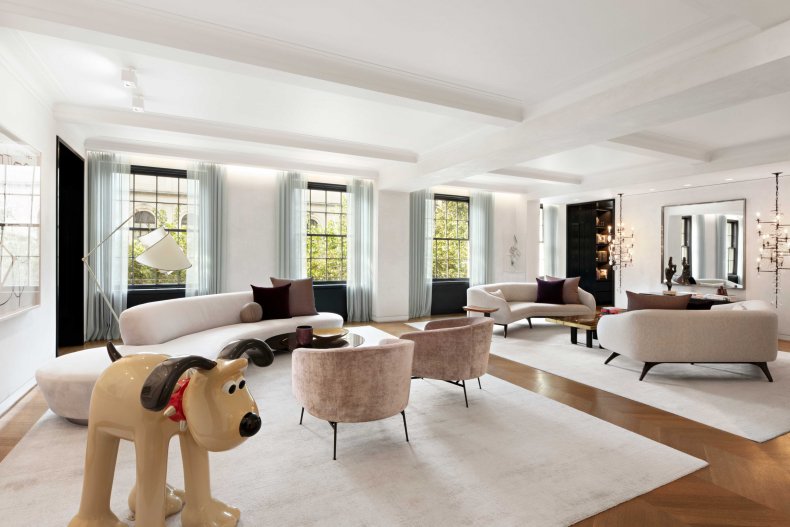 This seven-bed home sitting on the corner of New York's Fifth Avenue and 83rd Street is dubbed "one of the city's most prestigious and iconic" by Sotheby's.
The realtor adds: "When the current owners of this distinctive 8,000-square-foot simplex—an esteemed architect and her husband—undertook its transformation, the intent was to create a stunning, spacious modern home while honoring the building's history, style, and essence.
"The result is a residence that is both contemporary and timeless."
16. Pacific Palisades, California, 90272
$37,500,000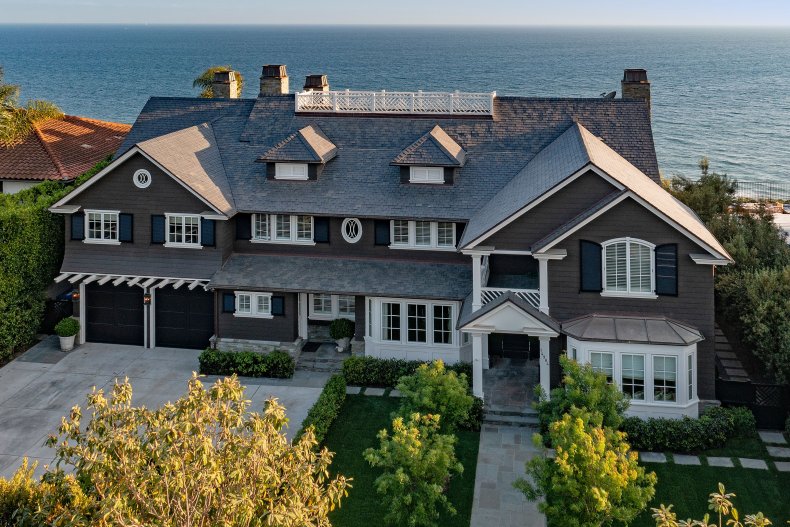 The five-bed Californian home is described by Sotheby's as "by far one of the most important offerings to become available in decade" and "the finest location on the Westside."
The high-end realtor adds: "Offering unparalleled views spanning the Queens Necklace to Point Dume, the setting is beyond compare."
15. Columbus Circle, 75CE, New York, 10019
$40,000,000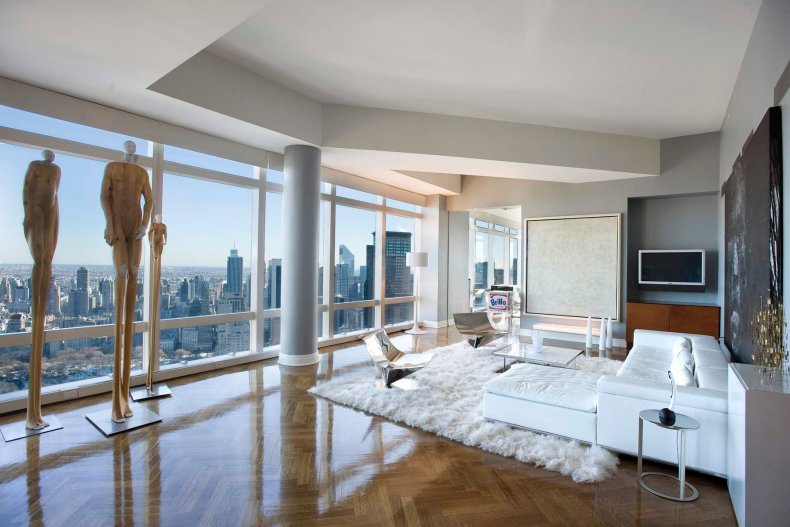 This five-bed penthouse sits perched vertiginously on the 75th floor above New York's iconic Central Park.
Sotheby's listing outlines how the home "encompasses 4,540 square feet with 180-degree views from floor to ceiling windows and ceiling heights up to 14ft."
The realtor adds: "The PH offers jetliner views of the entire city, including sweeping views of Central Park, The Chrysler building, the Atlantic Ocean, and the Statue of Liberty facing west over to the Hudson River."
14. Greenwich, Connecticut, 06831
$40,000,000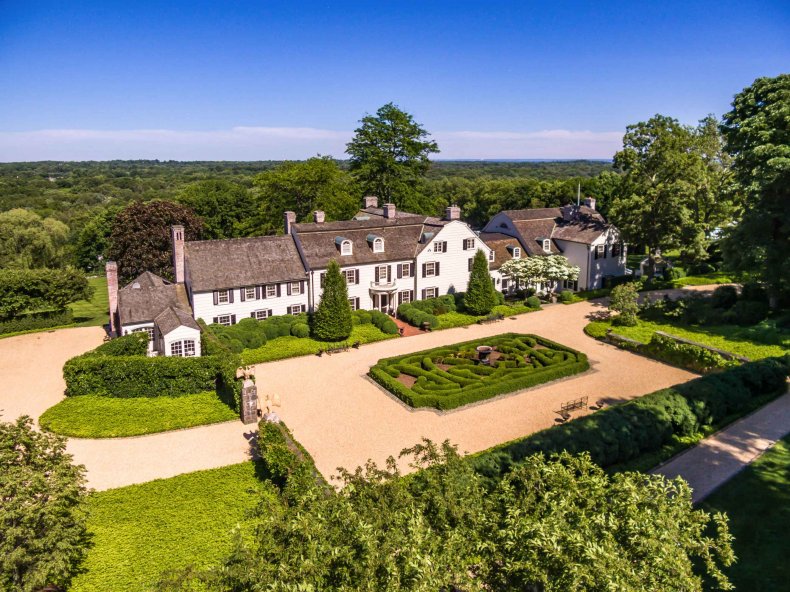 This opulent seven-bed property has a strong English country estate feel and boasts breathtaking panoramic views of Greenwich's Long Island Sound.
The Sotheby's listing describes the additional minor home has having an "extraordinary equestrian est w Grand Ball Room which entertained celebrities and heads of state."
13. West End Avenue, PH, New York 10024
$42,000,000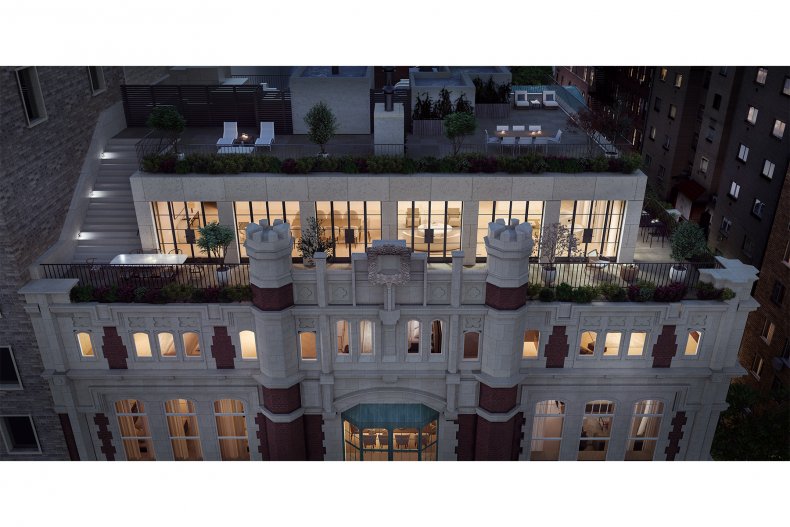 This spacious six-bed New York apartment is part solarium and part terraced penthouse.
Sotheby's listing states: "Spanning over 3,145 square feet of breathtaking outdoor space and over 8,429 square feet on two full floors of indoor space, there's literally nothing you could want that the Penthouse doesn't deliver.
"This house-like home offers dynamic spaces for a variety of uses, including relaxing, dining and even exercising outdoors!"
12. Palm Beach, Florida, 33480
$45,000,000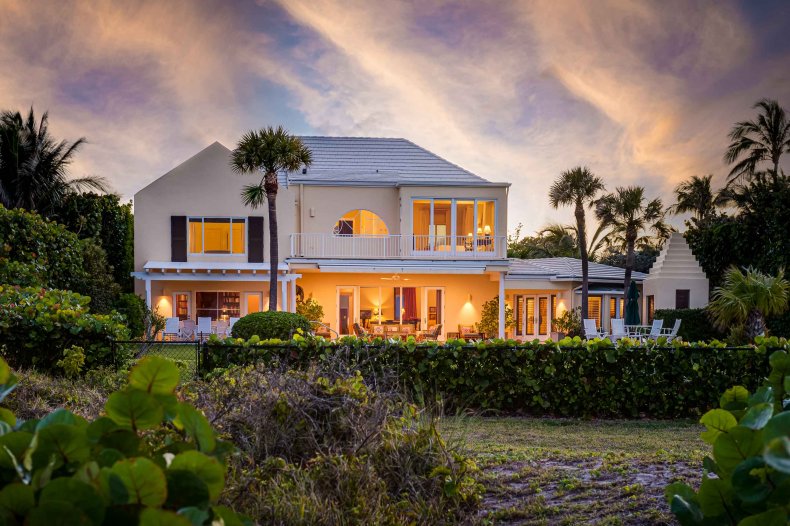 This five-bed Florida oceanfront property is available for the first time available in 35 years.
Sotheby's listing states: "Home to the widest private beach on the island. Sweeping ocean views as far as the eye can see. Now is the time to make dreams come true.
"The moment you enter the home tranquility reigns, nestled off the main road on a private street."
11. Pebble Beach, California, 93953
$47,888,000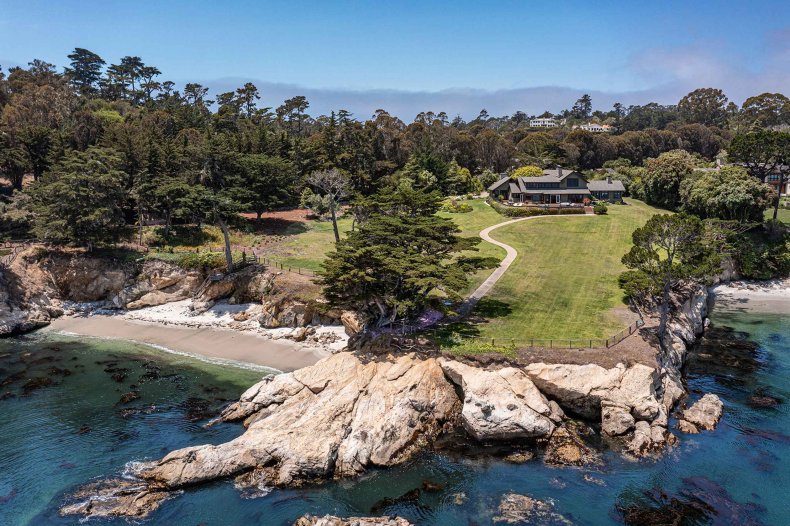 This "true gem" of a five-bed California home fronts onto the panoramic ocean shore.
Sotheby's listing states: "Sweeping ocean side lawn leads down to a beautiful private cove and the largest sand beach along the Pebble waterfront; a short stroll to The Lodge and all the amenities it has to offer; spectacular views across Stillwater Cove to the PB Golf Links and Carmel Beach; classic, comfortable architecture offers the perfect setting for family and friends."
10. Beverly Hills, California, 90210
$49,900,000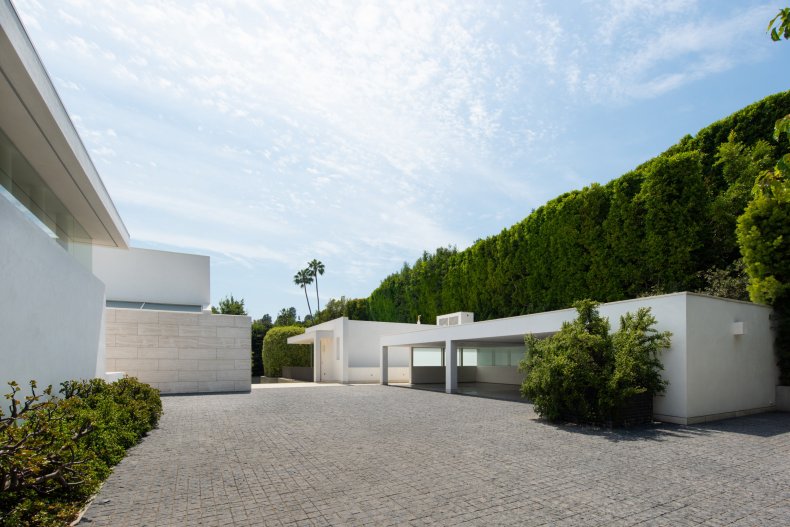 This six-bed Beverley Hills home featuring a pool, spa and a tennis court is described as a "new museum quality masterpiece."
Sotheby's listing states: "Located in the most exclusive area North of Sunset in Beverly Hills, the bold architectural gated entry and completely private 1.4-acre property features an expansive motor court, and dramatic entry."
9. Scottsville, Virginia, 24590
$55,000,000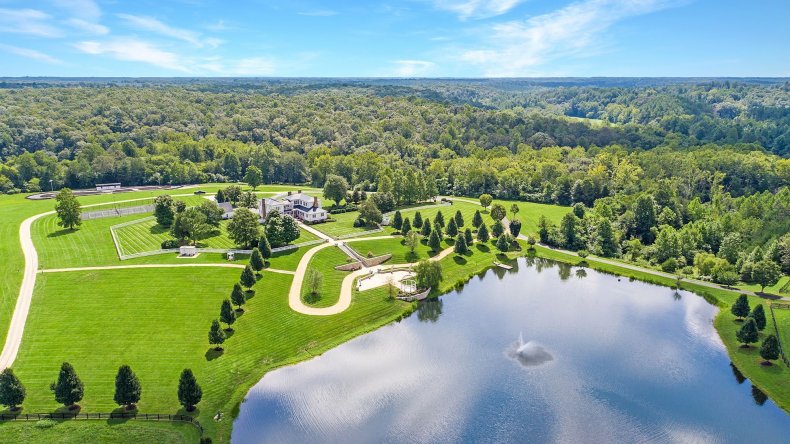 This sprawling home described as a "once-in-a-lifetime opportunity" is located in Charlottesville, within minutes of The University of Virginia.
Sotheby's listing states: "The former estate of Bernard Arnault expands 3,300 acres and is located along Blenheim Road, a historic route in Southern Albemarle Count.
"Surrounded by large country estates and wineries, Mount Ida Reserve stands out not only due to its sheer scale (more than twice the size of nearby Trump Winery & Estate) but also from its unique inventory of physical features, including miles of private river frontage, spectacular mountain views, rolling hills, fertile farmland, hardwood forests, and large privately owned lakes."
8. Greenwich, Connecticut, 06830
$55,000,000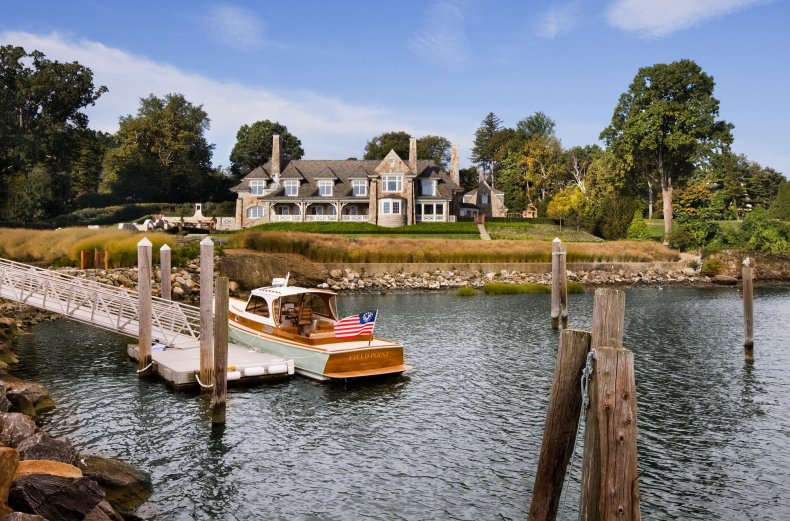 The eight-bed Field Point home, is an exquisite custom-built stone Georgian home boasting 340 feet of private Long Island Sound shoreline and breathtaking panoramic views.
Sotheby's listing states: "Ideally situated on 2.46 pristine acres of land in the exclusive guard-gated Field Point Circle Association in Greenwich, Connecticut, this unparalleled estate embodies the essence of strategic architecture with stylish interiors, while featuring a deep-water dock, indoor pool, outdoor pool, private beach, English gardens and more.
"Elevated, protected and privately positioned, Field Point offers the ultimate in luxury lifestyle."
7. Beverly Hills, California, 90210
$59,500,000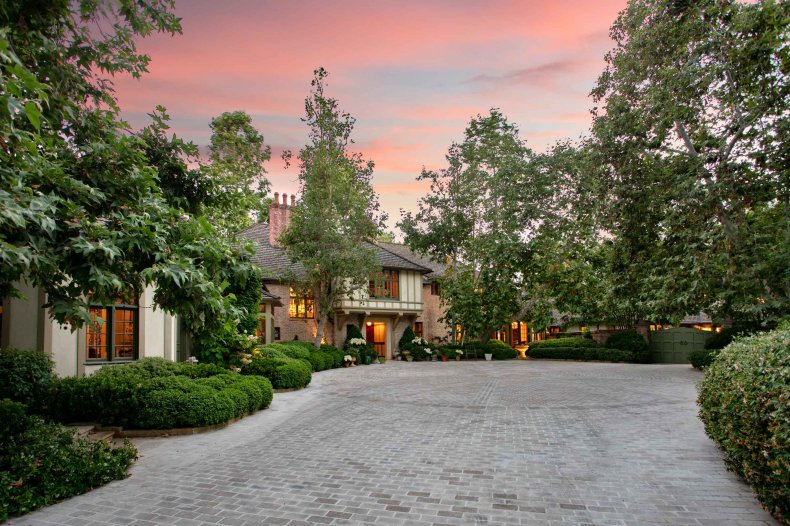 This seven-bed Beverly Hill home covers more than 3 acres boasts "covetable city skyline, canyon and ocean views."
Sotheby's listing adds: "Interiors by renowned White House designer Michael Smith, whose romantic and comfortable aesthetic allows the home's architecture to speak on its own.
"The home was featured in Smith's book The Curated House, as well as Architectural Digest."
6. Alexandria, Virginia, 22308
$60,000,000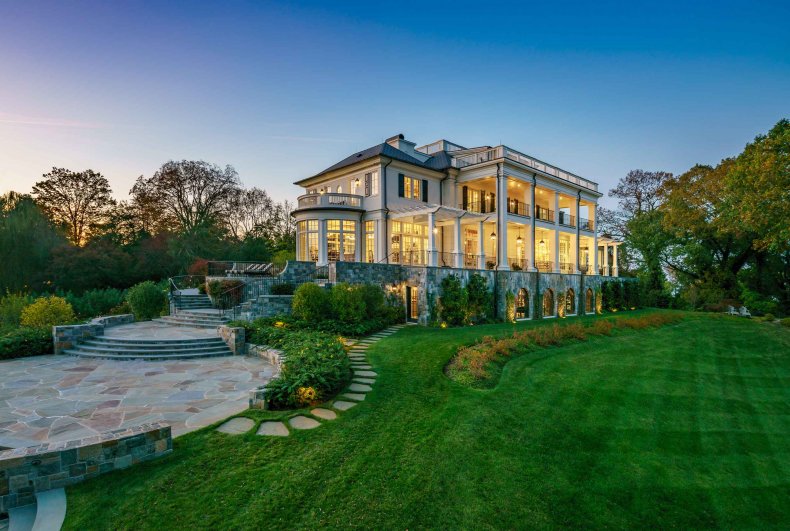 This unique and historic seven-bed Virginia home has been fully reconstituted, rebuilt and modernized.
Sotheby's listing states: "Once in multiple generations does a waterfront estate like River View become available for purchase."
"Sited on 16.5 acres of George Washington's original Mount Vernon estate, a visit to River View reminds us of why Washington boldly proclaimed, I had rather be on my farm than emperor of the world.
"This one-of-a-kind property, and its sublime aspect, uniquely had the power to calm the mind of America's founding father."
5. Jackson, Wyoming, 83001
$69,500,000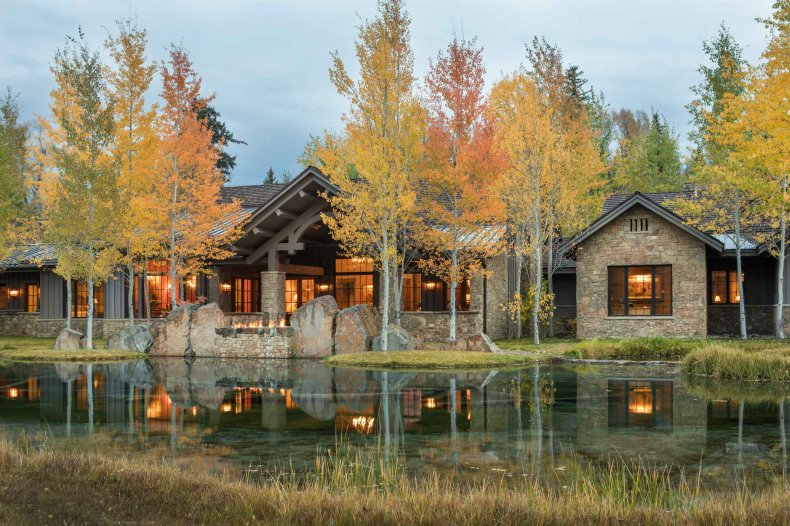 This four-bed private residential development just north of the town of Jackson affords frontage of the local river, amazing spring creeks and superb views of the Grand Teton, the Teton Range and Jackson Hole Mountain Resort.
Sotheby's listing states: "In an area known for its exceptional fishing habitat, one only has to step outside to enjoy one of the spring creeks or head to the Snake River."
4. Southampton, New York, 11968
$69,950,000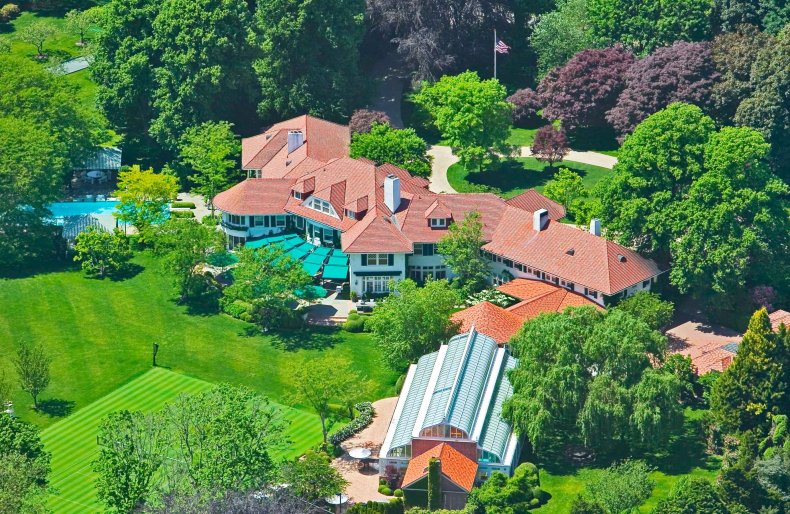 This 12-bed sprawling Southampton property offers immediate access to the coast and "park-like privacy."
Sotheby's listing states: "Exquisite grace and grandeur hallmark this magnificent masterpiece —beautifully preserving its authentic original details - offering 18,000 plus square feet on three floors, including eight principal bedrooms, eight full and three half baths, and separate staff quarters."
3. Pinnacle Penthouse, New York, 10007
$79,000,000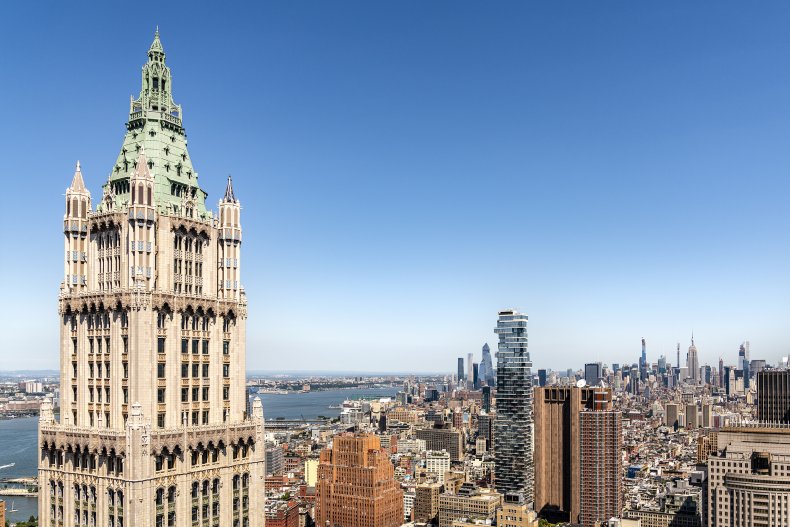 This five-story home perched 727 feet above New York's center encompasses 9,680 square feet of exquisite interior space and a private 408 square foot observatory terrace.
Sotheby's listing states: "Exquisite highlights include 125 windows, 24 foot ceilings and an in-residence private elevator.
"Customize this coveted home with magnificent floor plan designs from Thierry W Despont and David Hotson."
2. Rancho Santa Fe, California, 92067
$98,500,000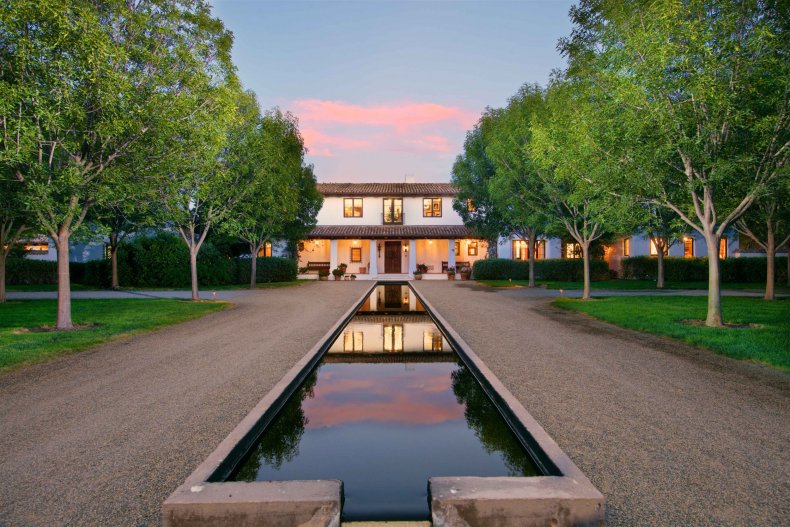 This remarkable six-bed 77-acre estate comprises multiple residences, two state-of-the-art barns, riding arenas, several pastures, tree-lined trails, 15-acre bass-filled lake, a tennis court. Sotheby's calls it "the ultimate in privacy, security, and seclusion."
The realtor writes in the listing: "The 15,000 SF [south facing] main home is a classic Santa Barbara style with an understated elegance & a 2 BR guest house adjoins the fully equipped game room with bowling alley, bar, & gym. Imagine the possibilities...
"Perfect for enjoying all your favorite activities, sports, and hobbies, this remarkable property is also set up to accommodate a variety of equestrian disciplines."
1. Malibu, California, 90265
$115,000,000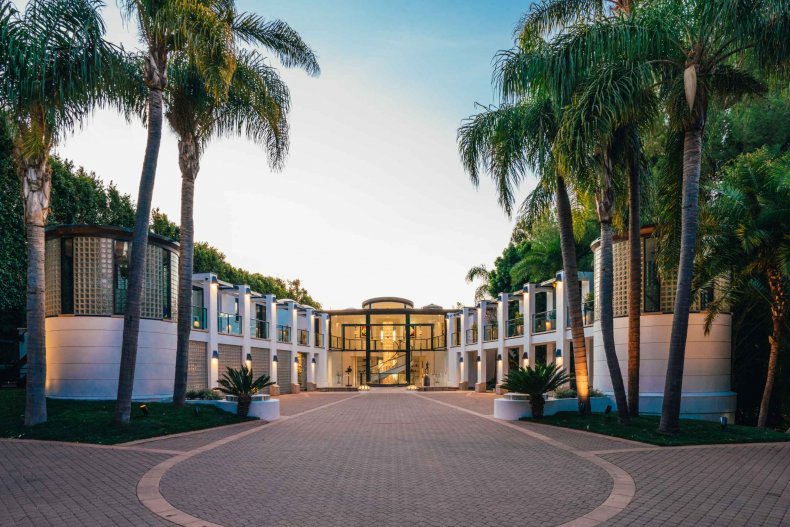 This stunning 12-bed California property, boasting both a pool and a tennis court, sits a very short stroll from the beach.
Sotheby's listing states: "Impressive gated entry and long drive to large motor court leads to this spectacular masterpiece with walls of glass.
"[The] powerful two Story Entry features a dramatic 18ft floor to ceiling crystal chandelier, centered in a sweeping circular stairway in a backdrop of sheets of white walls and Bianco Carolina white marble floors."