The 40 Most Expensive Items on eBay Right Now
EBay has revolutionised online commerce, allowing individuals to both buy and sell items online from anywhere, anytime.
But in addition to being a site where users might snap up a bargain, eBay is also a destination for bizarre, big-budget goods and services.
Newsweek scoured the site to roundup some of the most expensive items listings currently available. Take a look through...
40. Stars Wars: Episode IV poster ($10,000)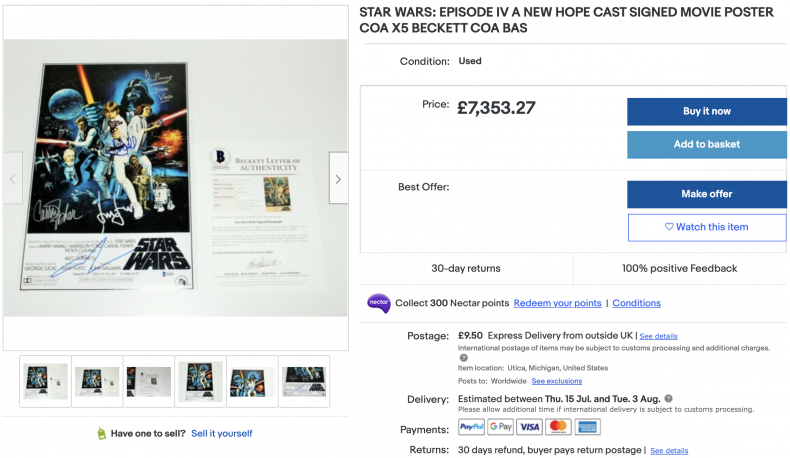 This Stars Wars: Episode IV poster is signed by cast members George Lucas, Harrison Ford, Mark Tamil, Carrie Fisher and Dave Prowse.
The eBay listing states: "It is signed boldly in permanent sharpie, so you don't have to worry about the autographs fading.
"The item comes with a Certificate of Authenticity, guaranteeing the autographs authentic for life. This item would make a great addition to any collection."
39. Fistful of Dollars Movie Poster ($10,000)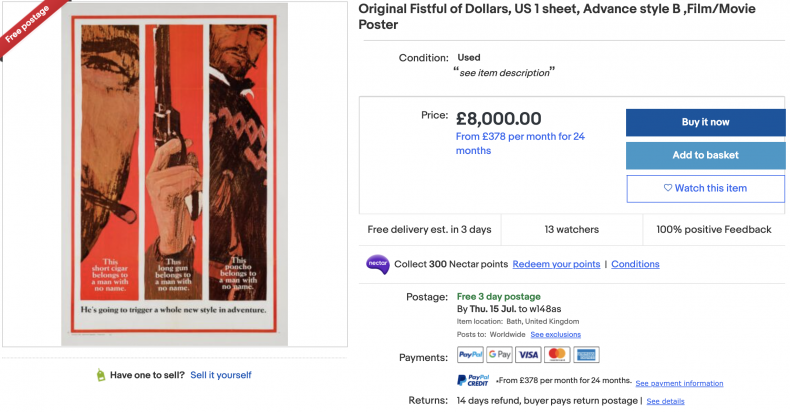 This extremely rare U.S. Advance Style B poster was created to promote Sergio Leone's classic Spaghetti Western Fistful of Dollars.
The listing states: "Professionally cleaned, de-acidified and linen-backed with only very minor touch-up to fold-lines and some pinholes. Actual poster size is 27 1/4 x 41 inches (28 1.4 x 42 inches including the linen-backing)."
38. P1 Predator Mask ($14,000)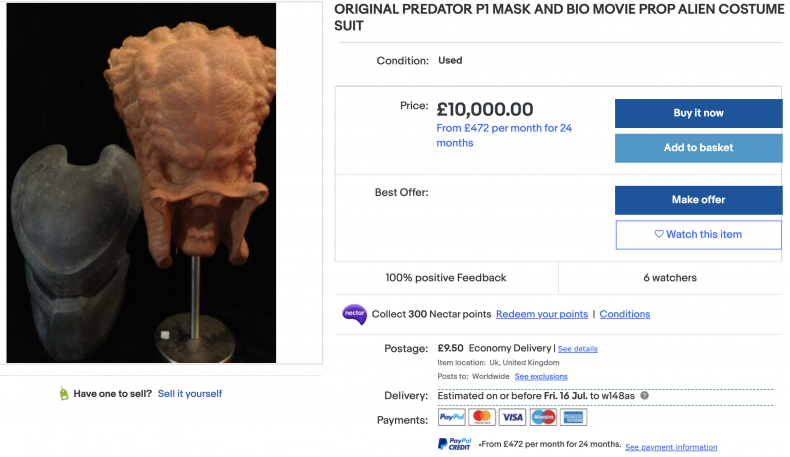 This is said to be an original pull of the P1 Predator mask complete with bio helmet.
The seller writes: "The mask was given directly from Stan Winston to be used as a reference for the production of the Predators used in the famous short film Batman Dead End.
"This mask has a lot of history and is the only one I know of in existence."
37. Beatles Pinball Machine ($21,000)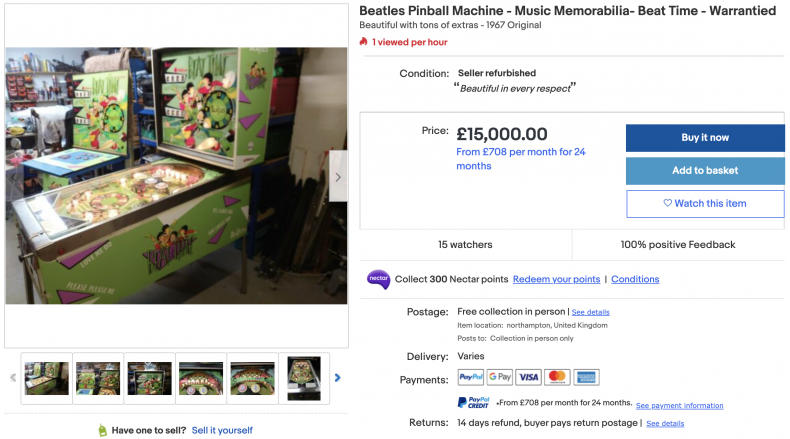 This is a stunning 1967 original pinball machine created to honour legendary English rock band The Beatles.
The listing adds: "Even inside it is excellent. None of the wires have been chopped about—they are all as when the pinball machine left the factory. Amazingly, there are even original paper labels on things."
36. Instrument Once Owned By Prince ($24,000)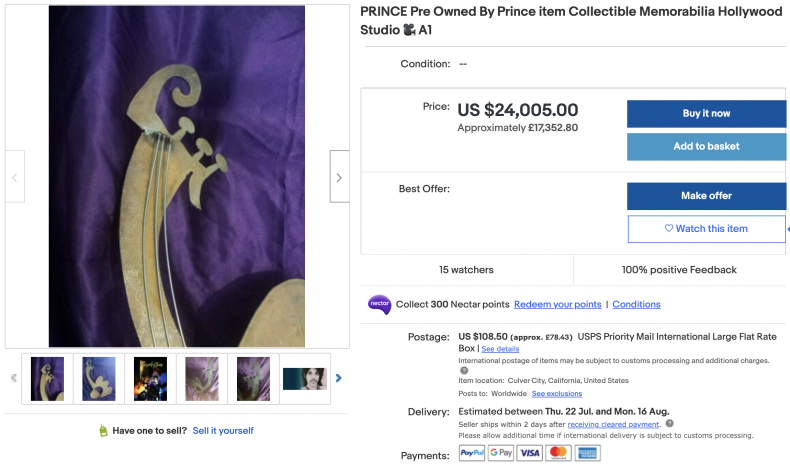 The bespoke four-stringed instrument is said to have once owned by the late musical icon Prince.
The seller states: "You are now looking at a little bit of jazz and Hollywood Studios history, this beautiful and very interesting personal item from the star's home, a very special item used as a film prop, by them, now you can have/share a small part of their wonderful and beautiful life this is your part, of this rich American Hollywood history story."
35. Muhammad Ali Pinball Machine ($25,000)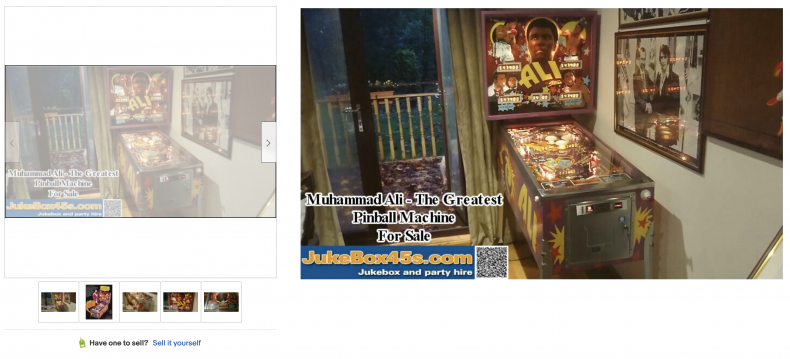 This Muhammad Ali Pinball Machine is described as a "fully working, beautiful perfect cabinet and playfield and comes with a warranty."
The listing adds: "Despite the theme of the pinball showing the Greatest Boxer, Sportsman of all time, this pinball did terrible in sales at the time of its release.
"Only 2,971 were made and it is not clear how many of these actually sold. As a piece of Ali memorabilia, it takes some beating."
34 .Intel Xeon Platinum 8180 384GB RAam Data Storage ($26,600)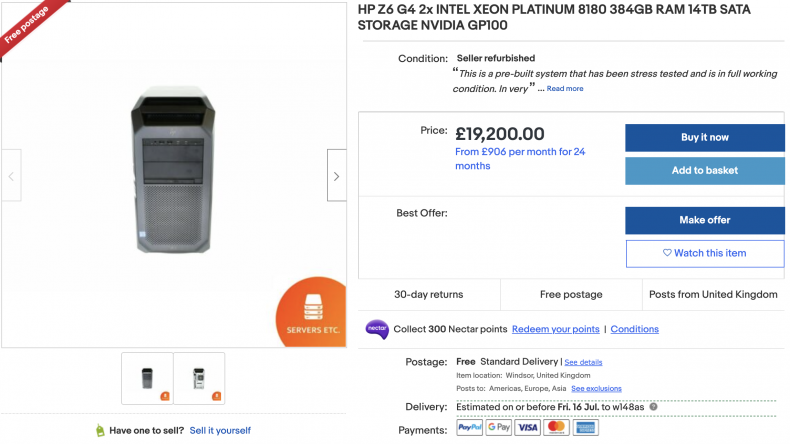 According to the listing, this refurbished HP Z6 G4 workstation includes HP Z6 G4 Workstation and a second CPU Riser Board, integrated Intel I219LM and Intel X722 controller, a dual Intel Xeon Platinum 8180 2.50GHz 28-Core and 384GB DDR4 RAM.
33. Soccer ball Signed by Pele ($27,000)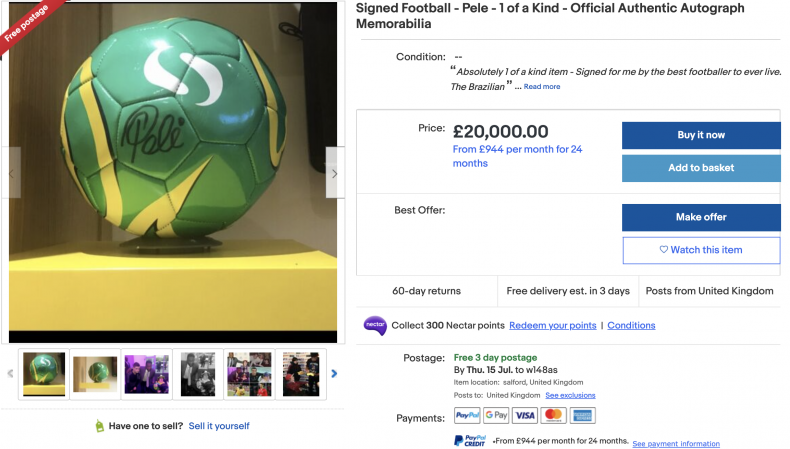 This soccer ball has been signed by Pele, widely considered among the most successful and popular sports figures of the 20th century, the listing states.
The seller writes: "Absolutely 1 of a kind item—signed for me by the best footballer to ever live."
32. Alaskan Inuit Doll ($28,000)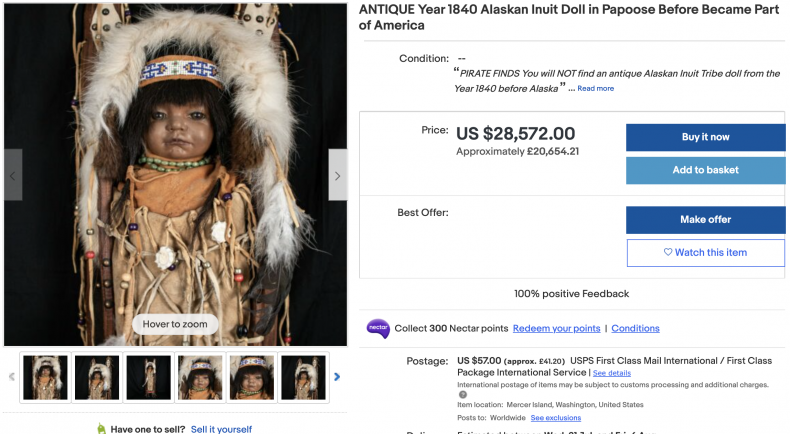 This Native Alaskan Doll from the Inuit Tribe is said to date back to 1840—27 years before before Alaska became part of the U.S.
The seller writes: "This came from a very reputable collector that owned a highly important collection of ancient, prehistoric and antique artifacts.
"They were a constant world traveler with an emphasis in Asia, Central America and the Middle East. This could have sat in a base as a stand-alone relic."
31. Michael Jordan Muhammed Ali Tiger Woods Signed Display ($30,000)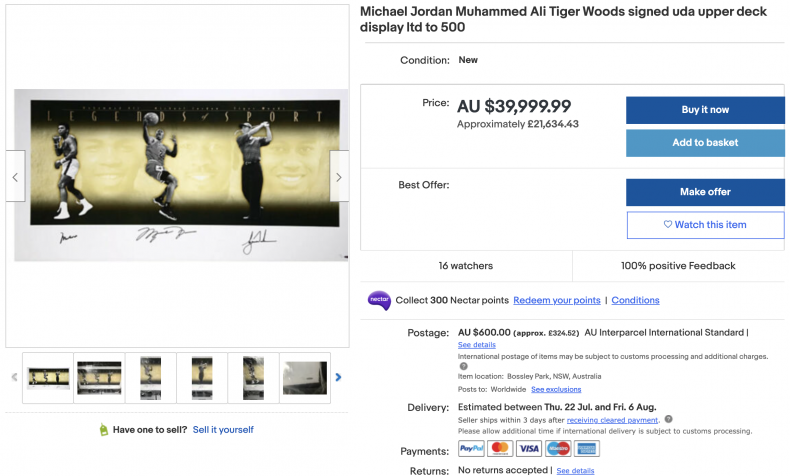 This is billed as a "huge Michael Jordan Muhammed Ali and Tiger Woods signed and framed lithograph authenticated by UDA Upper Deck.
This bag advert reads: "Signed by the three GOATs of sports all-time this piece will only rise in value."
30. Vintage Cabbage Patch Kid Doll ($30,000)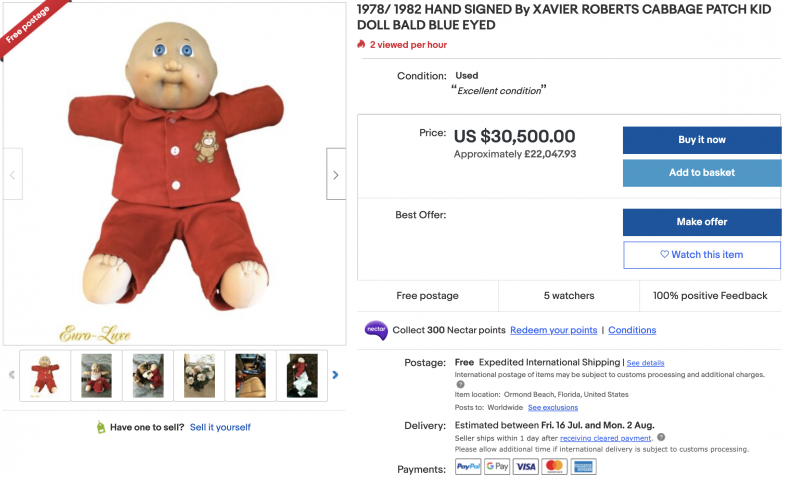 Cabbage Patch dolls were mostly sold with a machine stamp on the left cheek of the rear of the doll and while some Cabbage Patch Kid bore no machine stamp, the rarest were reportedly hand-signed by Xavier Roberts himself.
The seller writes: "It has taken me years to muster up the courage to list this precious, little guy.
"He has been stored away in a hermetically sealed, storage box for over 2 decades (my mother's idea.) Milton Eric his original name, is a vintage Cabbage Patch Kid Doll from circa 1982.
"He is a rare piece & is hand-signed by Xavier Roberts, the creator. Xavier Roberts hand-signed less than 500 Cabbage Patch dolls, out of millions produced.
"The candy apple red, corduroy suit with teddy bear motif & undershirt are original & came with my doll. This bald head, blue-eyed, peaches & cream skin tone baby will melt your heart."
29. Smart Keys Touchscreen Keyboard Laptop Patent ($40,000)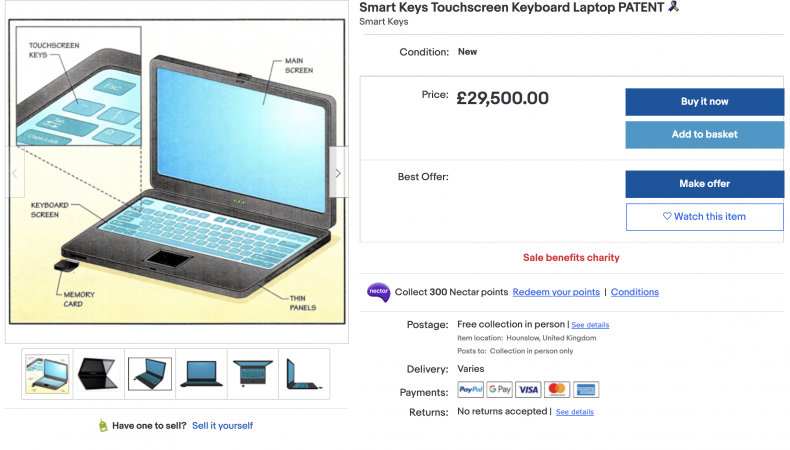 This is an opportunity to purchase a patent listed as a touch screen, biometric keyboard screen and flat-screen laptop system.
The seller writes in the listing: "In essence back in 2006 I had the foresight to design a laptop that did away with the traditional keyboard layout and introduced a tablet-like design for the keys.
"The keys would be fully customisable to users' requirements as well as provide a number of other advantages such as hygiene and tap noise."
28. 'Star Wars' Stormtrooper Prop ($41,500)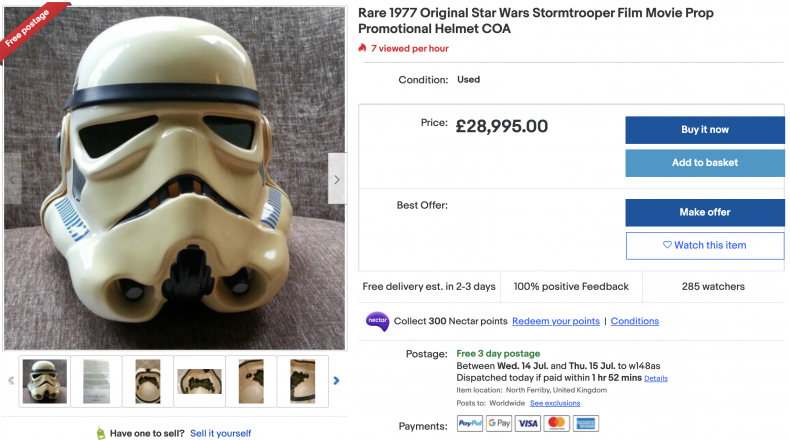 This prop is billed as a "once in a lifetime opportunity to acquire a rare original production promotional Stormtrooper helmet made for the 1977 George Lucas classic Star Wars.
The listing adds: "The helmet is 80% unfinished/raw. It has just the mouth section and lower centre section painted black and the ear detail painted.
"It has suffered yellowing due to age and there is a screw hole in the forehead."
27. The Illustrated London News ($75,000)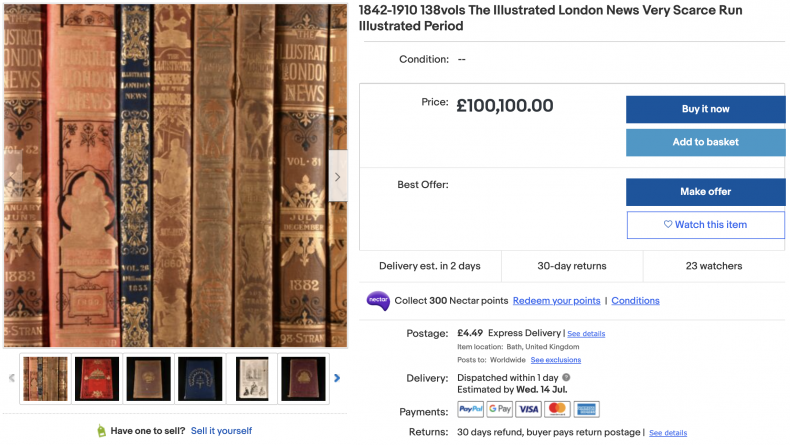 This is billed as a scarce continuous run of the influential Victorian periodical The Illustrated London News.
It features "highly desirable folding plates and illustrations and covering some of the most important events of the nineteenth century."
The listing adds: "Copiously illustrated throughout in colour and monochrome, with many of the highly sought after city panoramas including Edinburgh, Dublin, Paris and Rome present."
26. Barbie Ken Error Doll ($100,000)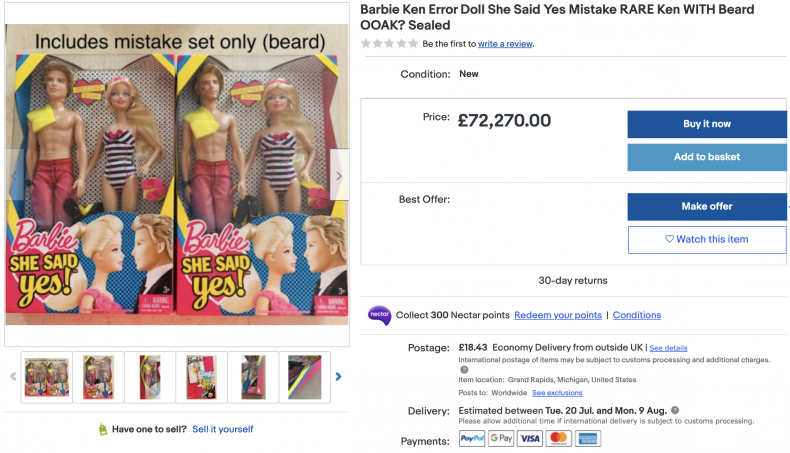 This sealed set features Barbie's crush, Ken, with a beard along and a kiss mark on his cheek.
The seller writes in the listing: "I have searched the internet and have not found another one like it."
25. Accutech Apparel Autobagger Dynamic Automated System ($125,000)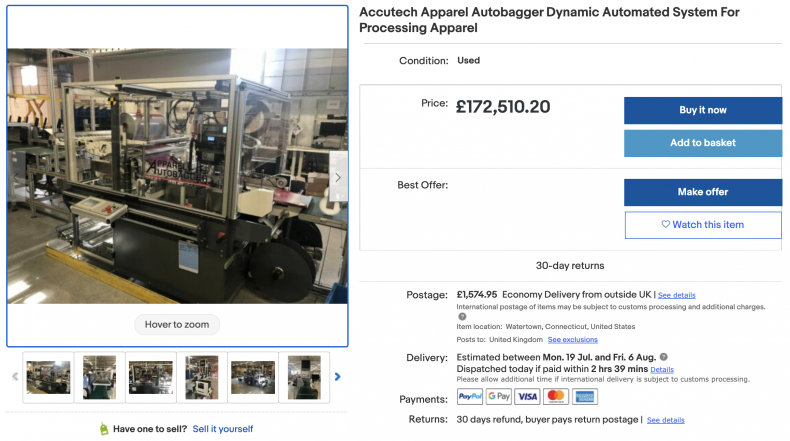 This high-tech machine by Accutech is used for processing apparel, linens and shoes.
The robotic armed autobagger is fully automated and is also capable of printing invoices and invoice labels, the listing states.
24. The Book of the Horse by S.Sidney ($207,940)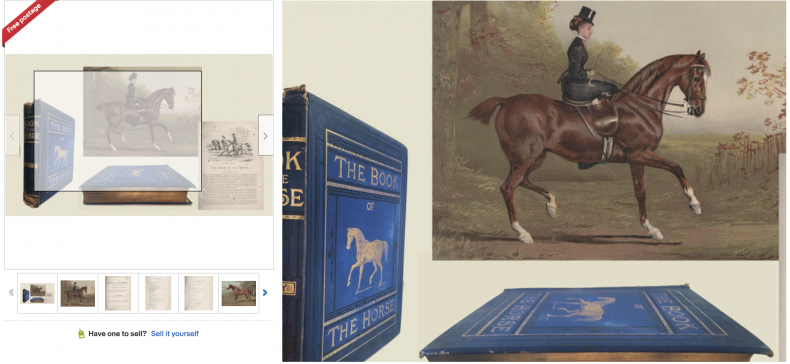 This is described on eBay as a "fantastic and extremely rare opportunity to acquire this exceedingly scarce superbly illustrated huge first edition first printing antiquarian book on Horses that should not be passed by."
The first edition book is believed to be an original 1880 copy from which all future reprints have been made.
23. 18th Century German Occult Book ($220,000)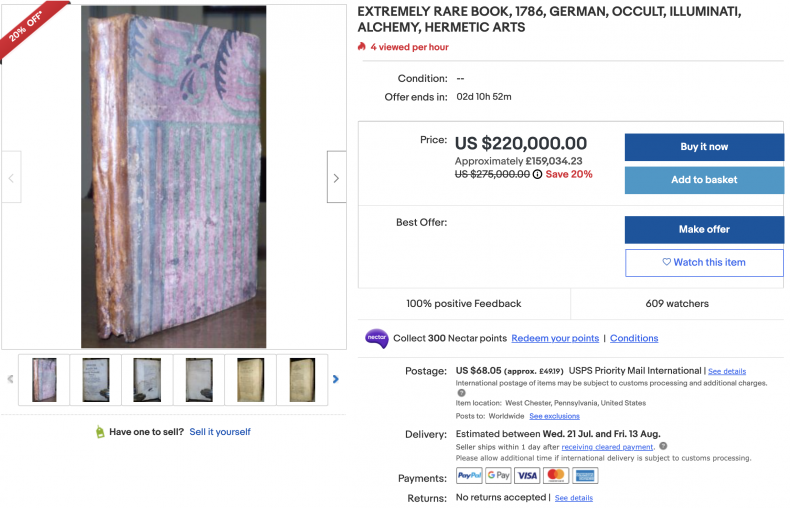 Written by Georg Adam Keyser and published in 1786, this extremely rare book relates to the hermetic arts, alchemy and the occult.
The listing states: "Incomplete work missing one of the volumes, however, we have only been able to find one other copy of this work for sale."
22. Leica MP #143 & matching P143 chassis ($245,000)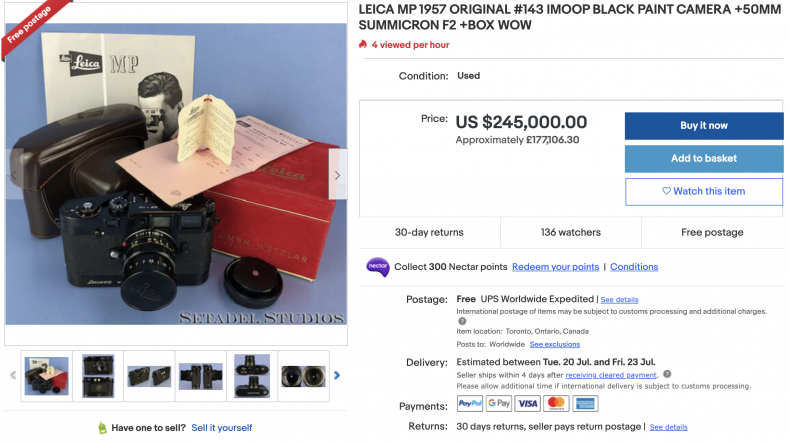 This is the Leica MP original black paint camera and is incredibly rare, with only a handful of black paint examples ever sold on the open market.
This eBay listing states: "Regardless of price, this is truly a 35mm photographic marvel and historic masterpiece."
21. Michael Jordan Upper Deck 22 KT Gold 23 Nights - Complete Set ($250,000)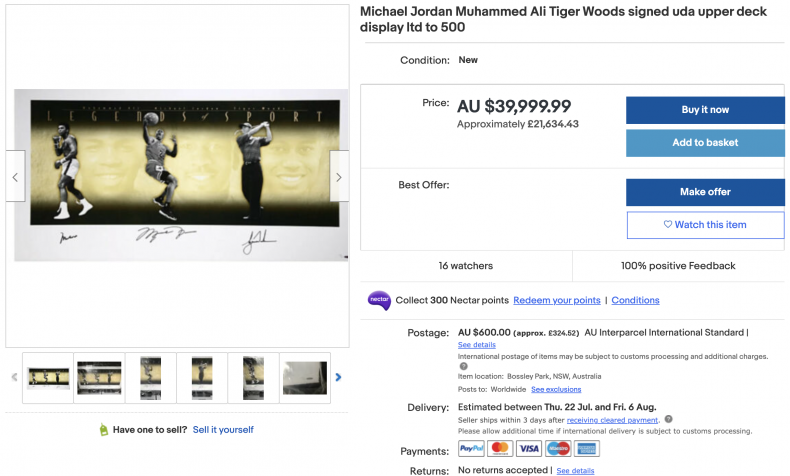 This "mint condition" set includes the album, original inserts with history background and all cards in the collection and original boxes.
The listing adds: "Cards serial numbers are under the 2,000 some in the hundreds."
20. Cæremoniale Episcoporum Antique Rare Book ($318,816)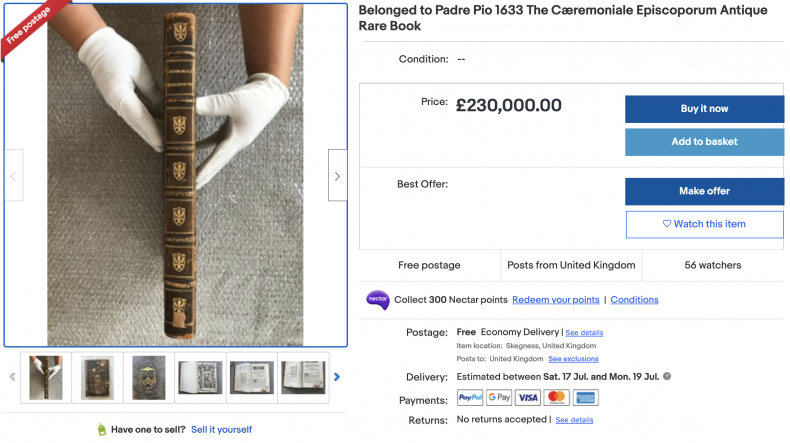 The Cæremoniale Episcoporum (Ceremonial of Bishops) is a book describing the Church services to be performed by Bishops of the Latin Rite of the Roman Catholic Church.
This book belonged to Padre Pio, a man-made famous for being a Catholic saint, stigmatist and performing miracles.
The listing reads: "Now venerated as a saint of the Catholic church, Padre Pio was the priest 'who worked miracles', he healed people with the touch of his palms.
"As he had stigmata on his palms and they bleed, there are traces of blood on some pages of the book.
"And it indicates that Padre Pio studied this book and the pages were anointed with his blood. This can be seen in the attached pictures."
19. Marilyn Monroe Gentlemen Prefer Blondes Movie Worn Jewelry Set ($415,000)
This is a chance for collector s to own costume jewelry worn by actress and icon Marilyn Monroe in the classic movie Gentlemen Prefer Blondes.
This includes a bracelet and earrings in a gilt metal setting with deep red and blue rhinestones.
18. 12 English 19th C Juvenile Carousel Galloper Horses by Anderson ($100,000)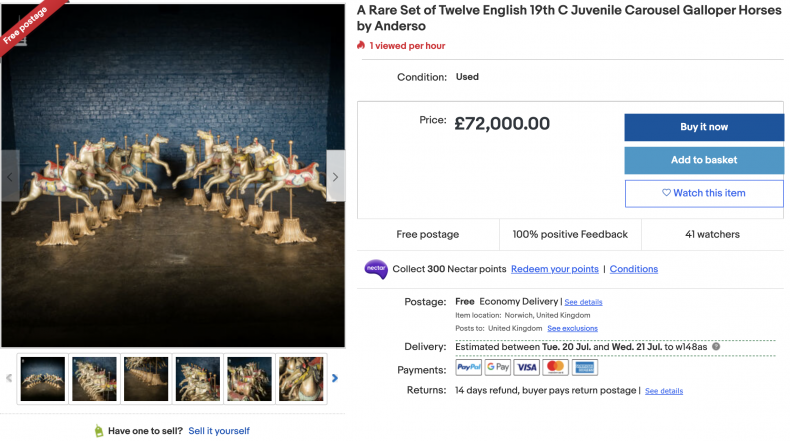 Originally made in the 19th Century and carved from timber and hand-painted, this beautiful set has had sympathetic repairs and has all the historic layers of paint up until the 20th century
The model is attributed J.R. Anderson of Bristol and dates to the late 19th Century.
17. The Beatles Autographed 'Please Please Me' 1963 ($155,000)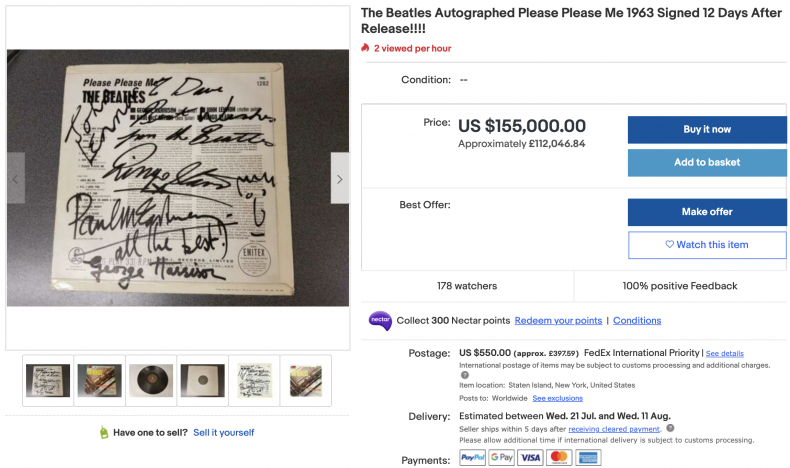 This is an extremely rare record autographed copy of The Beatles single Please Please Me.
The listing states: "[This] 1963 first pressing signed beautifully and boldly on the back cover in black felt tip pen by John Lennon, Paul McCartney who added 'all the best!' and a caricature (pre smiley face days) and Ringo Starr who added 'To Dave Best Wishes from the Beatles'.
"This signed Please Please Me was obtained by British photographer David Magnus on April 4th 1963 when he photographed The Beatles performing at the Roxburgh Hall, Stowe School, Buckinghamshire, England.
"Please Please Me was released on March 22nd 1963, making this one of the first albums signed by all four Beatles in existence and it comes with impeccable provenance."
16. Howard Stern Fartman Costume ($175,000)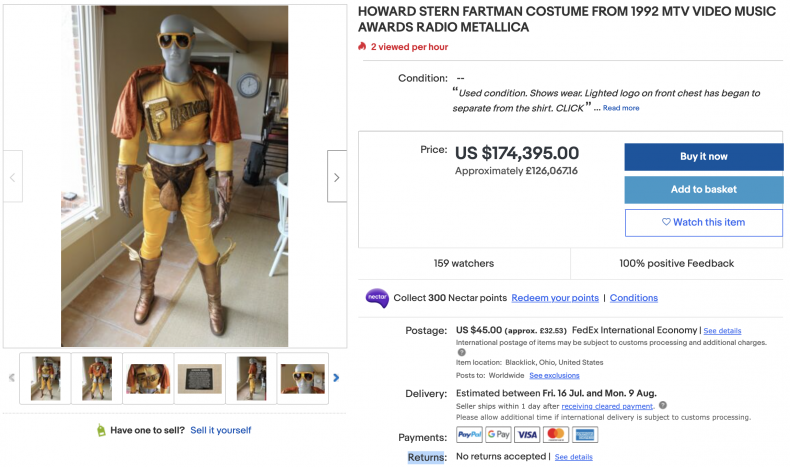 This unusual costume is billed as a "quintessential piece of Howard Stern memorabilia."
The eBay advert states: "If you are a Howard Stern fan then you know exactly what you are looking at.
"This is the Fartman costume owned and worn by King of all Media Howard Stern.
"This Fartman costume was worn by Howard Stern at the 1992 MTV Video Music Awards.
"Howard famously flew down to the stage from the rafters in this costume to present best metal and hard rock video to Metallica."
15. Sgt. Peppers Lonely Hearts Club Band LP ($200,000)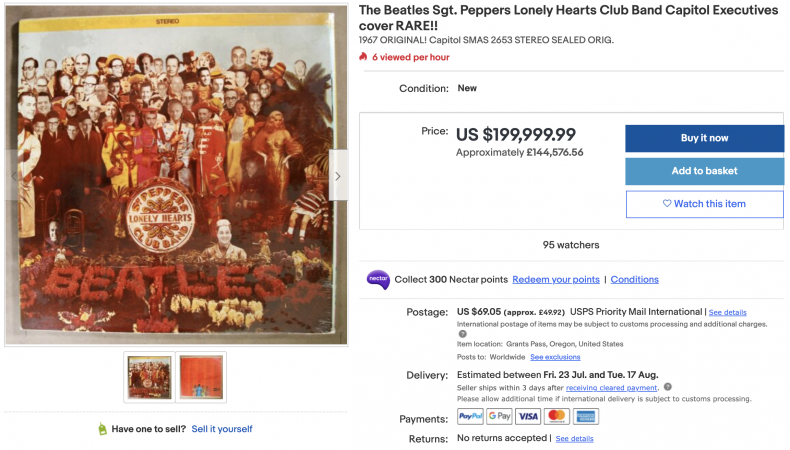 The eBay advert explains the extraordinary story behind this exceptionally rare piece of Beatles memorabilia.
It reads: "Here's the story: In December of 1967, a special Christmas party was held at Capitol Records in Hollywood.
"The biggest selling album of 1967 was the Beatles Sgt. Pepper. To commemorate that, Capitol took photos of many of the sales reps and executives who helped make the LP the biggest seller of the year.
"They took those photos and created a new cover slick for the "Sgt. Pepper" LP using the sales reps and executives photos in place of the Beatles and some of the other celebrities on the cover.
"A special batch of 100 or less of these new covers were run on normal Sgt. Pepper Stereo albums, sealed up and handed out to the party goers at that Christmas Party.
"You had to work at Capitol Records as a salesman or executive in 1967 in order to be invited to the party and given one of these special "Sgt. Pepper" albums.
"They were never, ever sold in stores or made available to the public."
14. Les Paul Signed Baseball JSA Certified ($499,000)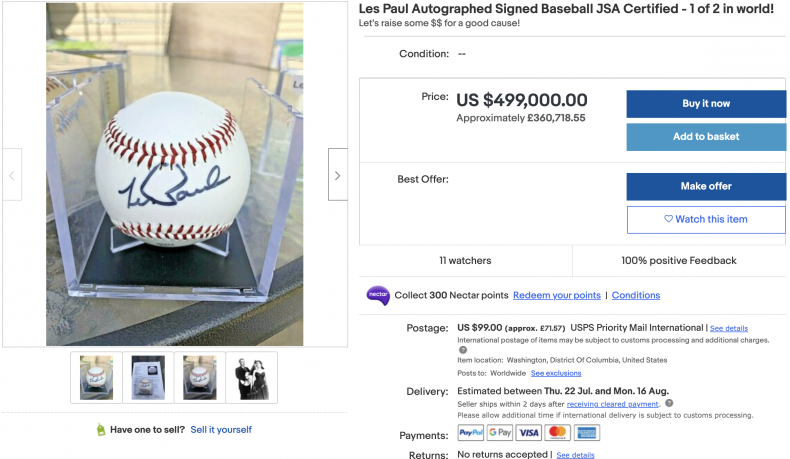 When Les signed this ball he reportedly stated: "Well that makes two".
The ball was signed at New York's Iridium Jazz Club only a few months before he died.
The eBay listing reads: "What sport has unanimously defined America, since its early inception? Who has been more revolutionary in the world of music, recording & culture as we know it?
"That's right ... This ball is the pure artistic essence that defines Americana."
13. $1 U.S. 1975 Postage Stamp ($600,000)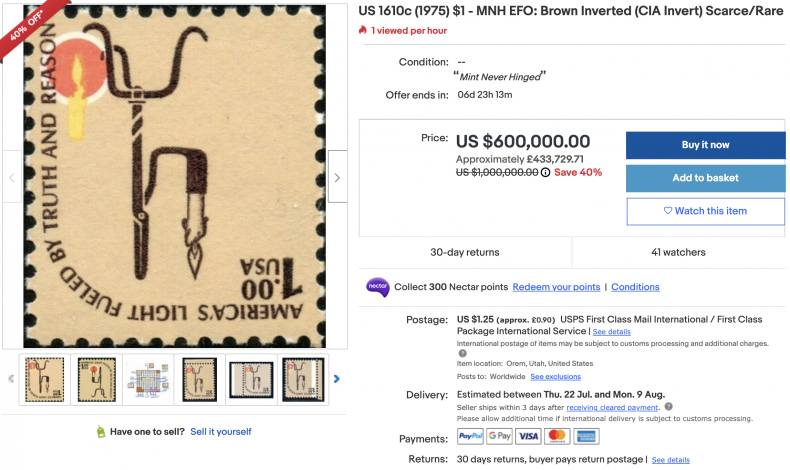 Only 90 of these stamps, known by philatelists as the CIA Invert, exist as they were erroneously issued by the United States Postal Service..
Henry Gitner Philatelics, Inc. writes about this stamp: "Because the number of existing CIA inverts approximately equals the number of existing Inverted Jennies (C3a), many speculate the current values for 1610c are far too low; examples of C3a regularly bring six-figure sums at auction.
"From the beginning, one dealer has been the main source for examples of 1610c.
"That dealer's supply is certainly near exhaustion today; when that source is depleted, prices for this rarity may soar!
"Very few stamps can be considered true investments, the CIA invert is one of them!"
12. Vintage Dutch Gum #67 Superman Batman DC Comic ($700,000)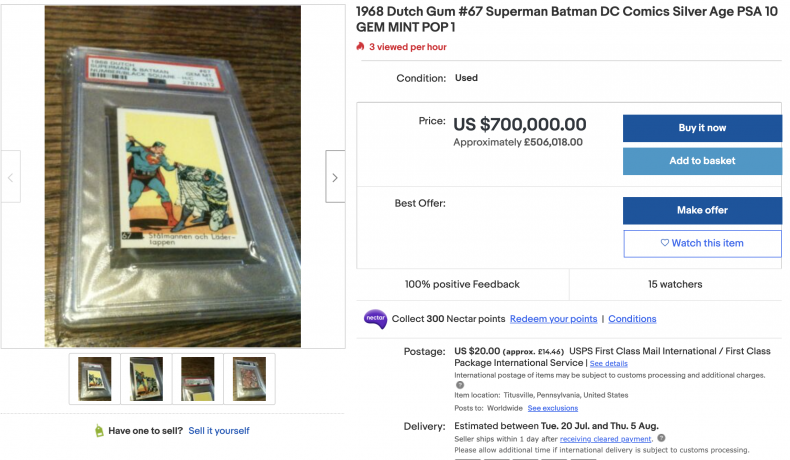 This is a "mint condition" 1968 Dutch Gum #67 Superman/Batman strip with a white number in a black square hand-cut vintage DC Comics Silver Age non-sports trading card graded PSA 10.
This listing reads: "This card as a population report of 1 with none graded its equal.
"The finest example that PSA has ever graded and the highest graded card in the PSA registry from this entire set.
"As rare as rare can be. Vintage cards keep skyrocketing in value and there are no signs of it slowing down anytime soon. A great item for any collection."
11. McLaren Senna V8 S-A ($1,100,000)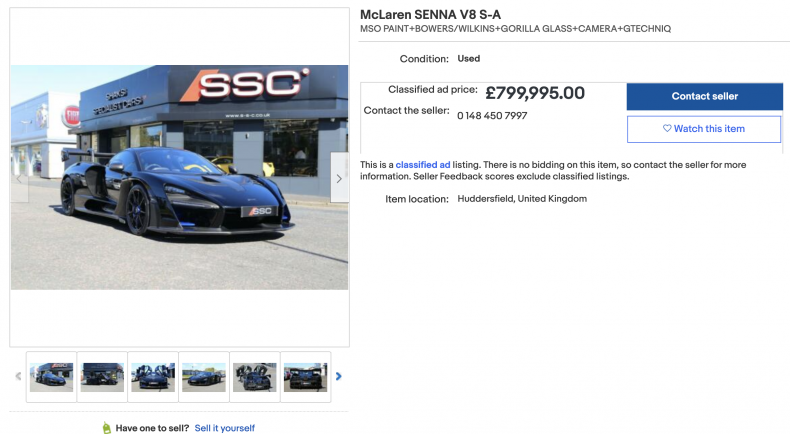 This stunning and super-rare McLaren Senna is the elite manufacturer's latest addition to its Ultimate Series.
The listing states: "Combined with striking looks, breathtaking performance and an extensive spec list consisting of the following: MSO defined black exterior paint, Bowers & Wilkins sound system, McLaren track telemetry, gorilla glass door lower panel, gorilla glass exterior door upper panel, 6 point harness in blue."
10. Farmhouse villa cottage in Algarve ($1,166,100)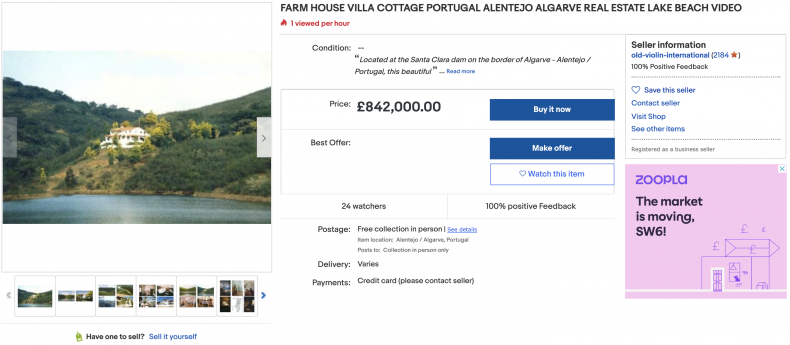 Located at the Santa Clara dam on the border of Algarve and Alentejo, this beautiful cottage is the ideal retreat for those seeking maximum privacy.
The advert reads: "Lake frontage, direct access, ideal for fishing and watersports.
"65km from South and Westcoast in a nature-protected area with cork plantations all around. 170 meters squared building area on 10km squared plot.
"Kitchen, living room and bathroom on the ground floor with terrace. First floor with 4 bedrooms, entrance, middle room with balcony and a guest toilet.
"Garage and toolhouse aside. Solar energy and spring water supply. 7km from the pituresque villa Santana da Serra. Year of construction 1994."
9. Bentley S1 Continental Fastback (1,380,000)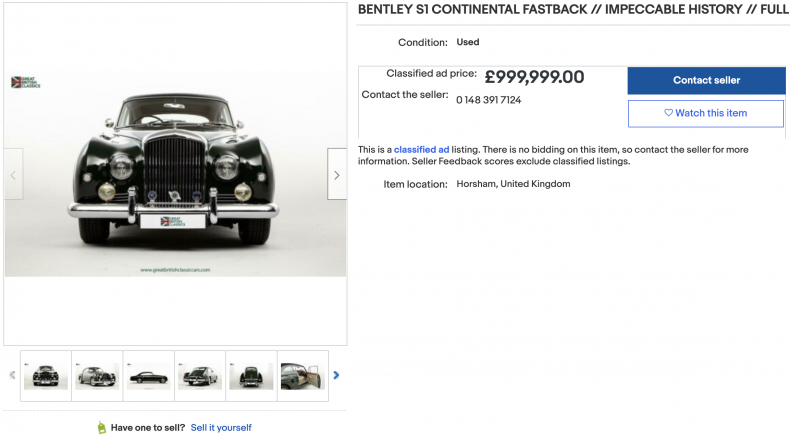 This classic car boasts a 4 speed automatic, 4.9L straight-six, power steering, passenger wing mirror, radio, Smiths Dash Clocks, adjustable sun visor with tinted inserts, front and rear seat belts and de-mist function.
This listing reads: "The bold presence of the car is accentuated by its spotless chrome grille whilst a more subtle pinstripe flows effortlessly along with the entire contoured side profile of the car.
"At the rear you find more superb chrome work centred around the iconic Bentley emblem and below this, the original spec GB badge and badge bar.
"The interior of this car is a very special place to behold. The re-upholstered seats are in superb shape, finished in a supple grey leather that would not seem out of place in a stately home.
"The feel and smell of the cabin provide unparalleled comfort, a feeling of luxury and warmth to satisfy even the most discerning of passengers.
8. Ferrari Dino 2.4 ($1,380,000)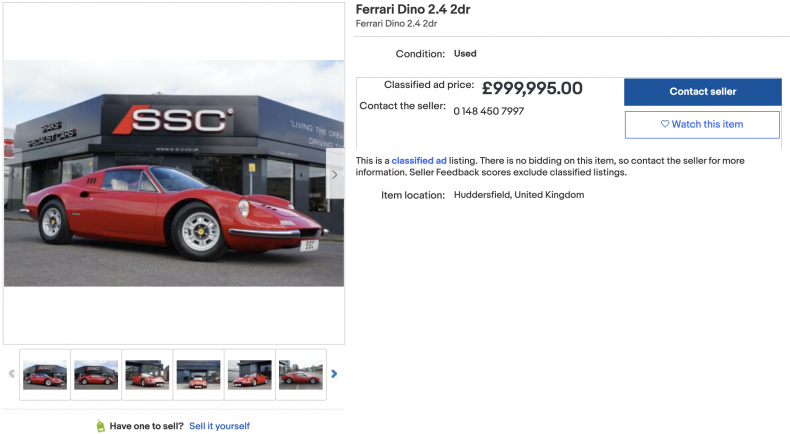 This stunning Ferrari Dino is finished in Rosso Corsa with crema leather.
The eBay advert reads: "The car was originally a dream of the young Dino [Enzo Ferrari's son], who put the idea of Ferrari producing a V6 car to his father."
7. Brexit 50p Coin ($7,200,000)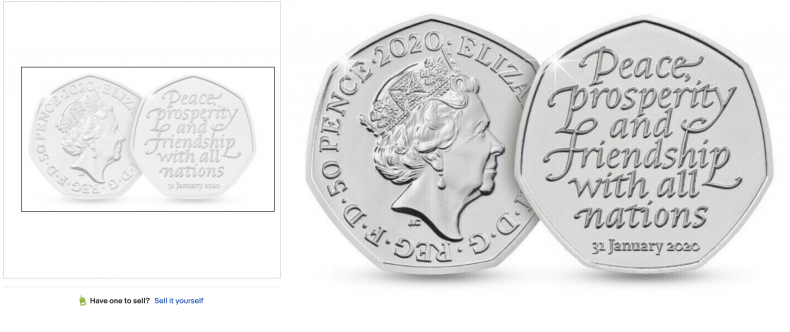 This extremely rare coin dated January 2020 reads: "Brexit Peace, Prosperity and Friendship With All Nations."
6. Hooranky Bae Digital & Acrylic Art ($7,673,000)
The image of the rising moment was drawn with rhythmic molding and color to end up with harmonious art painting.
The works of Hooranky Bae are described as belonging "to abstract expressionism and the dramatic contrast of non-figurative strange shape and coloring gives a strong and unique impression to the viewer."
The title of the work "hoo202002260208" reportedly indicates the exact production date and time in Arabic numerals.
5. Ancient Chinese Book ($8,888,888)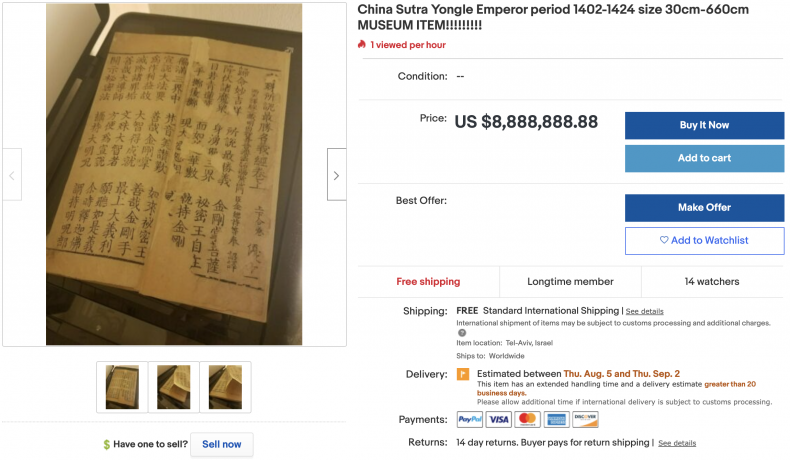 This Sutra, or collection of aphorisms in the form of a manual apparently dates from the rule of the Yongle Emperor (1402-1424).
4. Artemis Smith's PteroDARKtyl ($9,999,999)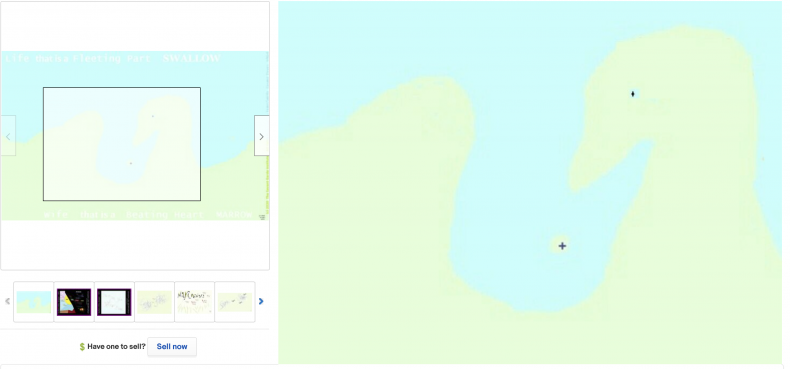 This "multimedia long-poem" by Artemis Smith, recognised as the founder of the 1950s' Unisex Movement is described on the site as a "9-panel serial tapestry."
Futurist Annselm LNVM states on eBay: "Original Art as Alternate Currency will never go out of fashion, but the proceeds must all go to Fund Humanistic Enterprises."
3. Antique Sword ($10,000,000)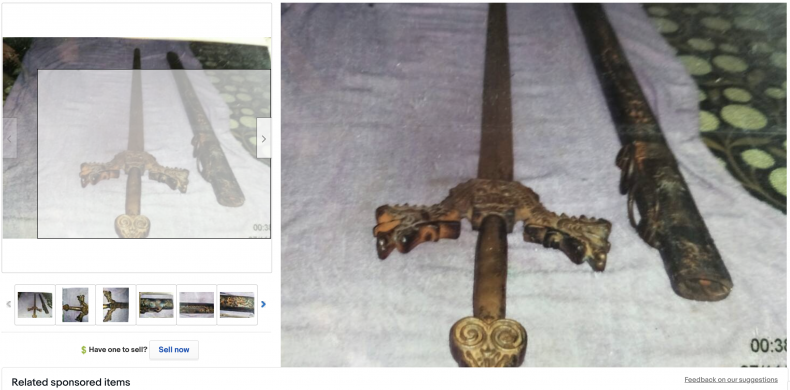 This pair of antique swords reportedly originate from ancient China.
Christopher Beau Artwork ($15,000,000)
The 1986 monochrome pen and ink drawing by artist Christopher Beau is named Relocating City With Flying Beings.
2. Talisman of Napoleon Bonaparte ($21,000,000)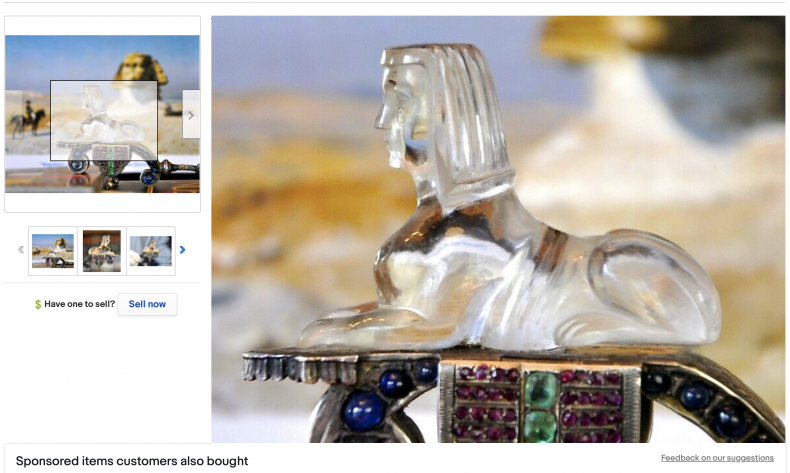 Inspired by Napoleon's historic 1798 Egyptian campaign, the French military leader reportedly created this good luck charm with 114 precious jewels, apparently arranged in a secret code reflecting his successful career and his love for his wife Josephine.
This auction is for a deposit of $21,000,000 toward a purchase price of $250,000,000.
Celebrity entertainment legend Pat Boone is quoted on eBay as saying: "The Talisman of Napoleon Bonaparte is absolutely a unique treasure—and other than the Mona Lisa, I can't think of anything more intrinsically and obviously priceless!
"Its own unique design identifies itself beyond any question. If there was an iota of doubt, I wouldn't spotlight it myself."
1. Screenplay from Don Quixote Transcript ($21,000,000)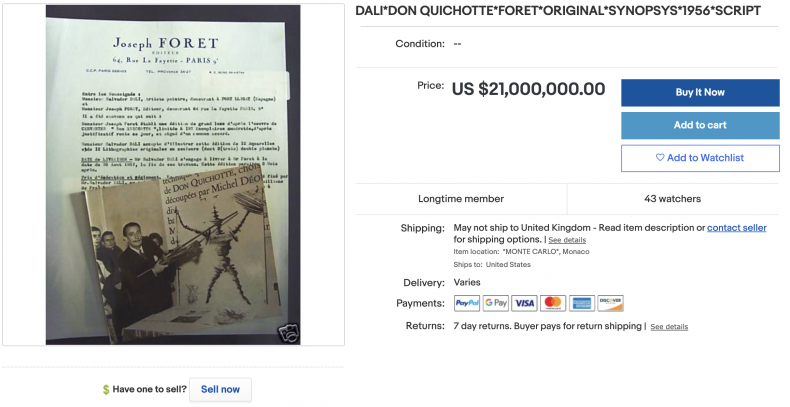 Prepared from the logbook of Joseph Foret, described on the site as "one of the greatest publishers of all the time", the story documents in handwritten letters and vintage press articles, the fantastical saga of the Don Quixote by Salvador Dali.
The listing states: "With all the difficulties, anecdotes, disappointments and victories for the achievement of the book—the most expensive in the world."