Exclusive Poll Shows Most in Hong Kong Worry Their Freedoms Are Threatened, but Fewer Than Half Will Protest China
Most residents of semi-autonomous Hong Kong say their freedoms are under threat, but less than half will protest rising Chinese government influence, an exclusive Newsweek poll showed.
The survey found that six out of 10 respondents said they believed "the level of freedom they have in Hong Kong is under threat" at a time when Beijing has begun implementing new national security legislation there. About 29 percent said they disagreed with that sentiment and 12 percent said they did not know. The poll was conducted online with more than 1,000 Hong Kong adults from June 4-7 by London-based polling firm Redfield & Wilton Strategies for Newsweek.
However, when participants were asked whether they would join protests against the Chinese Communist Party's influence and control over Hong Kong, only 43 percent said that they would, contrasting with the 57 percent who said they would not join them.
And when asked whether they would consider risking their lives to defend Hong Kong's freedom, only 28 percent of respondents said yes. One-quarter of them said they did not know, but 47 percent said they would not sacrifice themselves for such a cause.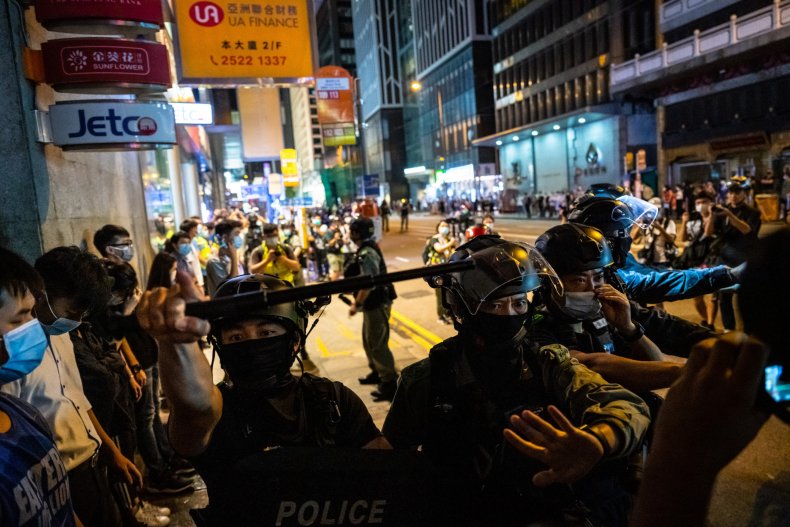 Monday marked the one-year anniversary of the massive demonstrations that for months rocked Hong Kong in response to a proposed law that would allow extradition to the rest of China, including the Chinese Communist Party-led mainland. Hong Kong, a former colony of the United Kingdom, has had limited self-rule since being handed over in 1997, but opposition movements have sought greater independence from the central government in Beijing.
The U.K. has offered support to these activists, as have Australia, Canada and the United States, which considers China its greatest geopolitical and economic competitor. These four countries have accused the Chinese government of steadily asserting more control over Hong Kong despite the territory's de facto constitution and a 1984 agreement between London and Beijing that established the terms of the special administrative region's governance.
In response to the passage of a law by China's National People's Congress cracking down on separatist and subversive political currents in the city, President Donald Trump and his administration announced last month that Hong Kong would no longer be considered autonomous and that special trade, tax, travel and other privileges afforded under U.S. law would be repealed.
Most recently, Secretary of State Mike Pompeo on Tuesday accused China of using "coercive bullying tactics" such as pressuring multinational bank HSBC—initially headquartered in Hong Kong for over a century until relocating to London in 1993—to support "Beijing's disastrous decision to destroy Hong Kong's autonomy" through the new national security legislation.
Chinese Foreign Ministry spokesperson Hua Chunying hit back during a daily press briefing Wednesday in Beijing.
"For some people in the U.S., there are only two types of people: the people who take order from the U.S. and join it in its attacks against China, and the people who don't do so because they are coerced by China," Hua told reporters. "Such a view is simply narrow-minded and hilarious."
She defended the new Chinese law, and argued that "Hong Kong affairs are China's internal affairs which allow no foreign interference."
The Redfield & Wilton Strategies poll found 49 percent of Hong Kong residents have a favorable view of HSBC, while 16 percent had an unfavorable view of the bank and 31 percent presented their position as neutral.
Demonstrations throughout Hong Kong have been reinvigorated by the recent national security law after a lull created by the novel coronavirus pandemic. Clashes have erupted between protesters and police, who have urged citizens not to engage in unlawful assemblies. Hong Kong Chief Executive Carrie Lam issued an appeal for peace Monday, warning that the territory "cannot afford chaos any longer."