Davion Only's Adoption Quest Is the Most Hopeful Sad Story You'll Read Today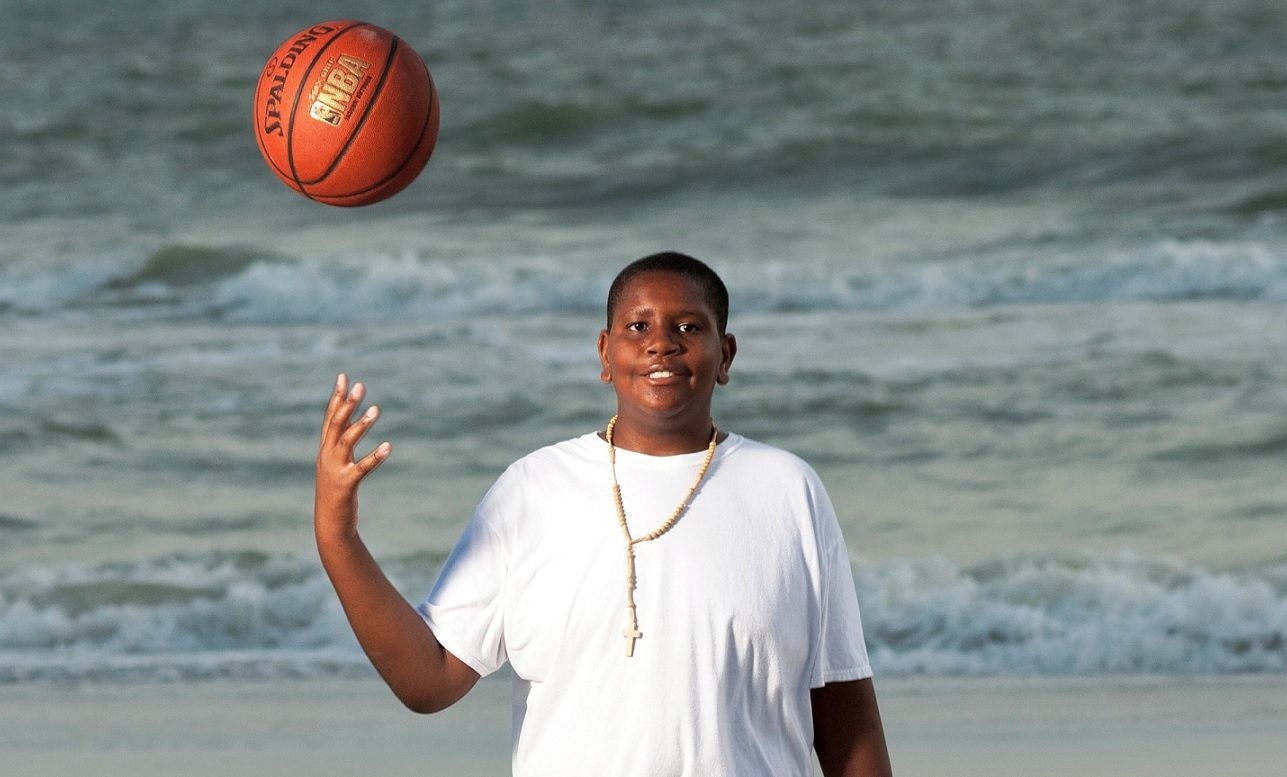 Fifteen-year-old Davion Navar Henry Only stood before a packed crowd at St. Mark Missionary Baptist Church in St. Petersburg, Fla., three weeks ago, his hands sweating and fidgeting, and for good reason: He was about to tell hundreds of congregants that he was looking for his "forever family."
Only was born in prison and has spent his entire life in foster care. He lives at Eckerd's Carlton Manor, a group home in St. Petersburg, where he has struggled to come into his own, often losing focus in school, fighting anger issues, and alienating himself from everyone he knows. His mother, LaDwina Ilene "Big Dust" McCloud, who served time for petty theft and drug charges, died on June 5, 2013, at the age of 55. It wasn't until Only found his mother's mug shot online just weeks after she died that he decided to take control of his future.
"Davion required some specialized recruitment efforts," Connie Going, Only's caseworker and an adoption specialist for Eckerd Community Alternatives, told Newsweek. She has known Only since he was five years old, and while she may be his fiercest advocate, she is also personally invested in his future. "I'm connected to him through my own adoptive son, who is 13; they met in a residential program together," she said. "My own son was in care from three-and-a-half and he was adopted at 13 — and he was a return adopted child — so I know you can make a difference in these children's lives."
Navigating traditional channels has not helped Only find his adoptive family. Indeed, his photo was one of the first portraits to appear in the Heart Gallery, which showcases portraits of local foster children looking for adoptive parents — not with mug shot-style snapshots but with the kinds of pictures that parents pay professionals to produce. Only's photo shows him in gray pants and a white T-shirt tossing a basketball on the beach; his profile, which reads "I am available," reveals that he loves dogs, Chinese food and studying science, and wants to be a police officer when he grows up. His first portrait was posted when he was 7 years old (he has had two more taken since then), but the Heart Gallery has yet to lead to a permanent home.
"There is a family out there for him; we just needed to do more to find that family," Going said. "So many children age out of foster care and we did not want that to happen to Davion."
When Only attended his mother's funeral earlier this year, he met some of his relatives. They weren't appropriate adoptive parents for him — Going explained that finding the right family means looking for certain strengths, including strong parenting skills and the ability to understand what a foster child needs for her or her future — but they did care about him. "One of the things they told Davion was that he was loved," Going explained. "He got in the car and said, 'I didn't know I was loved, Miss Connie.' That began the turning point."
Inspired by Only's love of church, Going helped him hatch a new approach to find his forever family. Part of the work he did on his own: refocusing on school, learning to control his anger and eating healthfully (he had always been heavy and his birth mother had diabetes). Then, on a Sunday in September, Only stood before hundreds of churchgoers and asked them for help. As the Tampa Bay Times reported:
"Without looking up, Davion wiped his palms on his pants, cleared his throat, and said: 'My name is Davion, and I've been in foster care since I was born.… I know God hasn't given up on me. So I'm not giving up either.' "
Only is one of approximately 400,000 children currently in foster care in the United States. That number has decreased by almost one-quarter over the past decade, from 523,616 in 2002 to 399,546 in 2012, according to the U.S. Department of Health and Human Services. While most states experienced a decline in the number of children in foster care in the last 10 years, Florida was one of three states (along with California and New York) responsible for more than 50 percent of the total decline. Eckerd, the lead agency managing the child welfare system in Hillsborough, Pasco and Pinellas counties in Florida, including the group home where Only lives, serves over 6,000 boys and girls on any given day in Tampa Bay.
"Just because a youth is 15, 16, 17, or 18 years old, we all need a forever family," Jody Grutza, vice president of Strategic Partnerships at Eckerd, told Newsweek. "We all need a place to go for the holidays, no matter how old we are as adults."
"Although a lot of our kids might really yearn for a family, it's hard for them to say that out loud. [Only is] unique in that he stands up in front of church communities and states publicly that he's seeking a family," she added.
Only has spoken at two churches, and while both communities "rallied around him and were supportive, I don't know that that his forever family was there," Going said.
"He does not care if the family is purple, black, white, same sex – he wants a family," Going said. "In everyone's community there are kids like Davion. It only takes one person to step up and find a family. There shouldn't be any more children that are waiting."
Davion refuses to give up.
If you are interested in adopting a foster child, call Eckerd at 866-233-0790 or visit them online at www.eckerdcbc-c6.org.
This story has been corrected to reflect that the Tampa Bay Times reported Only's appeal to a church congregation in September.