The Most Important International Nonfiction Books of 2015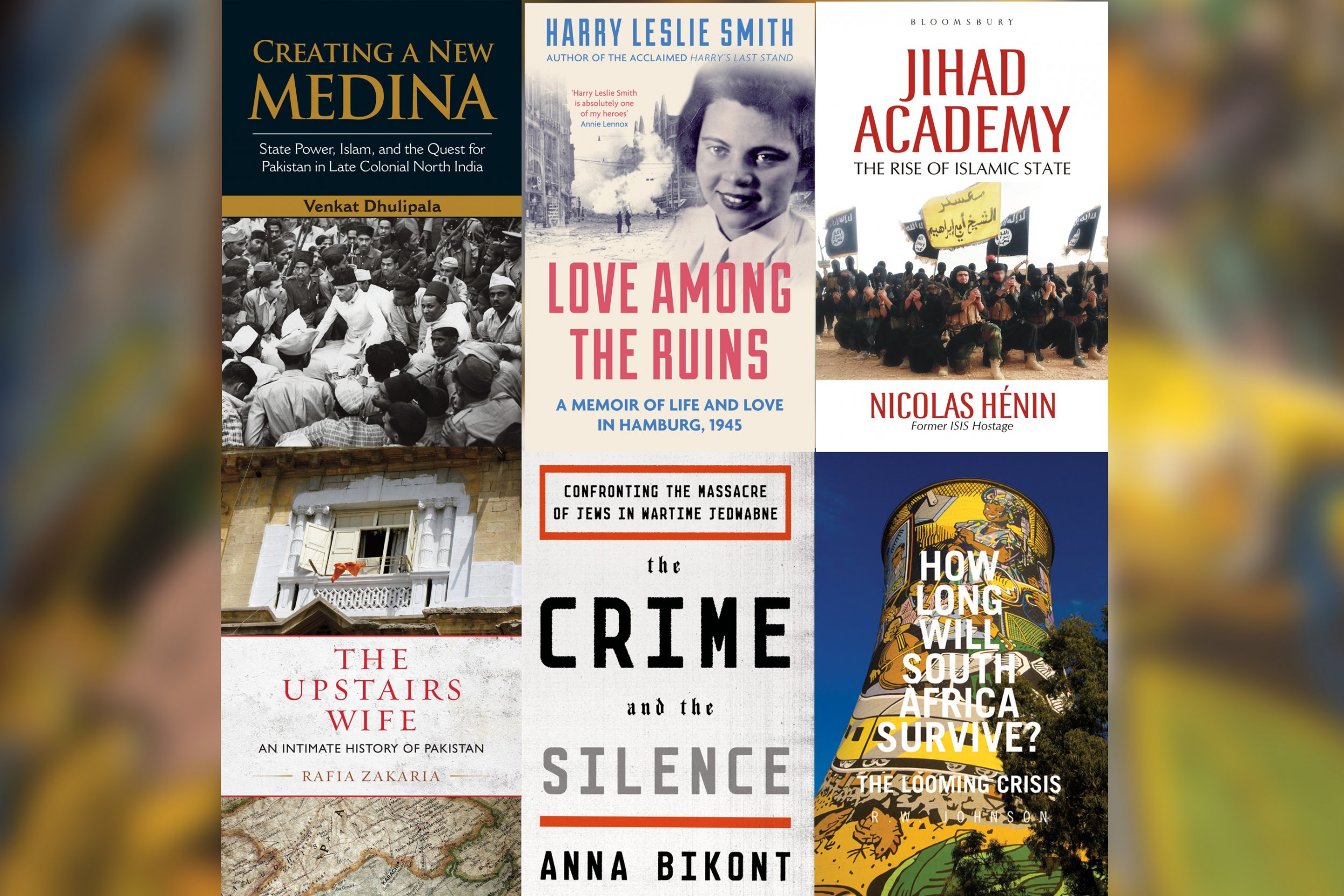 Was Pakistan destined to end up as an Islamic state? Has Poland come to terms with its anti-Semitic past? Will the Islamic State militant group (ISIS) ever be defeated? Will South Africa fall apart?
These are some of the questions considered by the books that appear on this idiosyncratic list of the best global nonfiction published in 2015. The books are concerned with the world beyond America and the U.K.—but they deserve a wide readership everywhere.
Creating a New Medina: State Power, Islam, and the Quest for Pakistan in Late Colonial North India
By Venkat Dhulipala
Salman Rushdie once described Pakistan as an "insufficiently imagined idea." The very name Pakistan was neologized only a decade before the country came into being. None of the leaders agitating for Pakistan in the final years of British rule in India seemed to know what it was all about.
Out of this confusion have arisen multiple theories. The dominant one so far, pioneered by the historian Ayesha Jalal, holds that Pakistan was a bargaining chip used by secular Muslims—led by Muhammad Ali Jinnah, president of the All-India Muslim League—to obtain greater concessions for their co-religionists within a united India. Partitioning India was not their true objective, and the thought of Islamic law hadn't even occurred to them.
In this phenomenal work of history, Venkat Dhulipala doesn't merely incinerate Jalal's thesis: he stamps on the ashes for good measure. Dhulipala's focus is Uttar Pradesh, India's largest province and the crucible in which Pakistan was forged. He subjects a dizzyingly large array of material—from pamphlets to poetry—to scholarly scrutiny, and establishes persuasively that Pakistan, far from being the preoccupation of the privileged, enjoyed support among ordinary Muslims. The troubling part is that they revered Pakistan because they came to regard it as the answer to the crisis in Islam—a new Medina that would be a successor to the defunct Ottoman Empire and a reviver of the faith. Intense religious passions, more than anything else, mobilized Muslim masses in support of Pakistan.
Dhulipala's work, scholarly but accessible, upends decades of accumulated conventional wisdom in both India and Pakistan. Indians can no longer pretend that Pakistan was a fraud committed by a handful of Muslim grandees. Pakistanis can never again argue that their country was intended to be anything other than an Islamic state.
Today's Pakistan, with its ascendant mullahs, is not an aberration from, but the culmination of, its ideological origins. Creating a New Medina is a masterpiece—arguably the most important work of history published in 2015.
The Crime and the Silence: Confronting the Massacre of Jews in Wartime Jedwabne
By Anna Bikont
"All along the Polish rivers," the Yiddish novelist Mikhoel Burshtin wrote in 1933, "lie towns and settlements with a rooted and diverse Jewish life that stretches back hundreds of years." This "contact with the earth," Burshtin proudly informed his fellow Polish Jews, "roots us in this country and gives our neighbours the sense that we are equal."
The dominant view is that this romance was shattered by the arrival of Germans on Polish soil. But as Anna Bikont's extraordinary book demonstrates, Polish anti-Semitism was as homicidal in intent as German anti-Semitism. Germany sanctified it. As Jan Karski reported in 1940, anti-Semitism "constituted a sort of narrow bridge where the Germans and a large part of Polish society met in harmony."
A year later in Jedwabne, a northeastern town of 3,000 inhabitants, Catholic Poles turned on their Jewish neighbors, half of the town's population, and massacred almost all of them. Bikont's book—part history, part reportage, part memoir—terminates forever Germany's role as an all-purpose alibi for those Poles who are still in denial, while paying tribute to the heroism of Poles who have sought to reckon sincerely with their past. One of Burshtin's later novels, written as the pogroms were underway, ends with this pledge by its principal character: "The town will be rebuilt. I, Hersh Lustig, give you my word."
The Crime and the Silence, a vivid and chilling portrait of a sickness that continues to haunt Europe, is a reminder to us all: That task is far from complete.
Jihad Academy: The Rise of Islamic State
By Nicolas Hénin
Hénin, a veteran reporter of Middle Eastern affairs, was held as a captive by ISIS for 10 months. His co-captive, James Foley, was beheaded. These facts make Hénin an object of tremendous interest, and yet Hénin—unlike other journalists who, touring Syria in pursuit of tawdry fame, have made themselves the center of the story—remains at the margins of this indispensable book.
He rigorously charts the rise of ISIS, showing it not as an inscrutable death cult but the product of specific circumstances and history. The ranks of ISIS were swelled in part by radical inmates released by a cynical Syrian regime. Others regarded it as deliverance from the hopelessness that defined their existence.
Hénin's analysis is weakened by the contradictions embedded in his arguments. His severe criticism of the U.S.-led invasion of Iraq in 2003 is followed, oddly, by complaints over the absence of Western intervention in Syria in 2011. His argument that the West refuses to learn from history neglects the fact that Western reluctance to intervene in Syria is a result of learning from history. Still, such perforated analysis does not eclipse Jihad Academy's humanity. It is, alongside Patrick Cockburn's The Rise of Islamic State (a book with very different conclusions), an invaluable contribution to the growing body of work on ISIS.
How Long Will South Africa Survive? The Looming Crisis
By R.W. Johnson
Nearly 40 years ago, Johnson, already a distinguished fellow at Oxford, published a book by the same title. The central argument then was that apartheid was destined to fail, not because of the African National Congress's efforts but because of mounting economic pressure on the racist system. A white academic giving short shrift to the moral struggle of black South Africa in favor of arguments about economics: This did not endear him to the ANC's hierarchs.
The Looming Crisis confronts the Naipauline problem of post-colonial nation states: the transformation of freedom fighters into oppressors. The ANC, once the engine of South Africa's anti-apartheid struggle, is now regarded by many as a corrupt obstacle to South Africa's advancement. To Johnson, the other major source of South Africa's political problems isn't racial but tribal: the struggle between Xhosa and Zulus.
Does any of this actually threaten South Africa's very existence? Probably not. Fortunately, the extreme prophesies in The Looming Crisis do not diminish the value of Johnson's diagnosis of South Africa's problems.
Love Among the Ruins: A Memoir of Life and Love in Hamburg, 1945
By Harry Leslie Smith
Harry Leslie Smith will turn 93 in February. This astoundingly powerful memoir takes us back to Germany when he was 22. The war had ended, and Smith, a Royal Air Force wireless operator, was stationed in Hamburg. In prose that is beautiful yet direct, Smith re-creates life in a city pulverized by war. He encountered miserable Germans everywhere, "reduced to the most primitive form of commerce," but managed to remain detached from their distress—until he ran into a young German woman named Friede. This encounter altered his life. He pursued her, proposed to her and overcame the objections of the RAF and the British government to marry her. Smith's love for Friede demolished forever his capacity for indifference to human suffering.
His previous book, Harry's Last Stand, introduced us to a man passionately devoted to the goal of social justice. This book takes us to the origins of that quest. A deep love of humanity is what animates Smith. He is a hero of our times.
The Upstairs Wife: An Intimate History of Pakistan
By Rafia Zakaria
Rafia Zakaria is one of Pakistan's finest columnists, and The Upstairs Wife, her first book, is one of the most impressive works of nonfiction to emerge from the Indian subcontinent in recent times.
The Zakarias were Konkani Muslims, from India's hypnotically beautiful Malabar coast, where Islam had arrived during the Prophet Muhammad's lifetime. The sectarian quest for Pakistan suddenly encouraged Muslims to regard themselves as aliens in their own homeland, creating suspicions and generating hostility. The Zakarias, suddenly wrenched from their homeland, sought sanctuary in the newly invented state of Pakistan. But the Land of the Pure, far from liberating its people, imprisoned them.
The central character of Zakaria's book is her Aunt Amina, a formidable woman who, when her husband took a second wife, withdrew to the upper level of the house. Amina's story is coupled with the larger story of Pakistan itself.
In luminous prose, Zakaria surveys the major characters and events that have shaped Pakistan. Her treatment of the birth of Bangladesh, in which Pakistan was the victimizer rather than the victim, is disappointing. And it's striking that Zakaria has nothing to say of her family's Indian past: six decades of Pakistan—a state whose only commonality with the Zakarias was religion—have thoroughly effaced composite identities that were formed over centuries. And yet for all this, it is impossible to deny the power of The Upstairs Wife. It heralds the arrival of an exceptional writer.
Kapil Komireddi has written from South Asia, Eastern Europe and the Middle East.