Most Independents, a Key Demographic for Biden, Blame Him for Rising Prices
A majority of independent voters blame President Joe Biden's administration for increasing inflation, according to a new poll.
The latest Politico/Morning Consult survey found 61 percent of independents—a key demographic for Biden—think his administration's policies are somewhat or very responsible for rising prices across the country.
Overall, 62 percent of American voters said the president's policies are responsible for the issue—including 41 percent of Democrats and 85 percent of Republicans surveyed by the news outlet.
Consumer prices increased last month as food and energy prices rose, according to data from the Department of Labor. The surge in prices pushed inflation up 5.4 percent from where it was a year ago.
The annual increase in the consumer price index was the highest in 13 years, matching the readings in June and July.
Fewer voters (48 percent) think Americans returning to pre-pandemic behaviors are somewhat or very responsible for rising inflation, as the White House has argued. Democrats were more likely to say that's the case (60 percent) than independents (48 percent).
Independent voters were vital to Biden's electoral win in the 2020 presidential race. The demographic group favored the Democrat by 13 points. In comparison, Hillary Clinton lost the voting bloc to Donald Trump by four points in 2016.
But polling suggests Biden has been losing independent support. Just 34 percent of independents polled by Politico/Morning Consult said they somewhat or strongly approve of the job Biden is doing.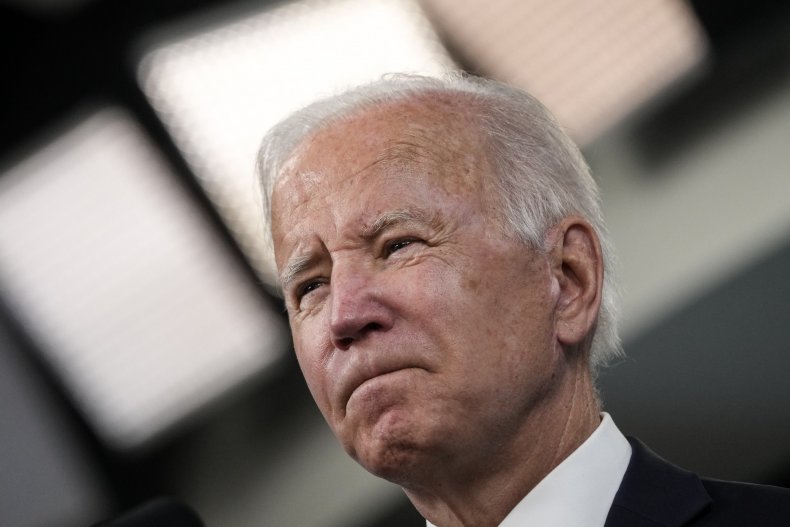 Supply chain disruptions are one factor pushing up inflation. The rising demand for goods as economies emerge from the COVID-19 pandemic, coupled with worker shortages, has resulted in bottlenecks at ports.
Two California ports responsible for 40 percent of the container traffic that enters the U.S. have shifted to 24-hour schedules to help ease the supply chain burden. Union Pacific Railroad also recently started operating its California ICTF facility 24/7 to keep up with the pace of the ports.
The Biden administration also announced last week that several corporations—including Walmart, Target, Home Depot and UPS—are implementing more nighttime hours to increase output.
Biden vowed last week to direct federal support to address supply chain woes if necessary. He also said that "if the private sector doesn't step up, we're going to call them out and ask them to act."
But Kathy Bostjancic, an economist at Oxford Economics, told the Associated Press earlier this month that the expectation is inflation will remain above 3 percent through mid-2022.
The Politico/Morning Consult poll surveyed 1,998 registered voters between October 16 and October 18. The poll's margin of error is plus or minus 2 percentage points.