Kentucky has slashed the number of polling locations for Tuesday's primary elections, a situation voting rights advocates say could have "disastrous" effects.
There will be just 170 in-person polling stations across the Commonwealth on June 23—a major drop from the standard 3,700 sites usually made available for voters. The decrease comes as state officials heavily encourage residents to vote by mail amid the coronavirus health crisis.
The result is that most of the state's most populous areas will have just one polling location available. That list includes Jefferson County, the largest county in Kentucky and home to half of its Black residents.
Voting rights advocates and some local leaders have criticized the move. Georgia's Stacey Abrams, whose state experienced their own massive voting problems earlier this month, tweeted Monday that "Voter suppression is no longer billy clubs & Jim Crow. It's closed polling sites + 6 hr waits w/o pay. COVID is no excuse."
"Based on the experience we've seen this primary season, cities that have dramatically reduced the number of places where people can go for in-person voting have had disastrous outcomes on Election Day," said Kristen Clarke, the president and executive director of the national Lawyers' Committee for Civil Rights Under Law.
Clarke added that to "really get this right, officials should be working to make as many avenues as possible open and accessible to voters. I think Kentucky could have done a better job providing voters more options on Election Day."
There have been several lawsuits filed against the state in an attempt to increase the number of in-person voting options. One Republican state representative and voters from five of Kentucky's largest counties, including Jefferson and Fayette, alleged in their suit that there would be "significant voter suppression" if there was only one polling site offered in each area.
Last week, a federal judge ruled against their effort to add more polling locations. The judge, Charles Simpson, said it wasn't the court's place to intervene in election procedures at the last minute. Simpson also commended state leaders for expanding early in-person voting and absentee balloting, which he deemed the "Triple Crown of voting options."
"We hope we are wrong and that there are no problems in voting. But if there are major concerns with the election, we will fight as hard as we can to ensure that similar problems don't recur during the general election in November," Louisville Councilwoman Keisha Dorsey and state representative Jason Nemes wrote in a joint statement following the judge's decision.
Kentucky officials have taken several steps to change its election approach in light of the COVID-19 outbreak. In April, Democratic Governor Andy Beshear and Republican Secretary of State Michael Adams reached an agreement to loosen restrictions and allow every resident to request an absentee ballot.
The order also allowed for counties to have single polling locations, though it was ultimately up to county clerks to decide how many sites they could handle and how many poll workers they could staff in the middle of a pandemic.
Fayette County Clerk Don Blevins Jr. told The Courier-Journal last week that a single polling station is "sufficient for those people who are so hard-headed they want to vote in person" and that everyone else can vote by mail.
"To me, that's not voter suppression, or disenfranchisement or anything like that. I'm trying to save lives here," Blevins said.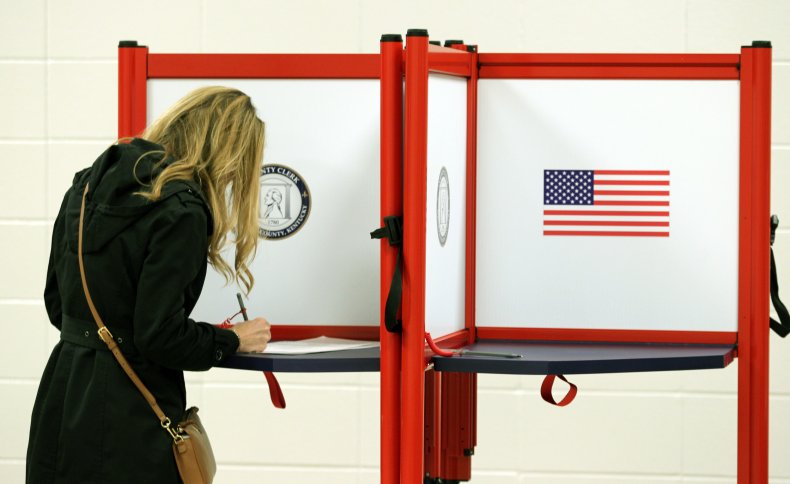 A spokeswoman for the Kentucky Democratic Party said that while not "ideal," the reduction in polling locations doesn't appear to be a "last-minute attempt to suppress the vote" as some have suggested.
"The truth is we have been voting by mail, absentee and early voting in-person here in Kentucky for almost a month," said Marisa McNee, the party's deputy executive director. "What we have is not just the reduction in polling places but also a massive, massive expansion of the ability to vote by mail in Kentucky, which seems at this point to have been very, very successful."
McNee added that the Kentucky Democratic Party will watch closely to see if problems arise. If lines start "snaking around buildings," she said, they will need to have an attempt to intervene and help voters cast their ballot.
Turnout is expected to be high on Tuesday given the intensifying Democratic primary for Senate. State legislator Charles Booker has gained momentum in the final weeks of the race, giving presumed frontrunner Amy McGrath a real challenge. Both McGrath and Booker have spoken out against the reduction of polling stations.
"It's going to be a heavier turnout than is normal for a primary in Kentucky," said Dewey Clayton, a professor of political science at the University of Louisville. "Given what took place in Georgia just a few weeks ago, hopefully we don't have that same type of situation that occurs here with long lines, problems voting and people being frustrated and going home without voting."