Hillary Clinton and Barack Obama: Inside the Hug That Broke Instagram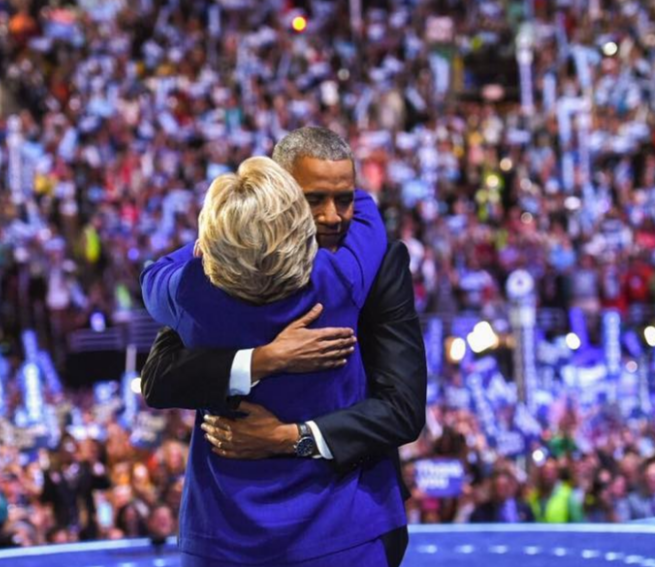 To modernize a cliché, a photo is worth 1,000 likes, or at least 136,000, if this election's most popular Instagram post means anything.
"We love you back, President Obama," Hillary Clinton wrote in a post on Instagram, accompanying a photo of herself embracing the president at the Democratic National Convention on Wednesday. (Clinton is a fan of Obama and, apparently, the use of the royal "we.") According to an email sent to Newsweek by Instagram, this image is "the most-liked photo of all candidates during this presidential campaign."
There's good reason to believe Barack Obama contributed a significant amount to the image's likability. Photos with two or more celebrities seem to receive more likes than the average solo celebrity 'gram. Take, for example, Taylor Swift's most-liked Instagram. It was, by her own account in a conversation leaked by Kim Kardashian, a post of flowers she received from Kanye West (it has 2.6 million likes).
Or consider the multiple-celebrity success of what was once the most popular Instagram of all time, Justin Bieber's sentimental nod to an old flame, Selena Gomez (this one has 3.7 million likes).
Before Obama and Clinton's klieg-light embrace on Wednesday, Bernie Sanders reigned on Instagram until May, when Donald Trump and the taco bowl appeared together for the first and last time.
Imagine how much more attention Hillary could have garnered by, say, asking Kanye to send her flowers or by sharing a photo of her kissing an old flame? Or maybe, for her next Insta-success, the Democratic nominee can take a photo with a Trump Tower taco bowl.