While dogs are commonly dubbed "man's best friend," cats can be just as loyal to their owners.
The International Cat Association (TICA) boasts a colossal registry for pedigreed and household pet cats.
Below, its president, Vicki Jo Harrison, names the most loyal of cat breeds and tells Newsweek what owners can expect from these cats.
Abyssinian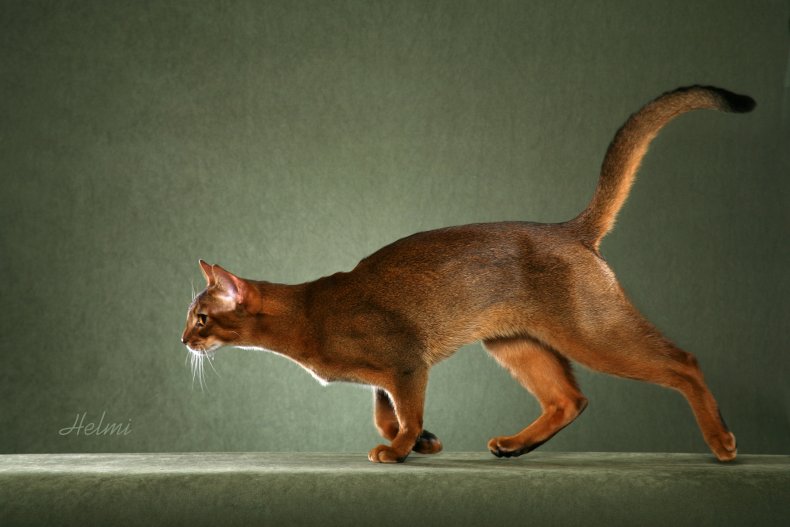 Fiercely loyal and highly people-oriented, Abyssinians are referred to as
"the cat of the dog world."
They show a lively interest in their surroundings and are famous for their playful and curious disposition.
Harrison says: "They love to be on the highest level possible where they can observe the room, make decisions, and even guard their family.
Australian Mist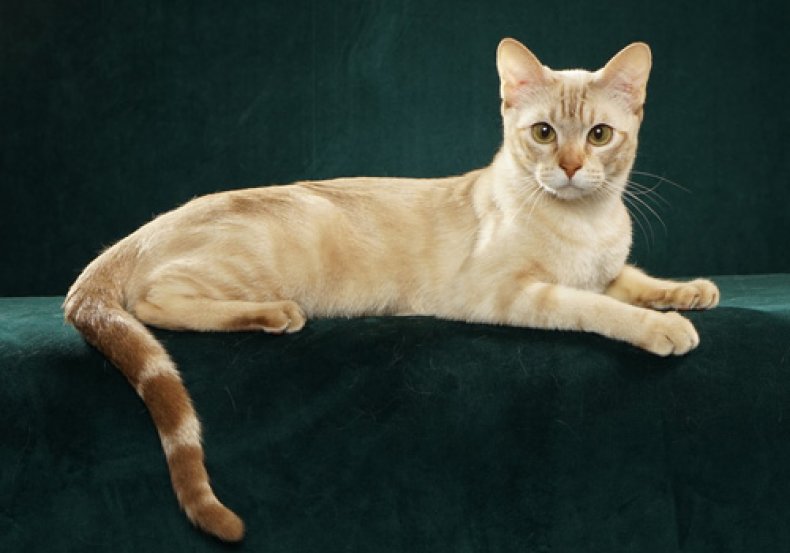 The easy-going and extremely sociable Australian Mist has been known to make friends wherever it goes.
"Loyal and loving by nature, Mists are very people-oriented and love being with their families," says Harrison. "They thrive on human companionship and participating in a busy household.
"They are best suited for those who enjoy spending time and interacting with them regularly rather than being left alone for long periods of time."
American Bobtail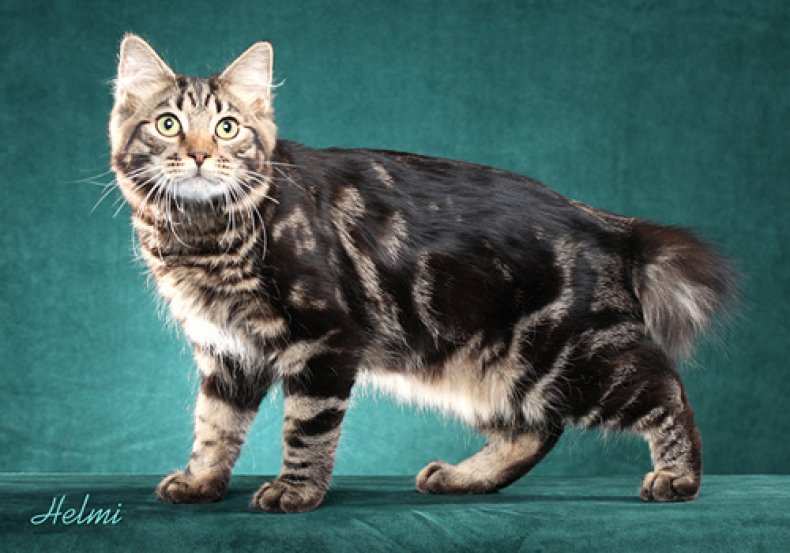 Although American Bobtails resemble a wild cat, the breed is a loving and affectionate breed.
This confident and friendly cat breed is also highly intelligent, boasting a clown-like personality.
Harrison says: "They do not like to be alone and tend to attach themselves to their entire family, not just one person.
"Bobtails aren't as vocal as some breeds and tend to communicate their pleasure with chirps, clicks and trills, as well as the standard purr and meow. They are good travelers and make wonderful therapy cats."
American Shorthair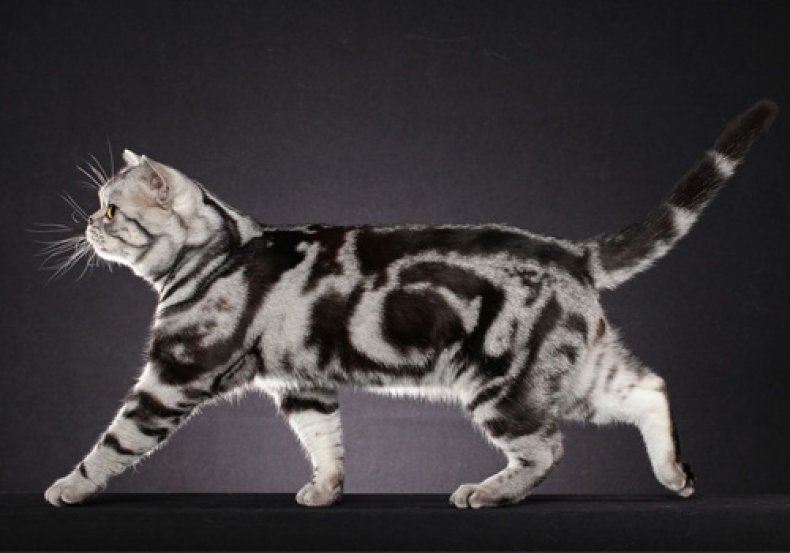 As with its American Wirehair counterpart, the American Shorthair is a good-natured, easy-going medium-sized cat and is one of the most adaptable breeds for any type of household, including children and seniors.
"Loyal and loving by nature, American Shorthairs are very people-oriented and love being with their families," says Harrison.
"They thrive on human companionship and participating in a busy household. But be advised, they are smart and curious enough to get into something."
Birman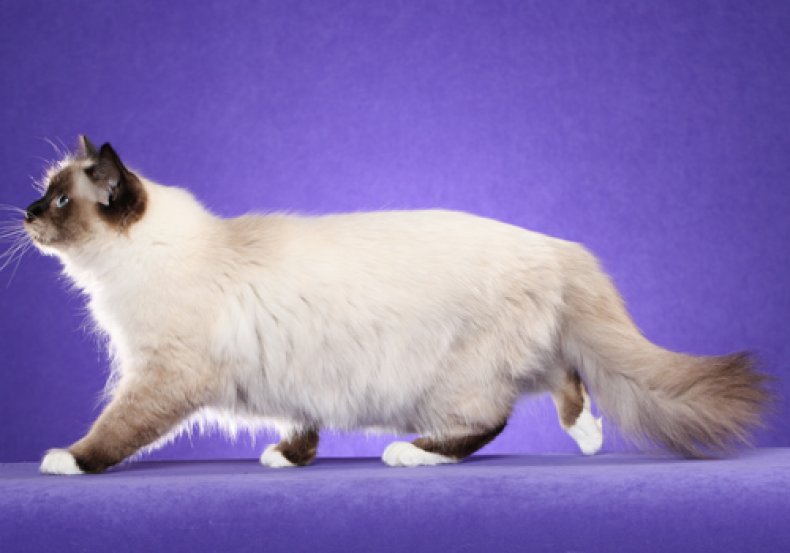 Gentle and affectionate by nature, the Birman has all the makings of a loyal, faithful kitty companion.
The breed is considered one of the easiest cats to handle and gives owners' the least cause for trouble.
Harrison says: "They love to be around people and can adapt to any type of home.
"Affectionately referred to as the 'Velcro' cat, the Birman is a quiet cat who loves people and will follow them throughout the day.
"While considered quieter than some breeds, they have a seriously playful side.
Bombay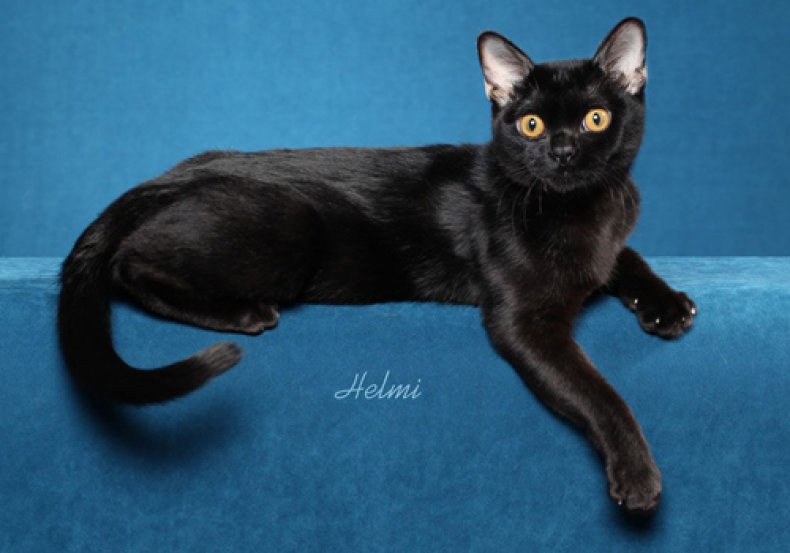 The Bombay cat breed blends the laid-back nature of the American Shorthair with the inquisitive loving personality of the social Burmese.
Harrison says these felines enjoy the company of their families and will greet them and visitors "with loving enthusiasm."
"They are a true part of the family and like to be involved in everything, including walking around perched on their owner's soldier or cuddled in their lap as they watch TV," she adds.
"They've even been known to join their humans under the covers at bedtime."
British Shorthair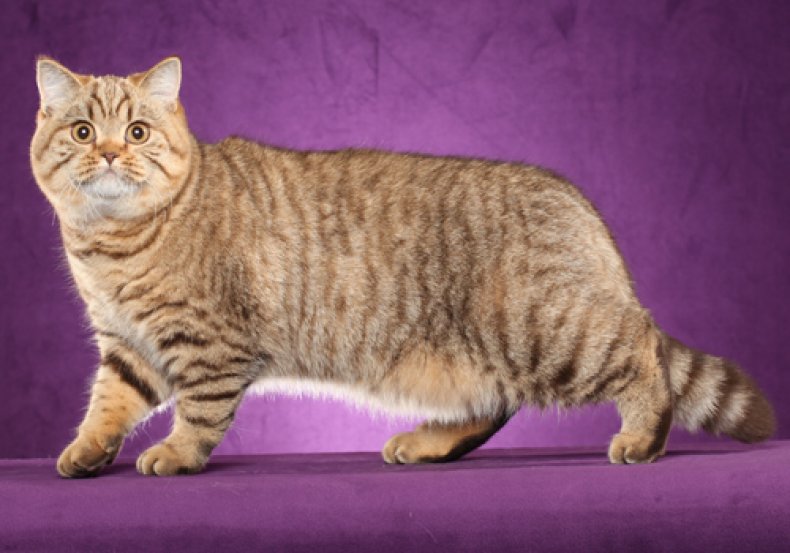 Known for their chubby face and easy-going demeanor, the British Shorthair is one of the oldest of cat breeds.
"They are loyal and devoted companion cats and want to be where you are, snuggling up beside you on the sofa," Harrison says.
"These intelligent cats are unobtrusive, ruling their indoor kingdoms with a calm demeanor."
Burmese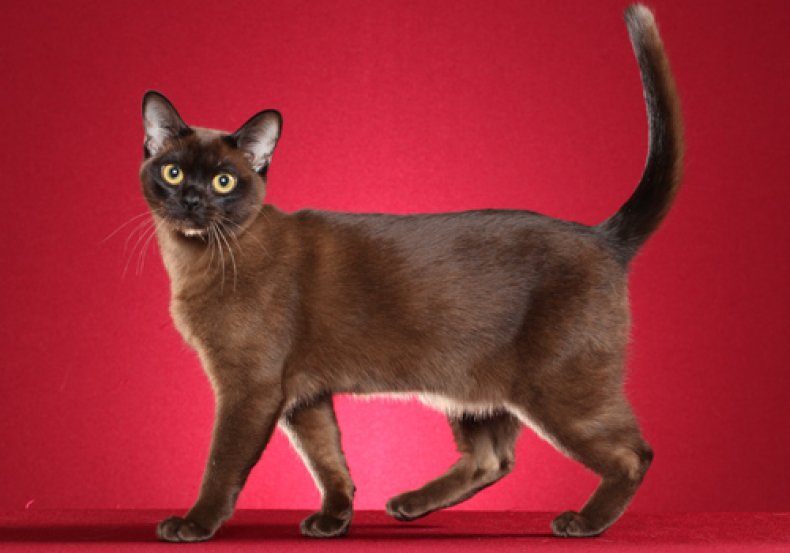 The sweet-natured Burmese is a people-oriented cat that feels most at home on a human's lap.
"They are very social and thrive on the company of others, thus they tend to become lonely if left by themselves for long periods," Harrison says.
"They are playful and love children and easily tolerate being dressed up in dolls' clothes and carried around like a baby.
"They have a soft voice and enjoy talking with their families about the events of their day."
Burmilla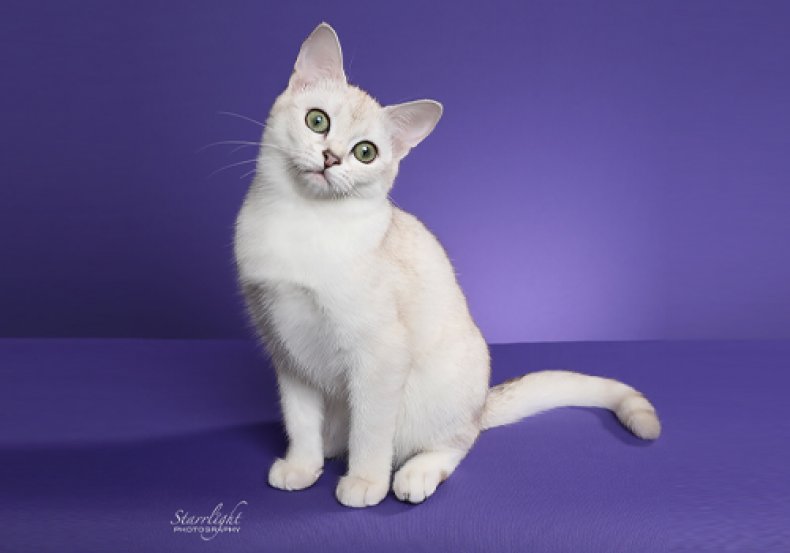 The sweet-natured and inquisitive Burmilla is a medium-sized cross between the Persian and the Burmese breed.
While they are considered laid-back, Harrison says that "they have a playful and mischievous personality."
"They make excellent companions due to their affectionate, social, and sweet nature," she adds.
"This is a people-loving cat which can be a gentle and devoted companion to adults and children and get along well with other cats and dogs."
Chartreux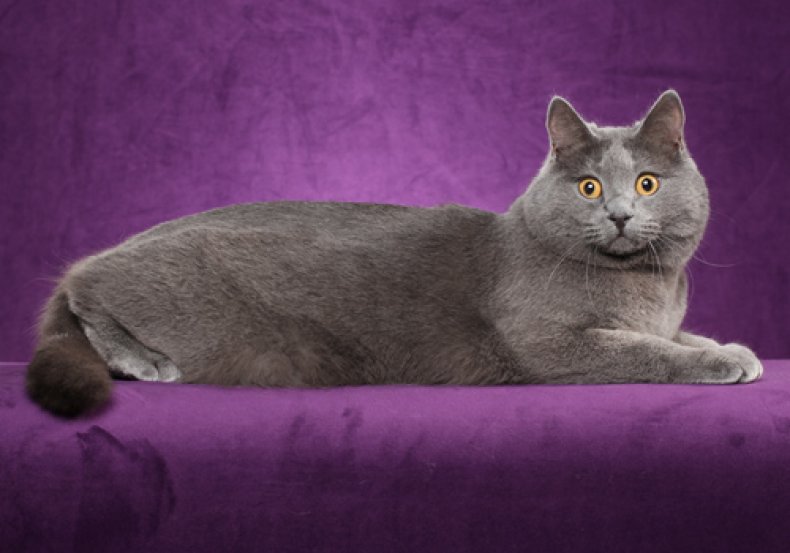 Famed for their pumpkin-colored eyes, the Chartreux breed is recognized as an attentive and gentle companion.
Harrison says: "Intelligent with lightning-fast reflexes, they are especially fun to watch.
"While playful and intelligent, these engaging cats are not one for hijinks or flying through the air.
Chausie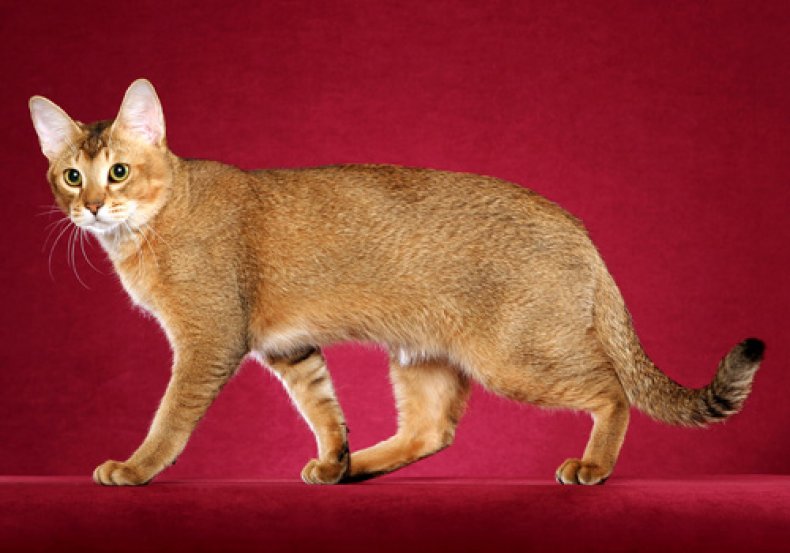 The curious and intelligent Chausie breed (pronounced chow-see) enjoys exploring and being the genre of attention.
Harrison said: "Their playful demeanor often lasts well into adulthood making these domestic cats intriguing companions.
"Affectionate, active, people-oriented cats, Chausies are all about pleasing their humans and giving out lots of love and attention. They are highly intelligent and very talkative."
Devon Rex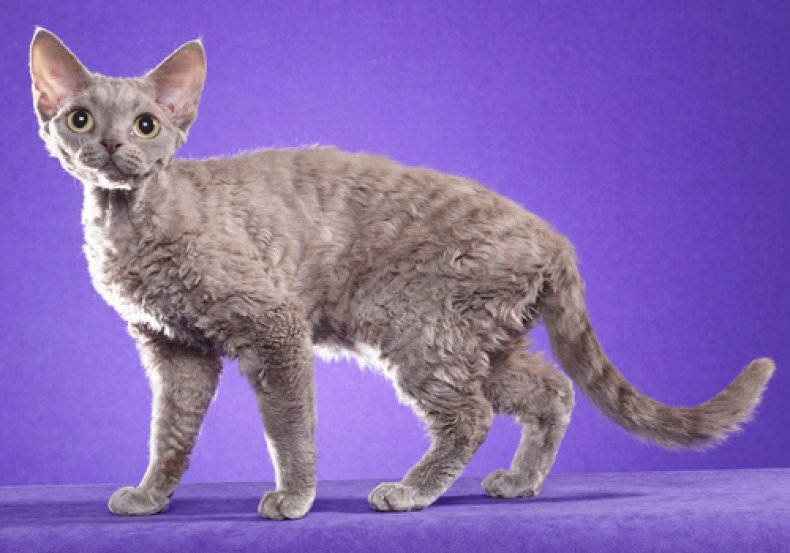 Devon Rexs are considered "the pixies of cats," Harrison notes, thanks to how their impish looks and mischievous personalities,
"They are very people oriented and welcome the attention of friends and family," she says.
"If you are sitting, they will be in your lap, if you are in bed, they will join you under the covers.
"They are interested in everything and hate to be left out of any activity. Devons like to stay close to their families and love to be perched on the shoulder of their favorite person."
Egyptian Mau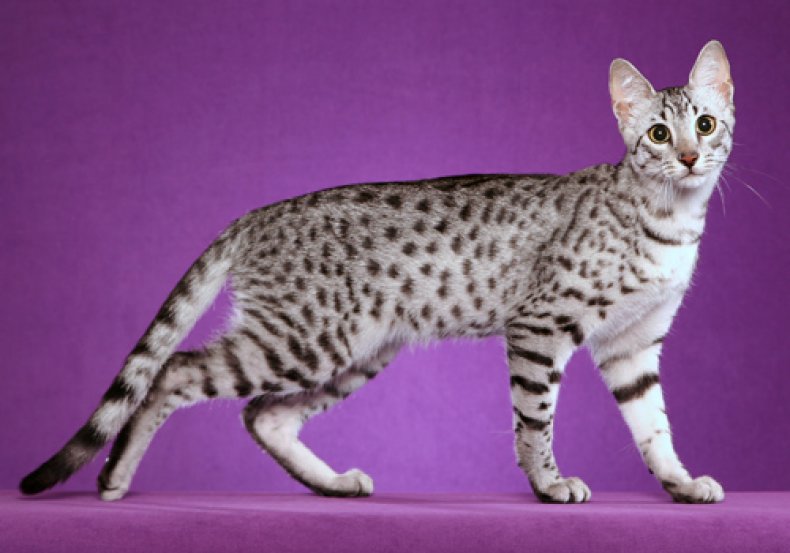 The Egyptian Mau is a colorful, elegant cat possessing an alert appearance imbuing the breed with a regal bearing.
TICA's president says: "They are intensely loyal and are passionate about their families yet also happy to go about the business of being a cat.
"Mau's are shy, sensitive cats that are easily upset by sudden loud noises.
"They are the only natural spotted breed of domestic cat. The active and playful Mau is a perfect choice for families with children and cat-friendly dogs."
Exotic Shorthair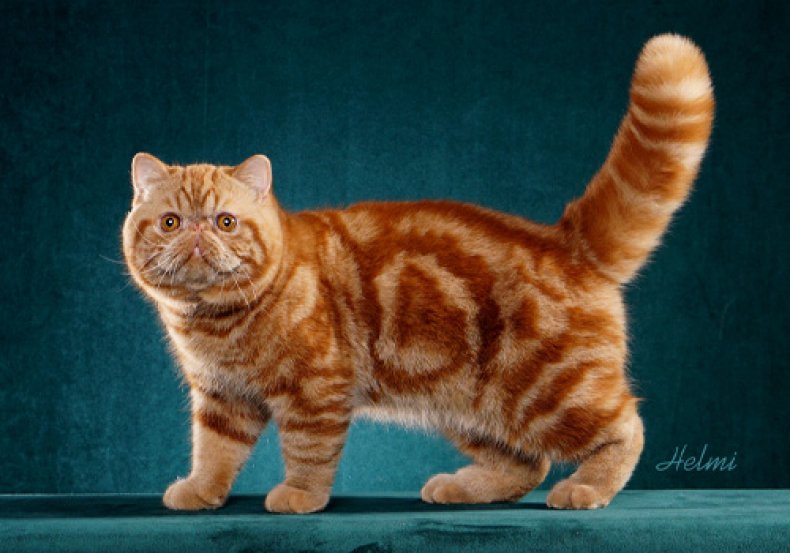 While sweet and peaceful, Harrison says Exotics also have "an intelligent curiosity and love to play."
"Simple things amuse them, from chasing paper balls around the house to watching water drip out of a tap," she says.
"These affectionate cats have the quiet manners of the Persian but are livelier and more inquisitive thanks to their shorthaired ancestry."
Lykoi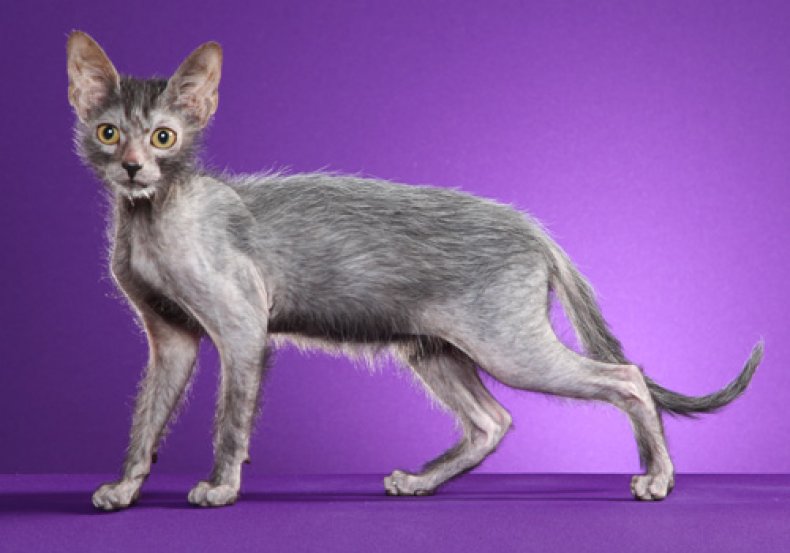 With the breed founded only in 2011, Harrison notes that the Lykoi is one of the newest additions to the TICA family.
"They are known to have the appearance of a little wolf cat, hence the name Lykoi is a play off the Greek word Lycos meaning 'wolf'.
"They are very loyal and tend to bond well with people, making them the ideal choice for many families. Their strong prey drive is apparent when they play."
Maine Coon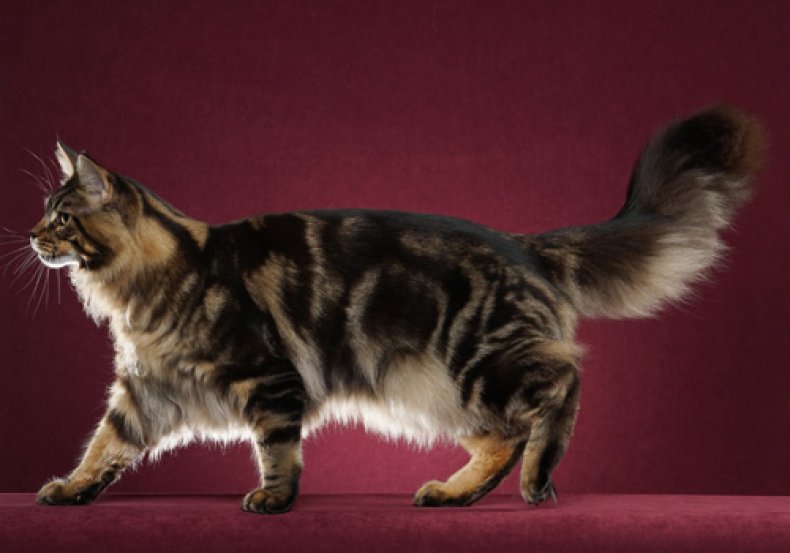 Despite their size, the Maine Coon cat is a sweet-tempered breed that gets along with everyone.
"They are among the gentlest of breeds and tend to follow their family from room-to-room as constant companions, if not always lap cats," Harrison says.
"They have a clown-like personality and are willing to 'help' their owners.
"Social by nature, they make excellent companions for large, active families and get along well with children, other cats, dogs, and most other animals."
Oriental Longhair and Shorthair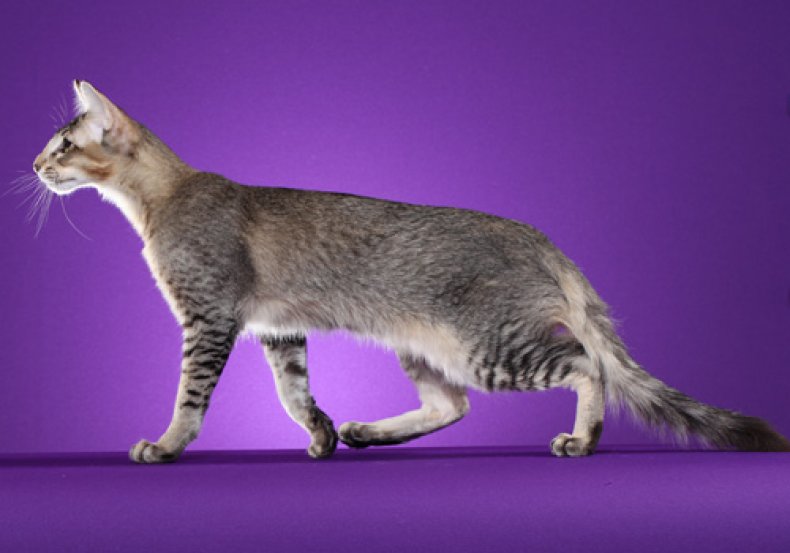 Harrison says Oriental Longhair and Shorthair, which are members of the Siamese breed group, are "wonderful for those interested in an interactive pet and devoted companion."
"They have extremely loving temperaments and bond closely with their families and people of all ages, including children, cat-friendly dogs and other cats.
"They thrive on attention and affection and are often found beside their humans.
"They like to be 'helpful' and follow family members around throughout the day."
Persian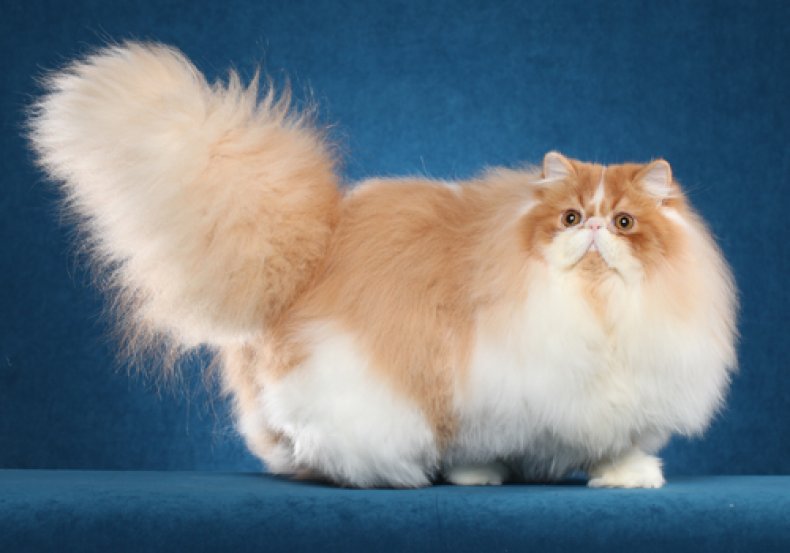 The TICA President describes this ancient feline as a "gentle and quiet" breed preferring "a calm environment."
She adds: "They are very easygoing and prefer lounging on a sofa with their families.
"Persians communicate with their expressive eyes and soft, harmonious voices.
"They are an adaptable breed and will enjoy living with any family as long as they are loved and treated gently."
Ragdoll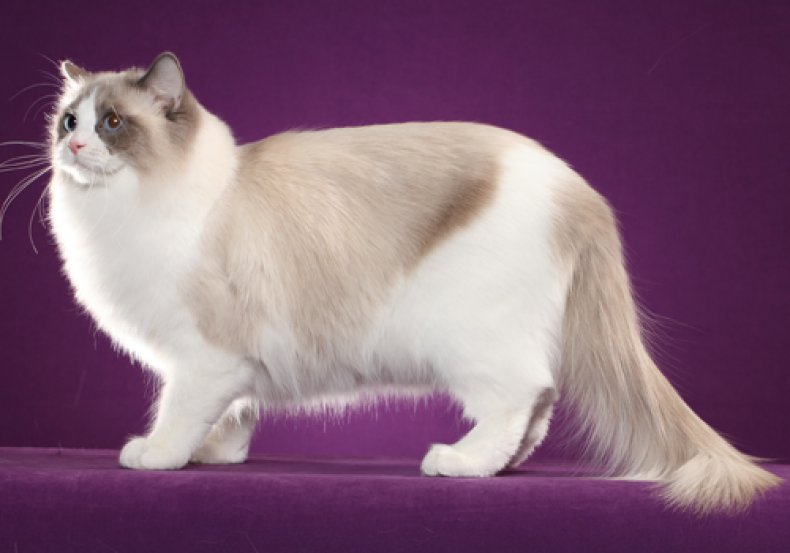 Ragdolls are a large, affectionate, breed that lives up to its name by allowing children to carry them around the house.
"They are generally easy-going and calm, but they do love to play," Harrison says.
"Balls, catnip toys, and cat trees are mandatory. Often compared to dogs due to their friendliness and intelligence, they can be taught to play fetch.
"They get along well with children, other cats, and most pets, including dogs."
Scottish Fold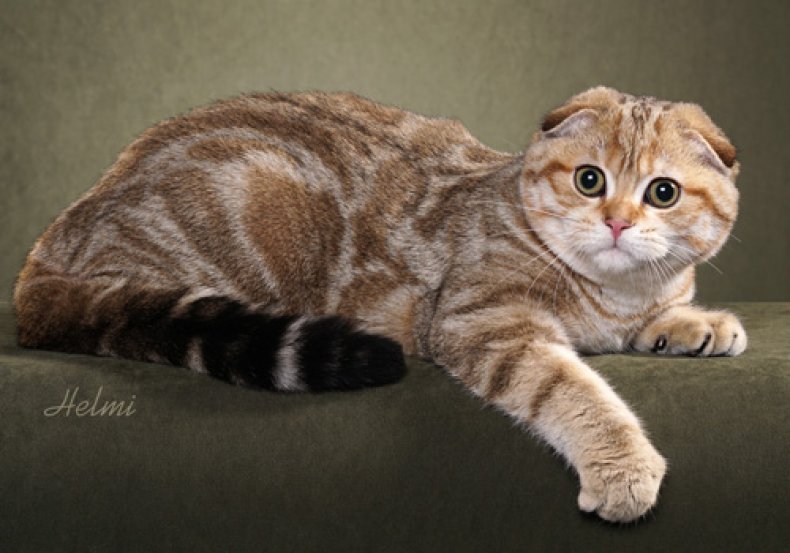 Named after its unique folded ears, Harrison says Scottish Fold are often "loyal cats that bask in the company of their families."
She adds: "Intelligent and inquisitive, but a little less active than other breeds around the house.
"They prefer the company of their humans, other cats, and cat-friendly dogs rather than being left alone for hours at a time."
Siamese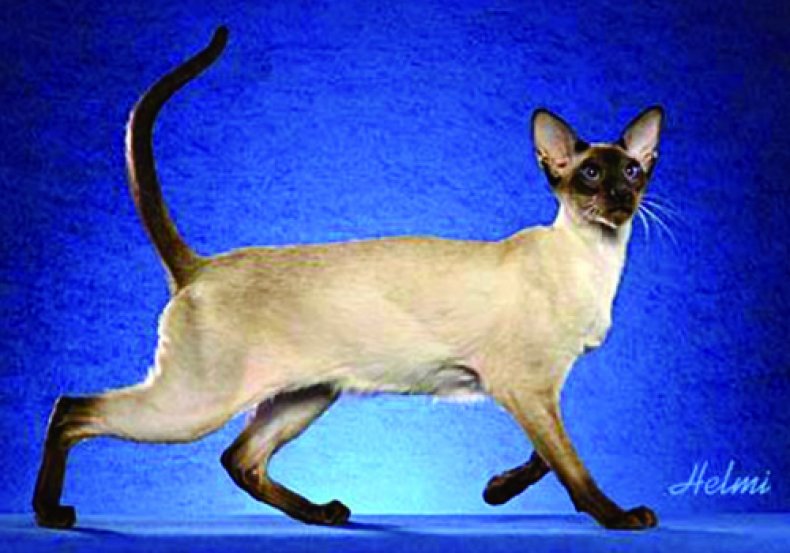 This most recognizable of cat breed is one that thrives in the company of others and are often found beside their humans, Harrison says.
"Siamese like to be 'helpful' and follow family members around throughout the day.
"They love warm places and can be typically found sitting on a family member's lap during the day and snuggling under the covers with them at night."
Somali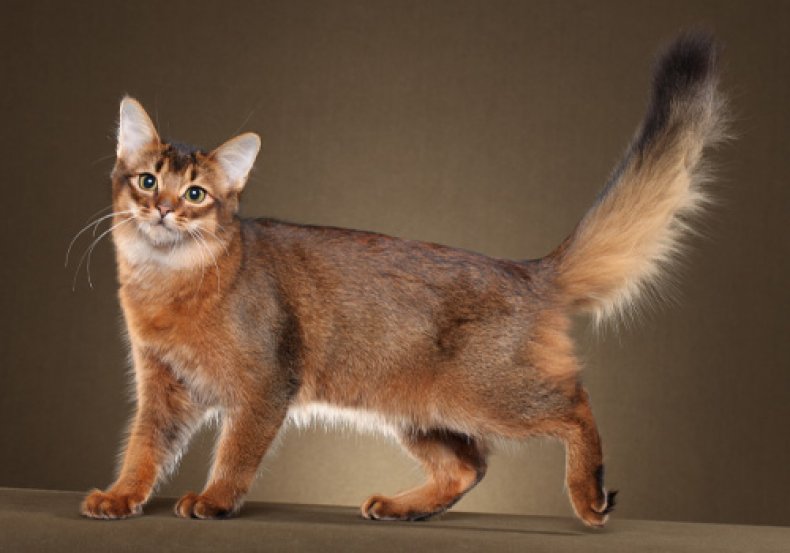 This long-haired cousin of the Abyssinian is described by the TICA President as "loyal and affectionate and very interactive with their owners and their environment."
"Their high energy and curiosity make them interested in everything and everyone around them," Harrison says.
"Agile and athletic, they can be found dashing up a cat tree or running on an exercise wheel.
"They enjoy the company of another cat with a similar active temperament in the home for playing or cuddling."
Sphynx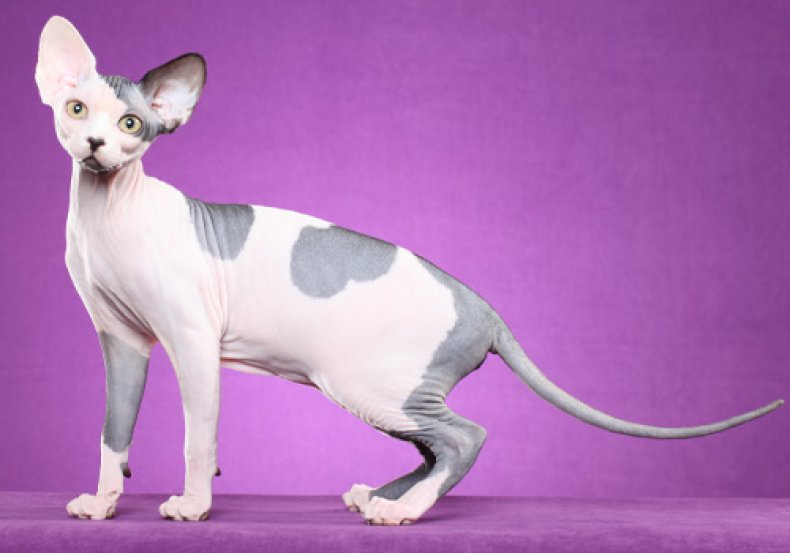 Famed for its hairless coat, the Sphynx cat adores attention and attracts it wherever this breed goes.
Harrison says: "They can entertain themselves, other cats, and their humans for hours with their inquisitive, intelligent, and extremely friendly personality.
"Sphynx are loyal and dedicated to their owners and make very affectionate companions for everyone.
"Their long dexterous toes make them skilled at opening doors, and anything else that sparks their curious nature."
Tonkinese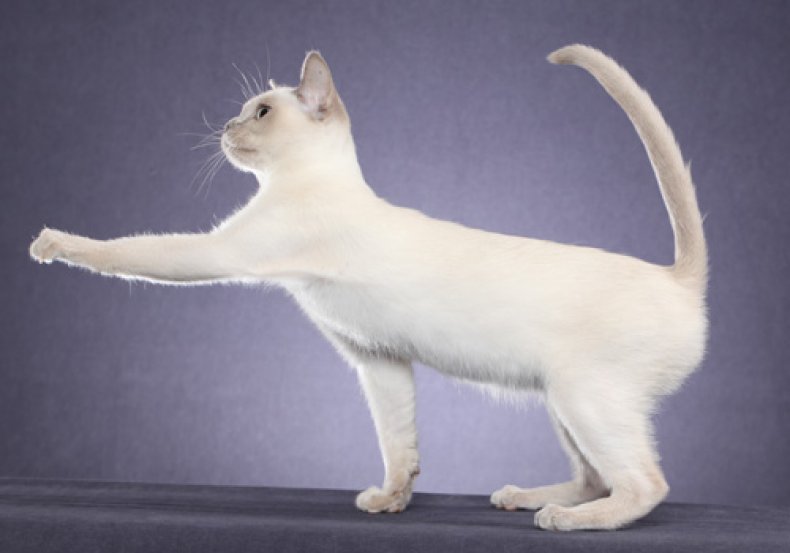 Developed from a cross between the Siamese and Burmese, the Tonkinese is considered by Harrison as "intelligent and friendly cats with a sense of humor."
They speak when spoken to, but don't vocalize their every move," she adds.
"Teach them tricks and provide an assortment of interactive toys to keep their mind and body exercised.
"They don't like to be left alone, so consider a second cat to keep them company when their human is away."
Turkish Van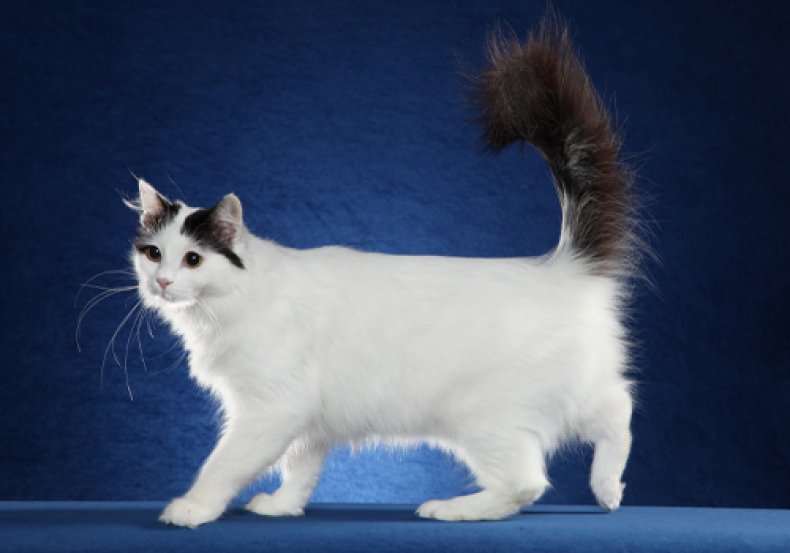 Known as "the swimming cat," the Turkish Van is an ancient breed that doesn't reach full maturity until they are three to five years of age.
Harrison tells Newsweek: "These active, robust cats enjoy swimming and water games.
"In addition to being loyal and loving, they are highly intelligent with a mischievous streak.
"Loving and affectionate, they like to follow their favorite person around the house and enjoy being petted but aren't necessarily fond of being held or cuddled."