Most Mormons Support Church After Controversial Mask Guidance: 'We Obey the Law of the Land'
The First Presidency, the highest governing body of the Church of Jesus Christ of Latter-day Saints, issued a statement yesterday urging churchgoers to get the COVID-19 vaccine and to wear face masks during public meetings.
Vaccine opposition among Christian groups has been a feature of America's medical freedom debate for the past few months, with protesters drawing on the Bible and writing signs such as "the blood of Jesus is my vaccine" when opposing mandates. However, the historically pro-vaccine LDS church has remained largely out of the fray with 65 percent of members saying they accept vaccination, according to a report by PRRI and Interfaith Youth Corps.
Despite this support, calls for "personal freedom" remain a divider within the community. The First Presidency has made encouragements, suspended worship services, and gone virtual, but critics note that the body has gone short of implementing church-wide mandates. Instead, it has allowed local leaders to set their own rules, taking into account the laws set by their communities.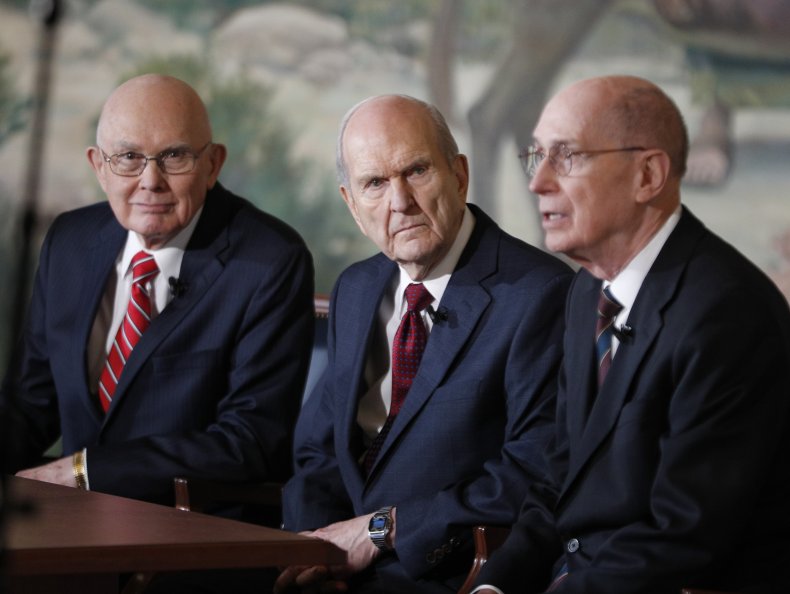 "To limit exposure to these viruses, we urge the use of face masks in public meetings whenever social distancing is not possible," The First Presidency wrote in a statement. "We can win this war if everyone will follow the wise and thoughtful recommendations of medical experts and government leaders."
The church's president Dr. Russell M. Nelson, who the Latter-day Saints recognize as a prophet, worked as a cardiologist and has promoted the vaccine, sharing photos of him originally receiving it. Yet, the Salt Lake City Tribune reports that churchgoers have resisted the push to wear masks and get vaccinated.
The Delta variant now accounts for over 90 percent of new COVID cases and has been proven to infect vaccinated people, and despite the vaccine offering protection from severe cases, people who contract the variant can still spread it to others. Given the current circumstances, the CDC has once again recommended that masks be worn inside.
However, with the Mormon church spanning all 50 states, the guidelines surrounding COVID-19 may differ greatly between congregations. In states like Texas, which has over 362,000 church members, local mask mandates are banned, whereas in California, a state with over 756,000 members, masking inside stands as the norm.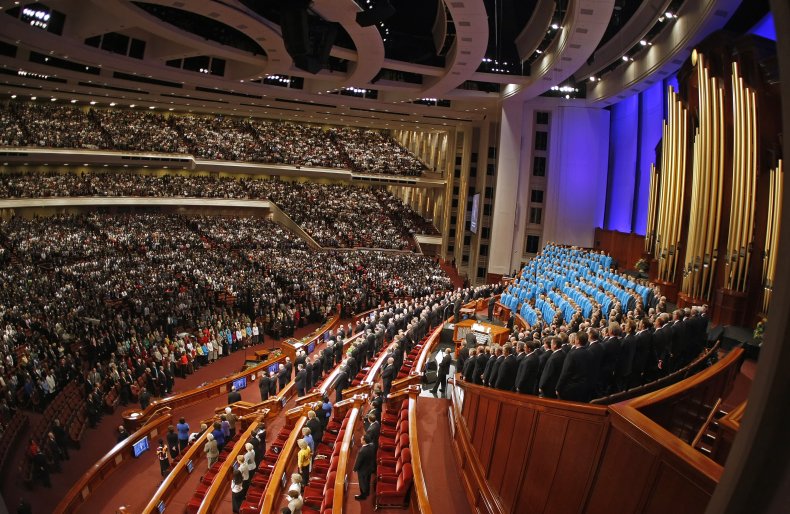 For some churches, the decision to mask or require proof of vaccination may land on the community's bishop. And while some bishops may heed the advice of the First Presidency, others may not. With Republican lawmakers largely leading the charge for independent decision-making on the issues of mask-wearing and vaccination, leaders must consider the 74 percent of Mormons that the Pew Research Center estimates lean Republican and may follow that component of their party's rhetoric.
Brigham Young University President Kevin J. Worthen encountered a protest outside his house last November where students demonstrated for two hours against the indoor mask mandate that the university had in place. Similarly, BYU-Idaho President Henry J. Eyring's August Facebook video where he encouraged vaccination and mask-wearing was met with comments that included: "absolutely horrible what happened to personal revelation" and "it is manipulative and truly not in tune with our free agency."
Spencer May, president of the BYU College Republicans, personally views the development of the vaccine as a "miracle." Ultimately though, he believes the decision to take it should be a matter of personal choice and would not support it being mandated within school. Right now, BYU asks students for vaccine status and limits its mask mandate to certain locations.
"We appreciate the respecting of individual autonomy and the liberty to choose what happens to one's body," May told Newsweek. "It's amazing that we have been able to develop the vaccines at the rate we did and were able to come out of that dark winter. We are looking forward to a maskless, in-person, fulfilling fall semester."
Resistance against mandates abridging personal choice may very well be inevitable, yet Richard Ostler, a former LDS Bishop and host of the Listen, Learn and Love podcast, which promotes LGBTQ+ inclusion in the church, believes encouragement from leadership will be heeded.
Ostler supports vaccination, being vaccinated himself, and sees the LDS community as largely being followers of science. In an interview with Newsweek, he drew on Article of Faith 12 of the church which writes, "We believe in being subject to kings, presidents, rulers, and magistrates, in obeying, honoring, and sustaining the law." He credits this tenet as a reason for leadership's embracing of the vaccine.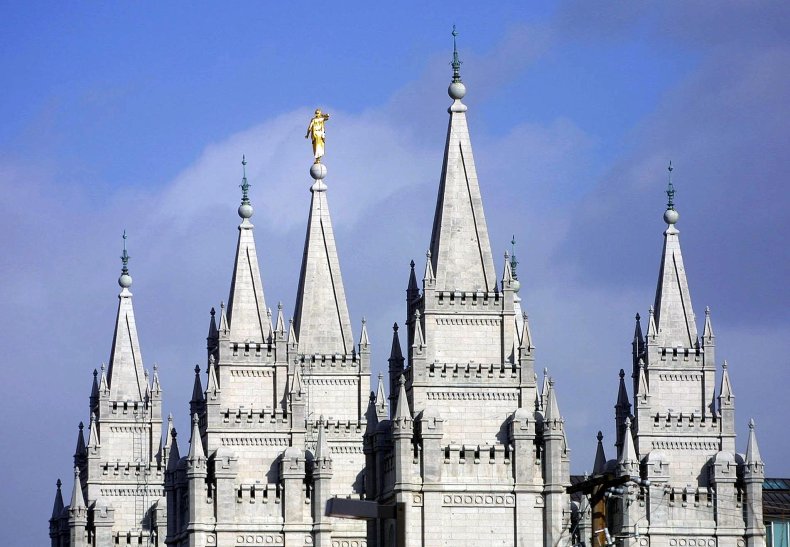 "We have always been a law-abiding people," Ostler told Newsweek. "We really value the principle that whatever country we're in, it's a worldwide church, that we obey the law of the land. So, that's one element of our culture that we really try to follow government."
Ostler said mask-wearing has not presented itself as an issue in his Salt Lake City congregation. However, he has noticed dissent amongst members of the larger Salt Lake City Mormon community. With the current two-thirds of the community accepting vaccination, he sees LDS member behavior as being in line with the First Presidency's encouragement. If the body were to strengthen its position though, he expects the church would see a larger rate of compliance.
May told Newsweek that if the First Presidency were to issue a vaccination and mask mandate, BYU College Republicans would support the decision. He also cited Article of Faith 12 as the reason, saying if Nelson were to issue such a declaration he does not suspect there would be much, if any, argument against it.
"Sometimes people will culturally say, 'once the prophet has spoken that debate is over,'" Ostler told Newsweek. "If (a mandate) did indeed came out, which I don't think it will, the compliance rate of that would be extremely high."