Most New Yorkers Oppose Defunding Police Even as they Support Protests, Poll Shows
A Sienna College Research Institute poll released Monday shows that a majority of New York voters oppose calls to defund police departments, while also supporting protests against police brutality and calls for police reform.
The poll, which was conducted June 23 to June 25 and surveyed 806 registered voters and found that 57 percent of those surveyed oppose reducing police funding, while 37 percent oppose the idea.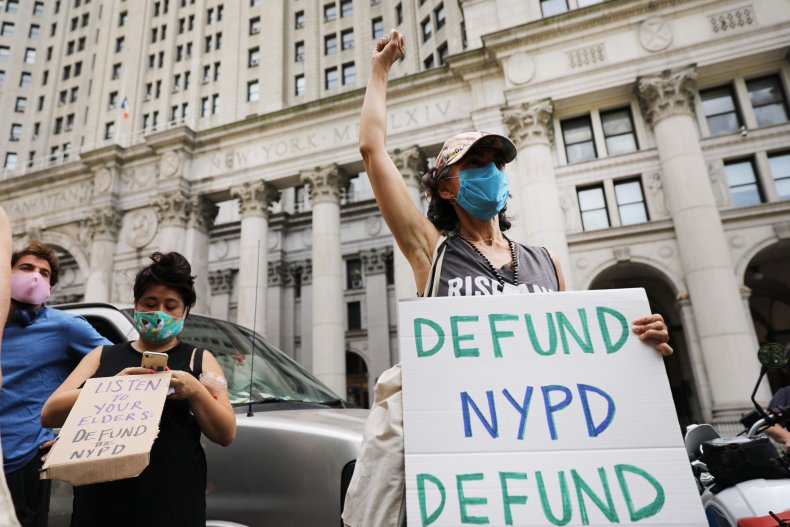 The same poll showed that 60 percent of those surveyed opposed defunding the police, versus 30 percent who supported the notion of defunding. Opposition to defunding the police department showed that Democrat, Republican and Independent voters were largely unified against the idea.
The poll results came amid calls from activist groups earlier this month to slash the NYPD budget by $6 billion and shift the funding to youth initiatives and social services.
On Monday, New York Mayor Bill de Blasio announced a plan to cut the police department budget by $1 billion, the New York Post reported.
"I'm excited to say we have a plan that can achieve real reform, that can achieve real redistribution — while at the same time ensure that we keep our city safe, while we make sure that our officers are on patrol around where we need them around this city," de Blasio said.
Meanwhile, the poll showed that voters overall have a favorable view of police departments in New York state, as well as the Black Lives Matter Movement.
When asked about racial injustice and systematic racism in the criminal justice system nationwide, 66 percent of those polled overall said people of color were not treated fairly. Of those polled, 83 percent of Democrats felt racism exists in the justice system, while 54 percent of Republican voters said people of color were treated fairly.
"While there is some disagreement by race, party, geography, and age as to whether systemic racism in the country is a 'very' or 'somewhat' serious problem, at least two-thirds of voters agree — regardless of race, party, region or age — that systemic racism is at least a somewhat serious problem," Sienna College pollster Steve Greenberg said in a Spectrum News report.
Those who were surveyed also favored creating a nationwide database documenting police misconduct, outlawing the use of chokeholds by police nationwide, and demilitarizing police departments.
Newsweek contacted de Blasio's office and the NYPD for comment on the survey but did not hear back before publication.