Most Number of People In Need of Food This Thanksgiving Since Great Depression, Data Shows
Over 50 million Americans may be in need of food this Thanksgiving due to the COVID-19 pandemic, and many states around the country are reaching Depression-era levels of hunger, according to data from nation's largest hunger-relief organization, Feeding America.
Nationally, that number equates to roughly 1 in 6 adults, and 1 in 4 children in the U.S. who are struggling to meet their basic food needs.
"The numbers are staggering," Eugene Cho, CEO of Bread for the World, a religious nonprofit that works to prevent food insecurity, said in an interview with National Public Radio (NPR). "We're talking 54 million people in our backyards, in our cities, in our nation right now. That's about 1 in 6 Americans," he added.
The novel coronavirus pandemic has significantly impacted levels of food insecurity throughout the country, as millions of Americans continue to face income loss and joblessness. In June, a Northwestern University study found that food insecurity during the pandemic had doubled nationally, and tripled for households with children.
This time last year, roughly 35 million people struggled with hunger in the U.S., a number that has increased by nearly 20 million as the pandemic continues to unfold, according to Feeding America.
In a November survey conducted by the hunger relief organization, 80 percent of the 200 nationwide food banks associated with Feeding America have reported an increase in food production this year.
In total, food banks have consistently seen a 60 percent increase in demand compared to November 2019, and continue to require more food and resources to provide to people in need.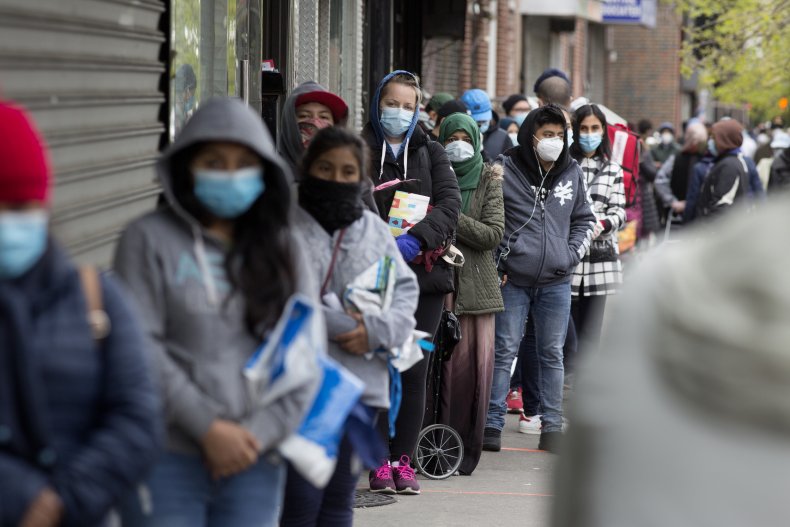 In some states, the issue reflects Depression-era levels.
In Texas, one of the hardest-hit states for COVID-19, 1 in 3 Houston households have had a serious issue affording food, and 1 in 5 do not get enough to eat every day, according to NPR.
The CEO of the San Antonio Food Bank told CNBC that his program now feeds 120,000 —or double the number of people—that they normally do. The numbers have gotten so high that they now have to ration food.
In Rhode Island, the Community Food Bank reported that one in four households struggle to put food on the table, the highest it's been since the Great Depression.
In an October report published by the University of Illinois and Feeding America, the states facing the highest levels of food insecurity include Mississippi, Arkansas, Alabama, Louisiana, and New Mexico. In Jefferson County, Mississippi, the food insecurity rate is the highest in the country at 30.4 percent.
The issue has disproportionately effected Black, Native and Hispanic communities. According to a report from National Geographic, of the top 25 counties with the highest projected food insecurity rates, only four have a population where the majority is white.
"This is a story about racial and ethnic disparities—both food insecurity and the story of coronavirus," Emily Engelhard, managing director of Feeding America's research unit told National Geographic. "The populations and geographies that started in the most disadvantageous state of food insecurity are the ones that are getting hit the hardest."
In April, the unemployment rate during COVID-19 hit its peak at 14.7 percent, the highest since the Great Depression, when it exceeded 25 percent.
As coronavirus cases continue to rise across the country and 2020 comes to a close, Americans are pushing for Congress to pass a second round of stimulus relief to help those struggling from income loss, hunger and joblessness.
"Unless policymakers act quickly to respond to the crisis at the scale necessary, we risk the damage to the economy lasting much longer than necessary, particularly for those at the bottom who have been hit the hardest," a group of more than 125 economists wrote in their open letter published by the Economic Security Project on Monday.
To help support those in need this holiday season, Feeding America provides a donation service and opportunities to volunteer at local food banks across the country.