A new poll shows seven in 10 Democratic voters in New York City favor an increased police presence throughout the city. The same survey also found 77 percent of Black Democrats said they favor more cops in the subways.
The results from the survey conducted by WNBC/Telemundo 47/Politico/Marist Poll come as the city experiences an increase in crime, especially violent offenses. New York Police Department statistics show crime in New York City was 22 percent higher than in May 2020. The department also reported that shootings are up 73 percent in the past 12 months.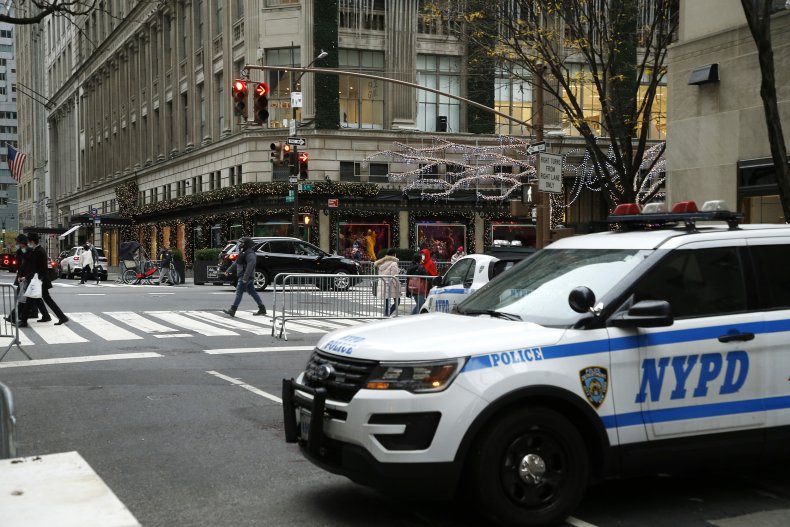 After a period in which violent crime reached its lowest levels in more than six decades, the city saw a dramatic spike in such crimes during the pandemic, a trend that's continued even as COVID-19 rates decrease. The latest NYPD data reported 175 murders for the year to date in May (the latest month with available statistics), compared with 149 for May 2020. Rapes and felony assaults were also higher in May 2021 than in the same month last year. (The data in the poll do not distinguish between types of homicides such as murder, manslaughter and criminally negligent homicide.)
The WNBC/Telemundo 47/Politico/Marist Poll was conducted with 876 voters registered as Democrats who say they will likely vote in June's mayoral primary.
Sixty-nine percent of all the Democratic respondents said they either "agree" or "strongly agree" with the statement: "You feel the number of uniformed police officers in the subways should be increased?"
Broken down by race/ethnicity, people who identified as Black were the most likely to say they wanted more uniformed cops in the subway. Seventy-seven percent of Black Democrats said they favored an increased police presence in subways, compared with 62 percent of whites and 69 percent of Latinos.
Recent reports about subway crime has alarmed many city residents. The Metropolitan Transit Authority (MTA), which is responsible for the city's public transportation, reported that during the first three months of this year, there were 1.63 felonies in the subway system for every 1 million riders. That number represents murders, rapes and assaults. During the same period in 2020, there were 1.48 felonies per million riders, which was an increase from the 1.0 felonies per million riders in the first quarter of 2019.
Support for more police in New York City seems to have increased among residents since last summer. NBC/Marist Poll conducted a survey in the city last July during the height of the Black Lives Matter protests. In that poll, 55 percent of all New Yorkers said they favored "defunding the police in your community to spend more on other local services," while 34 percent opposed the position. Fifty-five percent of Democrats said they were in favor of defunding police, while 60 percent of people identified as African-American in the poll favored the position.
The recent WNBC/Telemundo 47/Politico/Marist Poll found people didn't feel as threatened when outside the subway, though. Seventy-nine percent of the respondents said they feel safe from crime in their neighborhood, and 65 percent said they feel safe from crime walking around the city in general.
Seventy-six percent of those surveyed agreed or strongly agreed with the statement "You see a future for you and your family in New York City." The respondents most likely to "strongly agree" with that were white voters, Manhattan residents, and those who identify as "liberal" or "very liberal."