The Most Politically Charged Moments at the Grammy Awards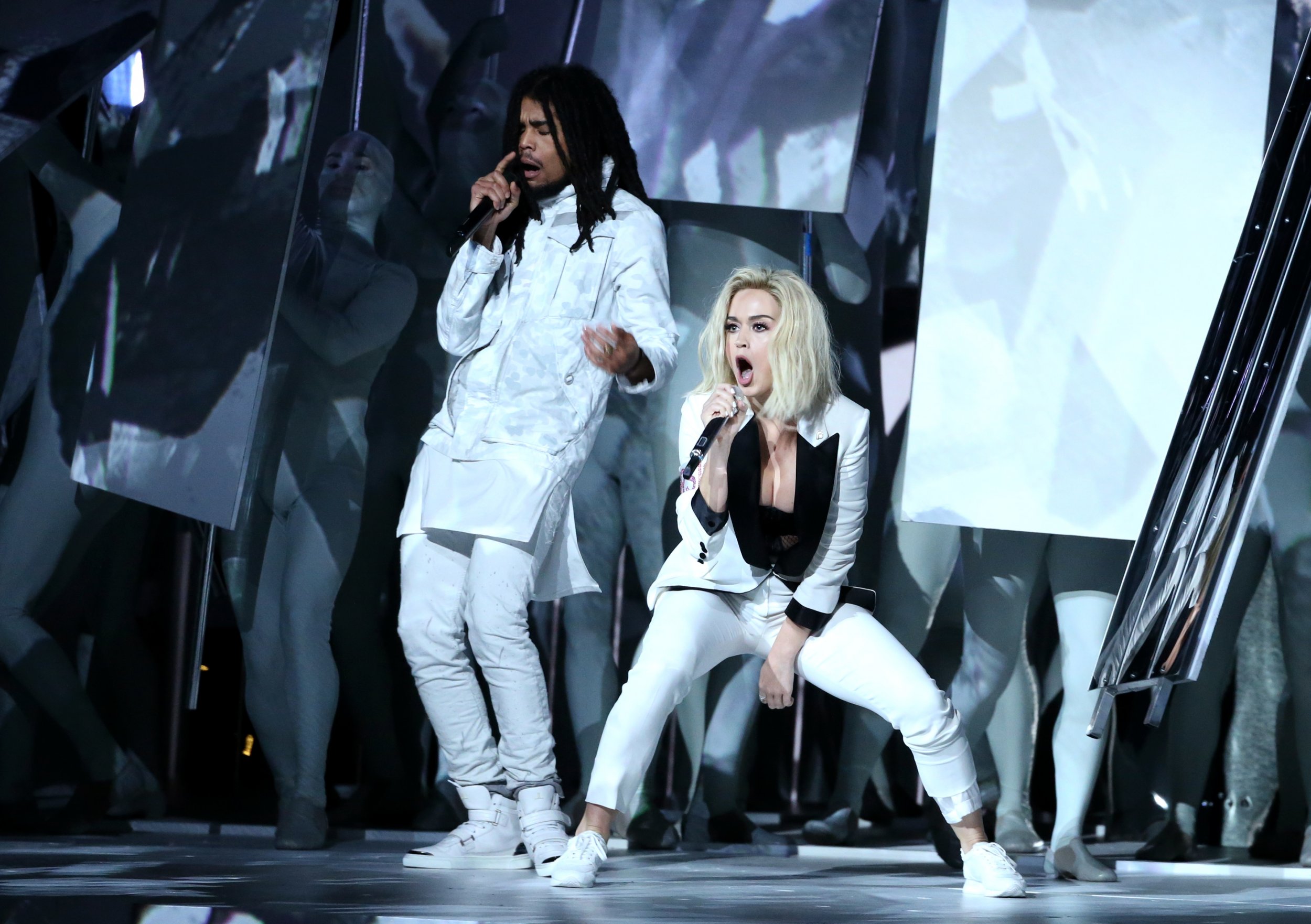 The 59th Annual Grammy Awards took place not quite a month into Donald Trump's presidency.
The music industry's distaste for Trump has been readily apparent since the 45th president struggled to find artist willing to perform at his inauguration.
Politically, the evening was a muted affair compared to the Golden Globes—in which Meryl Streep called out Trump's bullying at great length—but there were discernible signs of resistance amid the noise. These were the most politically charged moments at the Grammys.
James Corden Baits Trump
James Corden hosted the ceremony and sprinkled in a handful of Trump references that felt more obligatory than meaningful.
In an opening rap, Corden rhymed: "Living this up because this is the best / Because with President Trump we don't know what's next." Later in the evening, the host declared that any negative tweets about the Grammys "are fake tweets," mocking Trump's obsession with "fake news" and supposedly "paid" protesters."
Katy Perry Persists
Katy Perry (who in 2016 served as Hillary Clinton's most impassioned celebrity supporter—sorry, Lena) performed her new single "Chained to the Rhythm" with the U.S. Constitution appearing as a digital a backdrop. The pop star's outfit also signaled her political convictions: She wore a white pantsuit with a Planned Parenthood pin and a "PERSIST" armband—likely a reference to Elizabeth Warren's silencing in the Senate last week.
Viewers initially misread the armband as "RESIST." It was difficult to make out all the word, but in certain shots you can clearly see the letters "R-S-I-S-T."
At the end of the performance, Perry cried out: "No hate!"
Apoplectic Relaxation by A Tribe Called Quest
A Tribe Called Quest's first album in decades (and first to follow the death of Malik "Phife Dawg" Taylor) appeared the same week as Donald Trump's victory. It contains a song titled "We the People..." ("All you Black folks, you must go / All you Mexicans, you must go"). It closes with a track called "The Donald." It was remarkably well-timed.
Like the album, Tribe's Grammy performance was an unexpected force of energy and dissent—and a gift for fans of old-school hip-hop. A Tribe Called Quest did not tiptoe around references to the age of Trump. At the start of the performance, rapper Q-Tip said: "To all of those people around the world, all of those people, who are pushing people who are in power to represent them: tonight, we represent you."
After the group performed "Award Tour" (from 1993's Midnight Marauders) and the 2016 track "Movin' Backwards," Busta Rhymes appeared onstage and delivered a fiery indictment of the present administration. "I'm not feeling the political climate right now," he said to cheers. "Thank you, President Agent Orange for perpetuating all the evil that you're perpetuating throughout the United States." The rapper then shouted out the Muslim ban before launching into a charged performance of "We the People..." involving a diverse group of individuals onstage. As the song wrapped up, Q-Tip shouted: "Resist!" Watch the performance below.
Beyoncé Shines in Acceptance Speech
Beyoncé delivered a primetime acceptance speech after winning the Grammy for best urban contemporary album, which in retrospect was a pretty good hint that she would not be delivering an acceptance speech for album of the year. (Otherwise, show producers might have slotted this award for the pre-show hour.)
Related: Watch Beyoncé's ridiculously good Grammy performance
Still, the pop queen came prepared with a prewritten speech that was as meaningful (if not quite as dazzling) as her show-stopping performance. In her speech, Beyoncé spoke about the importance of children seeing images of racial inclusion. "This is something I want for every child of every race," she stated, "and I feel it's vital we learn from the past and recognize our tendencies to repeat our mistakes."
Jennifer Lopez Brings Toni Morrison to Prime Time
Jennifer Lopez appeared at the start of the show to announce the nominees for best new artist. She also gave tribute to a not-very-new artist: Nobel Prize–winning novelist Toni Morrison.
"At this point in history, our voices are needed now more than ever," Lopez said, before delivering a timely Morrison quote:
This is precisely the time when artists go to work. There is no time for despair, no place for self-pity, no need for silence, no room for fear. We speak, we write, we do language. That is how civilizations heal.
The quote stems from a piece Morrison wrote for The Nation, in which she paraphrases the words of a friend after the 2004 re-election of George W. Bush. That piece can be read in its entirety here.
At press time, President Trump has not yet tweeted about the "overrated" Grammys, the "low-energy" Tribe Called Quest or loser Toni Morrison.